By Staff Writers
May 25, 2011 (Island Cricket): With the absence of Lasith Malinga, Sri Lanka were all set to unleash its newest pace sensation Nuwan Pradeep against England in the first Test starting May 26 in Cardiff. But the fastest bowler in the Sri Lankan camp, capable of clocking 150 kph, will be on a flight back to Sri Lanka instead.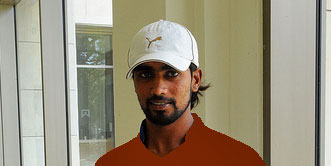 Pradeep was expected to make his debut on Thursday after picking up 4/29 in a devastating ten-over spell, which saw Sri Lanka through to a famous win against the England Lions earlier this week.
"Everyone's really sad for him, but that's what cricket is all about, especially for fast bowlers," former Sri Lankan captain Mahela Jayawardene wrote today in his tour diary on ESPNCricinfo.
"He's been waiting for his opportunity for the last two years; he did all the hard work in the lower grades, and was finally called up to the national team for the first time, and for such a big tour.
"Unfortunately he landed awkwardly while fielding and has damaged his knee ligaments. But when he gets better he'll still be in the squad, and there's a lot of good cricket coming ahead for us. He will be ready for that."
The 24 year old Pradeep has damaged his anterior cruciate ligament, according to coach Stuart Law.
"It's bad news for the young man," Law told reporters yesterday. "If things are okay and he doesn't need an operation, we may opt to keep him here if he can get through, but at this stage it looks like he's flying home.
"The warmer you are the better with these injuries, but as he stopped he was dragging his leg around yesterday. It's a shame."
Law admitted that losing Pradeep was a big blow to Sri Lanka, who are in England without the retired Muttiah Muralitharan.
"He's one of our cards up our sleeve, so it's a shame if he has to go home. I'm heart-broken for him," the Sri Lankan coach added.
Senior paceman Dilhara Fernando's fitness has also come into question after he was seen limping during the match against the England Lions.
The selectors have included Farveez Maharoof into the Test squad as backup for the injured players.
© Island Cricket