By Hilal Suhaib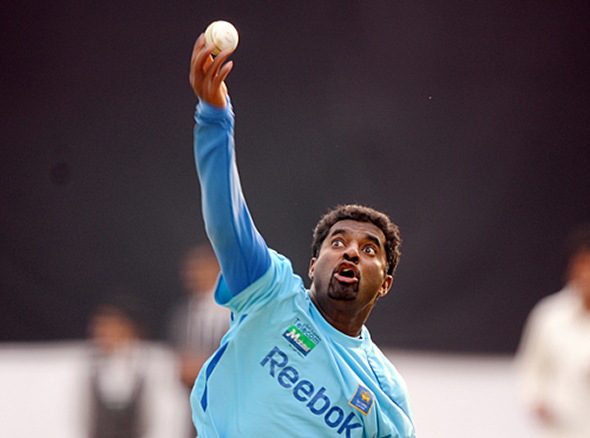 "There is always a time to let go and it should be done when you can still hold a place in the side." – Muralitharan. AFP Photo/AFP PHOTO/ Sena VIDANAGAMA.
July 07, 2010 (islandcricket.lk): Muttiah Muralitharan believes that the first Test match against India on the 18th of July is the right time for him to bid Test cricket farewell.
The world's highest wicket taker in Tests and ODIs announced yesterday that he will be retiring from Test cricket at the end of the first Test match against India in Galle later this month.
"This Test series against India was unexpectedly scheduled ahead of the West Indies tour in November and I was able to fast track the decision simply because I have come to a stage now where I know what I can do and can't do with my body as opposed to the past," Muralitharan told Island Cricket today. The champion off spinner had originally planned to retire in November during the Test series against the West Indies.
"There is always a time to let go and it should be done when you can still hold a place in the side. In life there is always an expiry date and that time for this purpose is now," he added.
Since announcing his retirement, tributes for Muralitharan from some of the game's biggest names have been flowing in.
Indian spin legend, E.A.S. Prasanna, said that Muralitharan was the best he had ever seen.
"He's the best I've seen and by a long mile. What he has accomplished despite bearing the brunt of so many controversies is incredible," Prasanna told the Deccan Herald.
Michael Clarke, Australia's Test vice-captain and Twenty20 captain said that Muralitharan was an "amazing player."
"I guess on behalf of all Australian cricketers, and all Australian fans who've had the opportunity to watch him, congratulations are well and truly deserved. He's been an amazing ambassador for Sri Lankan cricket and what a talent, what a career," Clarke told AFP.
Clarke insisted that Muralitharan's long career, playing against all Test nations, meant that the statistics don't lie.
"Over a long period of time, statistics don't lie," he added.
Also speaking to AFP, legendary Pakistani speedster, Waqar Younis, said: "The world is going to miss him. He's been superb over the past two decades and unplayable — it doesn't matter where he plays."
Meanwhile England captain Andrew Strauss hailed Muralitharan as a "magician" in a statement released by the England and Wales Cricket Board.
"He's been an absolute legend of the game. With a lot of these legendary players, it's their longevity that's as impressive as anything," Strauss said.
"He was able to take wickets in all sorts of conditions all over the world for long periods of time, and that consistency of performance, the ability to keep putting it in time after time, marks him as different from most players in the world."
Muralitharan's achievements in Test cricket are staggering. No other bowler has taken five wickets in an innings, or ten wickets in a match more times than he has. Muralitharan has taken five wickets in an innings 66 times and has 22 ten wicket hauls in a match. He has taken 10 wickets in a match back-to-back in four successive matches against England, South Africa, India, West Indies and Bangladesh.
Furthermore, disproving the critics who claim he has taken a bulk of his wickets against minnows, Muralitharan is the only player to have 50 or more wickets against every Test playing nation.
His individual tally of wickets in Test cricket as of July 07, 2010 reads as follows:
| | | | | |
| --- | --- | --- | --- | --- |
| Opposition | Matches | Wickets | 5 WKT/INNG | 10 WKT/INNG |
| Australia | 13 | 59 | 5 | 1 |
| Bangladesh | 11 | 89 | 11 | 4 |
| England | 16 | 112 | 8 | 4 |
| India | 21 | 97 | 6 | 2 |
| New Zealand | 14 | 82 | 5 | 1 |
| Pakistan | 16 | 80 | 5 | 1 |
| South Africa | 15 | 104 | 11 | 4 |
| West Indies | 12 | 82 | 9 | 3 |
| Zimbabwe | 14 | 87 | 6 | 2 |
© Island Cricket.