January 04, 2011 (Island Cricket): Sri Lanka's ICC Cricket World Cup 2011 director, Suraj Dandeniya, speaking at a function held at the Cinnamon Lakeside Hotel in Colombo yesterday said that he was confident World Cup stadiums in Sri Lanka will pass the International Cricket Council's (ICC) final inspection later this month.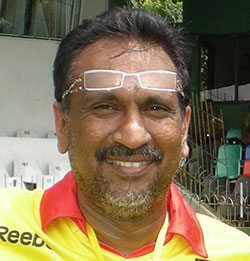 Media reports stated last month that the ICC's venue inspection team was unhappy with the progress of construction at all three of Sri Lanka's World Cup stadiums, and with Sri Lanka Cricket (SLC) failing to meet the ICC's original deadline for completion, the ICC is said to have allocated January 15 as their final deadline before contemplating on moving the fixtures to other venues on the island.
Earlier in the day, chairman of SLC, Somachandra de Silva, was quoted by the Sri Lanka Broadcasting Corporation as saying the venues will be ready to be handed over to the ICC for their final inspection on January 15.
Dandeniya, however, appears to contradict De Silva's statement by declaring that the venues will be ready by January 31 – fifteen days past the ICC's final and already extended deadline.
"The stadiums are up and running. Come January 31, and the stadiums will be ready. The ICC will not reject any venue, and Sri Lanka is ready for the World Cup," the Daily Mirror newspaper in Sri Lanka reported quoting Dandeniya.
The ICC's inspection team, headed by its events manager, Chris Tetley, will visit the island around January 15 for the final inspection. In the event that Tetley's team finds the stadiums incomplete, the Sinhalese Sports Club ground in Colombo and the Rangiri Dambulla stadium in Dambulla will serve as back-up venues.
© Island Cricket