By Max Wade | April 8, 2017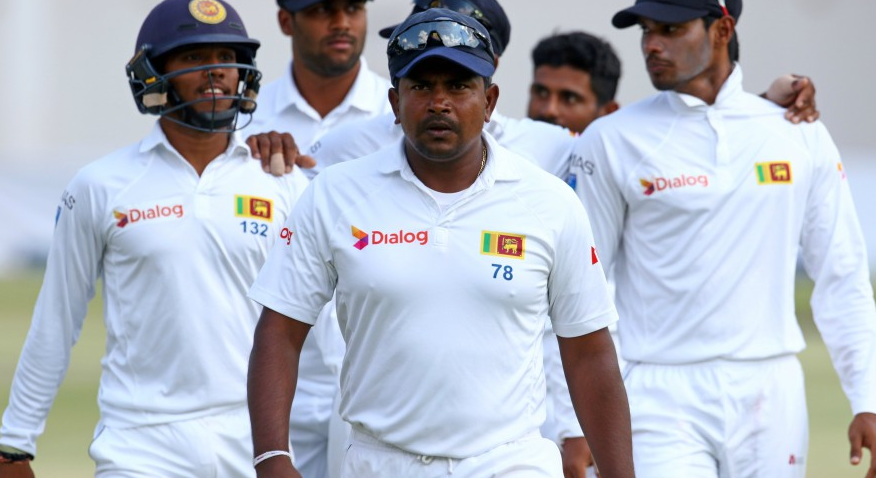 Rangana Herath is currently 27 wickets short of 400 Test wickets. © AFP
There are few spectacles in sport that compare with the unlikely triumph of an underdog competitor. The humble Rangana Herath has exemplified this storyline, as he has completed a stunning transformation from lurking in the shadows of Muttiah Muralitharan, and being in and out of the side since his Test debut in the late 90s, to becoming undoubtedly one of the top spin bowlers ever to play the game.
Who would have believed that an innocuous-looking portly spinner from Kurunegala, who rarely was given an opportunity to regularly feature in the Sri Lankan Test side, would become the most-successful left-arm spin bowler in Test cricket at the age of 39.
Herath cemented his place amongst the greats recently after eclipsing Daniel Vettori's record of 362 Test wickets, claiming the most wickets in Test matches by a left-arm spinner — in just 79 matches. He now sits second only to Wasim Akram for the most Test wickets by any left-arm bowler.
Most Test Wickets
1. Muttiah Muralitharan – 800 wickets
10. Dale Steyn – 417 wickets
2. Shane Warne – 708 wickets
11. Harbhajan Singh – 417 wickets
3. Anil Kumble – 619 wickets
12. Wasim Akram – 414 wickets
4. Glenn McGrath – 563 wickets
13. Curtly Ambrose – 405 wickets
5. Courtney Walsh – 519 wickets
14. Makhaya Ntini – 390 wickets
6. James Anderson – 467 wickets
15. Ian Botham – 383 wickets
7. Kapil Dev – 434 wickets
16. Malcolm Marshall – 376 wickets
8. Richard Hadlee – 431 wickets
17. Waqar Younis – 373 wickets
9. Shaun Pollock – 421 wickets
18. Rangana Herath – 373 wickets
Becoming only the second Sri Lankan cricketer ever to do so, in the first Test in Galle against Bangladesh last month, Herath also registered his 1000th first-class scalp.
The wily spinner has won over many fans during his meteoric rise to superstardom, including some of his childhood heroes such as Aravinda de Silva.
"He has been an under-rated bowler for so long," de Silva said, speaking at a recent event. "Rangana has achieved a lot in the last couple of years and must definitely be among the top when it comes to spin bowling.
"Rangana's experience has really helped the team as well, with the kind of variations and knowledge he has. It's tough for bowlers to take 1000 first-class wickets."
Most Five-Wicket Hauls in Test Cricket
Player
5-wkt Hauls
Muttiah Muralitharan
67
Shane Warne
37
Richard Hadlee
36
Anil Kumble
35
Rangana Herath
29
It is no secret that Herath has had to work hard throughout his career to earn opportunities at the international level, during which time he has also earned admiration from his teammates, including Kumar Sangakkara, who have found his humility and knowledge invaluable, as the current Sri Lankan side developed in recent years.
"He's come up the hard way," Sangakarra wrote for AllOutCricket. "It's never been an easy ride for Rangana. He had to take a lot of first-class wickets before he was given a chance."
"He is an honest human being who gives it all and works really hard," Sangakkara added.
Herath's journey in Test match cricket is not yet over, as his career continues to stun the cricket community, and the Sri Lankan fan-favorite has his eyes set on the next big Test match milestone.
"I don't know how long I will go on and how long I will have my form but I would like to get to 400 wickets," he said.
© Island Cricket