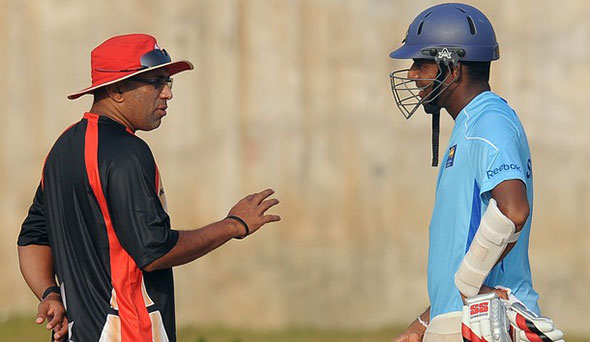 Chandilka Hathurusingha in Canadian colours speaks to Thilan Samaraweera during a practise session at the Mahinda Rajapakse International Stadium in Hambantota on February 18. AFP PHOTO/ Lakruwan WANNIARACHCHI.
February 18, 2011 (Island Cricket): Chandika Hathurusingha is back in Sri Lanka for the ICC Cricket World Cup 2011 to assist Canada in their World Cup campaign.
Regarded as a highly skilled coach in Sri Lanka, Hathurusingha was appointed as an understudy to Sri Lanka's coach Trevor Bayliss in 2009 before being sacked from the position due to a disagreement with chairman of Sri Lanka Cricket Somachandra de Silva in June last year.
A visibly upset Hathurusingha departed Sri Lanka two months ago and moved to Australia to further his career as a coach. Cricket Canada have grabbed the opportunity to utilise Hathurusingha's knowledge of Sri Lankan conditons and players in hopes of defeating co-hosts Sri Lanka in their opening match of the World Cup.
Canada have also utilised the services of former Sri Lankan captain Marvan Atapattu in recent months to assist them with their World Cup preparations.
Sri Lanka meet Canada in match-three of the ICC Cricket World Cup on February 20 in Hambantota.
© Island Cricket