By Rex Clementine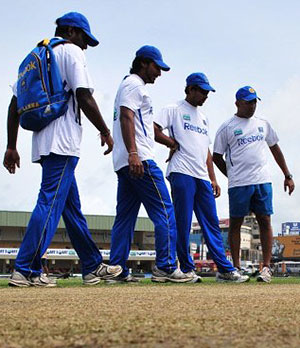 August 27, 2011 (Island Cricket): Has anyone noticed that the national cricket team tends to perform better overseas than at home in One Day Internationals in recent times? It is up to Sri Lanka Cricket to find out why that's so. Here are some statistics: since 2007, Sri Lanka has lost six series played at home and have won only three.
Opposition captains invariably say that Sri Lanka is hard to beat in Sri Lanka, particularly in ODI cricket, but the truth of the matter is that it is not so. Sri Lanka aren't that tough to beat in Sri Lanka. Tillakaratne Dilshan, the Sri Lankan captain was asked whether he was aware of the recent trend. He said that Sri Lanka have a 50-50 record at home, but statistics show that it's not so.
With a poor home record, it's an awesome achievement by the team to have maintained a good record in ODI cricket overall and do not forget that they are ranked number two in the world. However, they owe that rank to the impressive run away from home rather than at home and it's high time officials give the team that much needed home advantage.
Michael Clarke the Australian captain prior to the series said that he was expecting lot of turners during the ODIs against Sri Lanka, but he was wrong. There were one or two wickets during the second game at Hambantota and the last ODI at R. Premadasa that suited faster bowlers instead of spinners.
After the game, Clarke went onto comment that the wicket at Hambantota for the third ODI was the closest they get to tracks in Australia. Ironically, it was the Sri Lankans who won both games which helped the seam bowlers more than spinners. Sri Lanka will have to rethink their strategy on what wickets suit them exactly.
Dilshan explained it well after the final ODI: "I believe wickets need to be 50-50. They need to give equal opportunities for both batsmen and bowlers. What we need is wickets where the ball comes onto the bat and spins without being slow.
The bowler friendly tracks have not only affected the team, but spectators too. In ODIs, spectators prefer to see high scoring games, but if wickets which don't produce high scoring games are provided, spectators tend to get fed up and lose interest.
Interestingly, in the last six years, Sri Lanka have scored 300 plus totals at home only on five occasions, twice against India and once each against Canada, Zimbabwe and Bangladesh.
Here's an even more startling statistic; captain Dilshan averages almost 40 in ODIs away from home, but in Sri Lanka that average drops to 33. Then, Kumar Sangakkara averages an impressive 41 away from home, but at home that average drops down to 34. But it's Angelo Mathews' stats that would bewilder many. The all-rounder averages 41 overseas, but when he plays in Sri Lanka that drops down to 24.
Cricket administrators, selectors, coaches and curators should sit down and address this problem as it seems to have a very adverse effect on Sri Lankan cricket.
© Rex Clementine/The Island