By Hilal Suhaib
October 08, 2010 (Island Cricket): The world's highest Test and ODI wicket taker, Muttiah Muralitharan, said on Wednesday that umpire, Darrell Hair, the first to no-ball him for throwing during the Boxing Day Test in Melbourne in 1995, was just doing his job.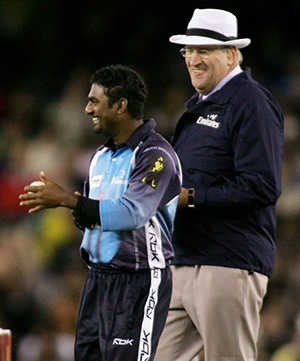 Speaking to a Malaysian news source this week while on a visit to Singapore, Muralitharan said that he holds no grudges.
"I have got over that moment in my life. I was very disappointed at that time but I also received a lot of support, which was a a huge encouragement. It is now, live and forget," Muralitharan said.
"I guess he was just doing his job. The ICC too did not have a proper ruling on the problem then. It now has a panel looking at issues such as mine. The set-up is good."
After the on-field controversy involving Muralitharan where in 1999 umpire, Ross Emerson, no-balled Muralitharan resulting in Sri Lankan captain, Arjuna Ranatunga, taking his team off the field at the Adelaide Oval, the ICC re-evaluated and later changed it's guidelines for umpires.
Umpires must now report suspect bowling actions at the end of a match, and the bowler is then sent for independent bio-mechanical testing. Before Muralitharan, a bowler's career was at the hands of an umpire.
Emerson later admitted that he no-balled Muralitharan due to orders from a Cricket Australia official.
Muralitharan said that he agreed the with the positive changes the game has experienced thanks to him.
"I do not believe that one man, an umpire, should determine a cricketer's career. Umpires can no longer make that call now. The system has done right," he added.
© Island Cricket