By Rex Clementine in Bristol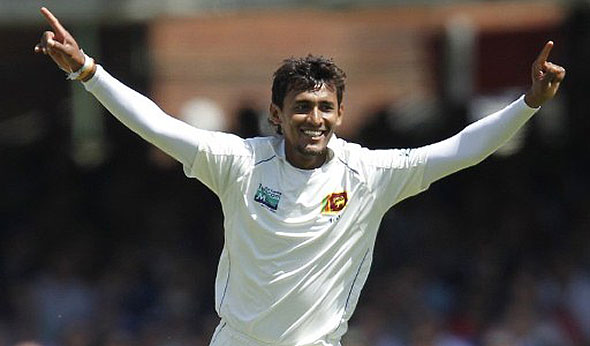 Suranga Lakmal impressed with the ball on his first tour of England. AFP/File/IAN KINGTON.
June 25, 2011 (Island Cricket): After the ICC Cricket World Cup 2011, with Sri Lankan cricket looking ahead for the new phase, several young players in England have come up with some remarkable performances, which suggests that the future of Sri Lankan cricket is bright and is in safe hands.
Post World Cup, for most cricketing nations, is a period of transition. Retirements mean new opportunities open up and this tour has provided players to show what they have got to offer and most of them have grabbed those opportunities.
Take the case of young Lahiru Thirmanne. When captain Tillakaratne Dilshan fractured his thumb during the Lord's Test, he was asked about his replacement and without any hesitation he mentioned the name of Thirimanne as a player suited for the longer version of the game.
Then Thirmanne went onto score that hundred in the warm up game against Essex in Chelmsford and when his biggest Test came at Rose Bowl, he defied the English bowling attack for two and half hours with Sri Lanka fighting to save the third Test. At the end of the Test, Kumar Sangakkara called him a player for the future. The same sentiments were shared by coach Stuart Law on the 21-year-old former Prince of Wales batsman.
Fast bowler Suranga Lakmal (24) was another to impress. Dilhara Fernando was expected to be the leader of the attack, but Lakmal playing just his fourth Test at Lord's looked to be taking up that mantle. Sri Lanka used five fast bowlers during the Test series in England and Lakmal was the only bowler to play all three Test Matches.
His ability to generate bounce and swing the ball impressed many and at Lord's. He bowled long spells and had a wholehearted approach to the game putting in his heart and soul. During England's first innings, there was this unplayable spell he bowled, which had Matt Prior edging the ball through to the slips – without a clue as to what was going on.
There has been a lot said and written on Jeevan Mendis and last August when captain Kumar Sangakkara, during the ODI series against India and New Zealand in Dambulla, was asked whether he had a fair idea on his batting line up for the World Cup, he mentioned Jeevan Mendis at number seven.
The all-rounder showed those who were fortunate to watch him at New Road, during the warm up game against Worcestershire, what he's capable of. His first boundary was off a left-arm-spinner and that came through a reverse sweep. Then when the same bowler returned for his second spell he hit him for three successive sixes, with new balls being called for on all three instances.
He required three runs off the last ball of the Sri Lankan innings to complete his century. He could only get two runs and was left stranded on 99. Nuwan Kulaseakra, his batting partner in fact called him for the third run that didn't look to be there, but Mendis was smart. He knew there was no third run and showed maturity during his knock.
He is also an exceptional fielder at the cover region and the Sri Lankan supporters who haven't seen much of him are sure to admire what he does on the field, when the ODIs start. Mendis reminds you of Sanath Jayasuriya in his prime, while on the field. He also bowls leg-spin and could turn out to be an important cog in the wheel, as Sri Lanka looks towards the future.
Nuwan Pradeep Fernando, who had to leave the tour half way through due to injury, is another player who will play a key role in years to come.
Dinesh Chandimal is another exciting player. He failed to get any big runs on the tour, but from the little time he spent at the crease showed that there is no shot that he can't play. Against stronger bowling attacks, he may have to curb his instincts a little. He was the reserve wicketkeeper in the side and did a decent job.
The coaching department of Sri Lanka Cricket (SLC) headed by Jerome Jayaratne has done a remarkable job in ensuring that the national team wouldn't be short of quality. But what happens when a player is about to come into the national side is worrying.
Player agents are proving to be the biggest curse of Sri Lankan cricket and if authorities don't control them they could do irreparable damage. Increasingly it has come to light that players more than having their loyalties to the board or the country have their loyalties towards the agents, who are like pimps, who exploit players to maximize their profits.
Country's hard working coaches spend time and energy to unearth talent, only to be gifted for agents to decide what these players should do and shouldn't do. Which series they should play and should not play. If Sri Lankan cricket is to realize the full potential of these players, on whom they have invested on, cricket agents should be avoided like plague.
© Rex Clementine