By Hilal Suhaib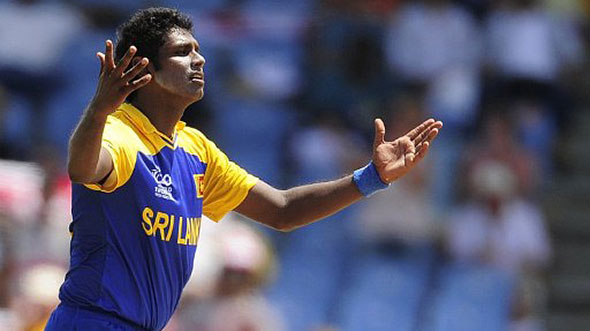 Angelo Mathews overlooked for vice-captaincy. AFP/File/Emmanuel Dunand.
June 21, 2011 (Island Cricket): The approach of the new five-man selection panel, headed by Duleep Mendis, has been needlessly confrontational and highly confusing, to say the least. If not appointing a vice-captain for the Test tour of England was strange, their handling of Lasith Malinga was catastrophic for Sri Lanka. Now, the appointment of Thilina Kandamby over Angelo Mathews as vice-captain, in the ODI and T20 squad, is baffling.
Earlier this year, Mendis gave Malinga an ultimatum to return to Sri Lanka from the Indian Premier League (IPL) tournament, or face the risk of not playing again, when the fast bowler informed the selectors that he was unavailable for Test selection for the 2011 tour of England. Malinga said that he would continue to play limited-over cricket, including T20 matches for the Mumbai Indians in the IPL, but was forced to take time off from the longer format in order to prolong his career.
"Although I am sufficiently fit to play both ODI and T20 cricket, I have a long-standing degenerative condition in my right knee that needs to be carefully managed," Malinga said in a statement in April.
He said that his previous attempts to get back into Test cricket resulted in injury concerns, which threatened the longevity of his career.
"I did try to return to Test cricket after a three-year absence last year, following requests from the team management and the selectors, but it left me unfit nursing severe knee pain for two months," Malinga said.
Recovering from a knee injury, he followed medical advice, and chose to reduce his workload by taking time off from Test cricket. But faced with Mendis' headmasterish directive, the 27-year-old was forced to prematurely announce his retirement from the five-day game, so he could remain in India to honour his IPL contract, instead of returning to Sri Lanka as ordered by the chief selector; Malinga had previously hoped to make a comeback to Test cricket after sufficient rest.
There were better ways to deal with the situation. Issuing such ultimatums to professional sportsmen displays poor judgement, especially when Malinga has been unable to play Test cricket consistently over the last 12 months due to his degenerating knee.
Therefore, his decision to miss the England Test series was expected, provided that one has followed his injury-prone career closely. It is, perhaps, something that the new chief of selectors has not done.
The recent appointment of Kandamby as vice-captain by Mendis' selection panel is equally puzzling. His inclusion in the squad, over batsmen who have averages superior to his – in recent domestic competitions – is another bizarre move.
Kandamby's team-mate at the Sinhalese Sports Club Thilan Samaraweera, who hasn't been selected for the ODI squad, averaged 76.00 from five matches in the Tier-A Premier Limited Overs Tournament this year. In comparison, Kandamby averaged just 29.66 from five matches in the same competition.
Similarly, in this year's Inter-Provincial Limited Overs Tournament, the new vice-captain managed 76 runs from four matches.
It is, however, possible that these selectors looked at his record from the Tier-A Premier first class competition, where three-day matches are played, and where the left-hander averaged 50.20 from ten matches, with two centuries.
But the need to appoint a vice-captain, whose place in the squad is hard to justify, appears even more ridiculous when the selectors have utilised Mahela Jayawardene and Kumar Sangakkara – both experienced former captains – to fill in the leadership vacuum in recent times.
In April, when the Test squad to England was announced, a statement from Sri Lanka Cricket (SLC) said that "prospective candidates are nursing injuries", and they chose not to appoint a vice-captain. That move backfired, forcing Sri Lanka to turn to Jayawardene and the reluctant Sangakkara for help when Tillakaratne Dilshan was injured.
Interestingly, Mathews has been tipped as a future captain, and was likely the only prospective candidate to be injured when the Test squad was announced. Even though Mathews is fit enough to be included in the ODI and T20 squad for the series against England, Mendis' selection panel has overlooked the highly skilled all-rounder for vice-captaincy.
Kandamby has not played for Sri Lanka for close to a year, and since making his debut in 2004, he has been unable to secure a place in the team, until now.
"Angelo would have been the obvious choice, but at this stage he is not 100% fit," Russel Arnold, who is currently in England as part of the Sky Sports commentary team, said speaking to Island Cricket.
Arnold felt that Kandamby's inclusion in the ODI side was long overdue.
"For me, Kandamby should have been the man the middle order was built around, even leading up to the last World Cup," he added.
"This is a vote of confidence given to him by the new selection panel, and it should help him re-launch his career.
"Since he has been around for awhile in domestic cricket, he is well known and respected by all the other players around him. Be it senior or junior."
However, Mathews' agent Charlie Austin disagrees with the view that Mathews is still injured.
Austin told Island Cricket that Mathews is "fully fit to play as a batsman and fielder, having recovered from the Grade-2 quad strain he sustained in the World Cup."
"During his recovery period, he also travelled to Melbourne to get some treatment on a long-standing knee problem from surgeon Dr. David Young," Austin added.
"That injury is also now much better, but given a hectic schedule this year he's not going to rush back into bowling full-time, until everything is 100% OK."
Mendis, along with team manager Anura Tennekoon failed to respond to Island Cricket, when questions were put to them regarding Kandamby's appointment.
© Island Cricket