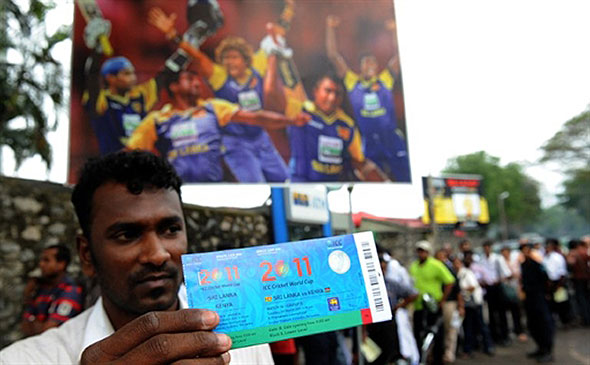 A Sri Lankan cricket fan shows his ticket for a cricket World Cup match in Colombo on February 7, 2011. Hundreds of fans braved monsoon showers to que outside the Sri Lanka Cricket office in Colombo. AFP PHOTO/Ishara S. KODIKARA.
February 7, 2011 (Island Cricket): After confusion and panic at the Sri Lanka Cricket (SLC) headquarters in Colombo today, where hundreds of cricket fans gathered to purchase ICC World Cup 2011 tickets priced at Rs. 50 and Rs. 100, only to be told that there had been an misunderstanding and only pre-reserved tickets were being issued, the World Cup secretariat has now issued a statement clarifying the sale of the said tickets.
Last October, SLC announced that fans would be allowed to reserve premium priced tickets ahead of time. It was stated, at the time, that the reserved tickets will be available for pick-up during the first week of February. However, several hundred individuals gathered outside the offices of SLC this morning attempting to purchase tickets priced at Rs. 50 and Rs. 100.
In a media release today, the World Cup secretariat announced that tickets priced at Rs. 50 will be available from February 14 onwards. No mention has been made of when tickets priced at Rs. 100 would become available.
"The ICC Cricket World Cup Secretariat, Sri Lanka will commence the issuing of reserved tickets from 7th February 2011 from 3 PM to 7 PM and from 8th February to 17th February 2011 from 11 AM to 7 PM at Sri Lanka Cricket, 35, Maitland place Colombo 7. The Tickets priced at Rs. 50 for the public stands will also be issued from 14th February 2011 at the said location and at all three World Cup venues," the statement read.
© Island Cricket