By Staff Writers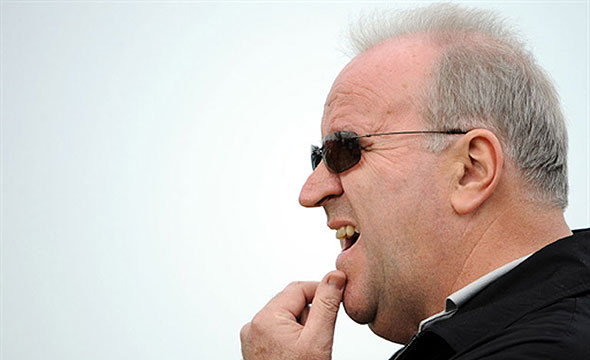 Darrel Hair hasn't got over Muttiah Muralitharan. © AFP/ANDREW YATES.
March 5, 2010 (Island Cricket): Australian cricket fans, in Colombo for the Group-A clash between defending world champions Australia and 1996 world champions Sri Lanka, reacted angrily today to recent comments made by the disgraced former umpire Darrell Hair.
Just a day before the clash at the R. Premadasa Stadium between the two of pre-tournament favourites, Hair claimed that some officials and umpires at the International Cricket Council (ICC), who he failed to name, still had doubts over Muttiah Muralitharan's bowling action.
Muralitharan, the highest wicket-taker in Test and ODI cricket, has been tested more than any other bowler and has been cleared by the game's governing body, with the assistance of Australian bio-mechanist.
Scientific tests on Muralitharan conducted at the University of Western Australia and in Hong Kong have confirmed that a congenital deformity in his right elbow and abnormal shoulder and wrist rotations created the illusion of a throw.
The former ICC elite panel umpire was sacked by the ICC in 2006, when seven member nations showed no confidence in his judgement as an umpire and voted against him during an ICC board meeting.
"Muralitharan has been tested and cleared and that should put an end to any speculation," Nathan Brown from Melbourne, currently in Sri Lanka for the game today told Island Cricket.
"It's a shame that he [Hair] has chosen this moment to paint us [Australians] in such bad light in this part of the world, during such an important World Cup campaign for the Aussies," he added.
In November last year, Peter Roebuck interviewed Muralitharan for the Sydney Morning Herald. In the interview, Muralitharan revealed that Hair had officiated in several matches leading up to the 1995 Boxing Day Test, in which Hair first no-balled the off spinner, but chose to call him for throwing in front of 55,000 fans at the Melbourne Cricket Ground on Boxing Day.
Muralitharan said that he was "shocked" the umpire found his deliveries illegal only in front of a capacity crowd on an occasion as big as a Boxing Day Test, but not before.
Now, with his ill-timed comments, Hair has ignited the debate over his mental state amongst Australian fans travelling in the sub-continent for the World Cup.
"The guy is a nut job," Jillian Cooper, another Australian supporter currently in Sri Lanka told Island Cricket.
"Its one thing to have an opinion over it and then follow through with the rules of the game, but it's another thing to be slandering Murali more than a decade later," she said.
Speaking to an Australian reporter yesterday, Hair claims that two umpires had told him that "'something is wrong" with Muralitharan's action.
"But they prefer to let it go," he says.
"There is still a lot of doubt about his deliveries.
"A few have told me, 'There is definitely something wrong with his action, but I'm not going to call him'.
"They are the ones who have to live with that.
"If you're an umpire you're meant to uphold the law so both teams get a fair shake.
"There's been some umpires who think, 'I'm on a good wicket here, I'm making good money, I won't rock the boat'.
"It's not my style, it's obviously theirs," the 58-year-old said, implying that the umpires who had allegedly confided in him had low morals.
ICC regulations no longer require umpires to call bowlers during a game. Instead, they are allowed to take their concerns to the match referee. The bowler is then required to undergo bio-mechanical testing.
The process has been successfully utilised and bowlers from South Africa and West Indies have had their actions scientifically scrutinised in recent times as a result.
Two high profile bowlers, India's Harbhajan Singh and Australia's Brett Lee, too, have had their actions similarly tested and umpires showed no reluctance in enforcing the rules then.
"I've got full confidence in the elite panel of umpires, in the rules we have in place – and it's up to the umpires to apply them," ICC chief executive Haroon Lorgat said today in response to Hair's rant.
"I'm afraid Darrell is no longer part of the panel, and his opinion is just that."
© Island Cricket
Related: