By Staff Writers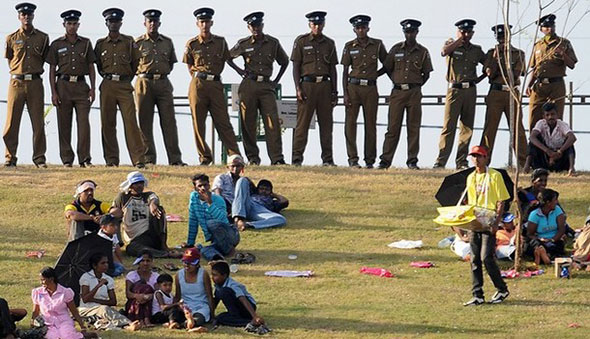 Sri Lankan policemen watch the Group A World Cup match between Pakistan and Kenya at the Suriyawewa Mahinda Rajapaksa International Cricket Stadium in the southern district of Hambantota on February 23, 2011. © AFP/Lakruwan WANNIARACHCHI.
March 7, 2011 (Island Cricket): Nearly 3500 police officers on duty for the ICC Cricket World Cup 2011 match between Pakistan and Sri Lanka at the R. Premadasa Stadium in Colombo on March 3 were provided with meals which were "unfit for human consumption," according to The Sunday Times newspaper in Sri Lanka.
The cost for the meals (lunch and dinner), the paper says, is borne by Sri Lanka Cricket (SLC) at 350 rupees a day per officer.
"Angry sleuths probed how the stale food came to be in their meal packets," the paper stated.
"It turned out that the person handling the contract to supply meals is the wife of a top cop.
"No further inquiries were held."
The paper also revealed that the contract to provide bottled water along with the meals had been awarded to a retired high-ranking policeman.
In addition, SLC faced issues with catering for members of the media when Canada and Sri Lanka played their group match in Hambantota.
"It was learnt that while the caterer was paid to provide meals to 250 personnel (including photographers and camera crew) both local and foreign, less than 125 was on order resulting in a shortage," Sri Lanka's Daily Mirror reported.
"It is understood that the World Cup Secretariat in Colombo had called for tenders for catering at the match and disregarded the bid made by a recognised leading hotel nearby in favour of an individual from Moratuwa.
"Fearing for their hygiene some media personnel said they will have to take precautions over the food they are served, it is learnt."
© Island Cricket