By Hilal Suhaib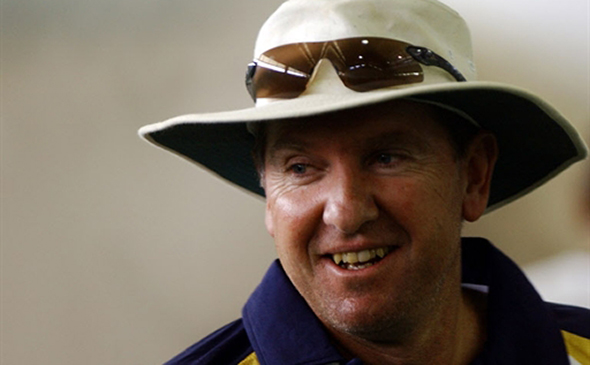 Trevor Bayliss the Sri Lankan coach. Bayliss is the fifth Australian and the first non-international cricket player to coach the Sri Lankans following Dav Whatmore, Bruce Yardley, John Dyson and Moody. AFP PHOTO/Sanka VIDANAGAMA.
October 28, 2010 (Island Cricket): Sri Lankan coach, Trevor Bayliss, said that his team realises Australia will be tough to beat at home, but feels that the hosts are not as consistent as they once were.
The Sri Lankan coach said that his side will be looking to take advantage of Australia's recent record.
"Australia are going to be very tough to beat in their backyard. The results haven't gone the way they would've liked in the last little bit so they'll be out to prove a point," Bayliss told the Australian media today in Perth.
"They're not quite as consistent as they have been in the past, so we'll hope to take advantage of that, but they're still a good cricket side and they've got some good young players coming through.
"They've got a home ground advantage which they're not going to let go easily, it's going to be a very interesting series, that's for sure."
Sri Lanka and Australia face off in the opening match of the series in a T20 game on Sunday, October 31 at the Western Australia Cricket Association Ground in Perth.
The series will also be Muttiah Muralitharan's final tour to Australia. The champion spinner announced that he will be retiring from ODI cricket after next year's World Cup.
On Muralitharan, Bayliss said that he was enjoying his tour, and he has been well received thus far.
"He loves coming to Australia. The two matches we've played so far, he's been well received and he's bowling very well.
"He had a little bit of a break and then went to the Champions League in South Africa, bowled very well over there and he's looked very good in practice too."
Sri Lanka go into their opening match having won two of their three warm up matches, and were unfortunate to lose out on valuable match practise when rain forced their 50 over encounter with New South Wales to be abandoned.