By Rex Clementine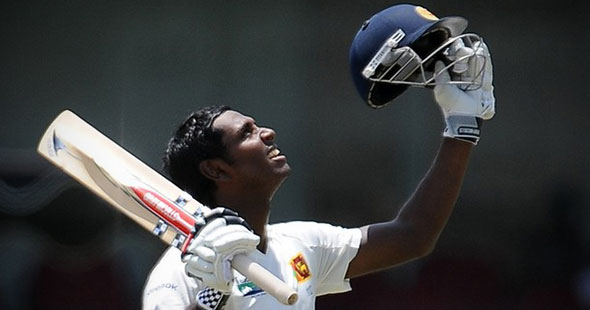 Angelo Mathews looks up to the heavens after scoring his first hundred in Test cricket. © AFP
September 25, 2011 (Island Cricket): On the eve of the three-match Test series between Sri Lanka and Australia in Galle, there was uncertainty surrounding Angelo Mathews and if he will be playing the first Test. It was long debated whether the 24-year-old deserved a place in the side as a genuine batsmen. However, by the end of the series, he was Sri Lanka's most successful batsman, ending the series as the highest run getter for Sri Lanka.
Mathews' maiden Test hundred was also recorded in the series. The manner in which he got to that hundred, however, was the talking point in cricket circles, with some even underlying that it will be a Test hundred that Mathews will grow to regret.
At SSC, a game Sri Lanka required to win to square the series, Mathews made an unbeaten 105 having batted for 406 minutes, but Australian captain Michael Clarke, while trying to save the game, only batted for 259 minutes for his 112.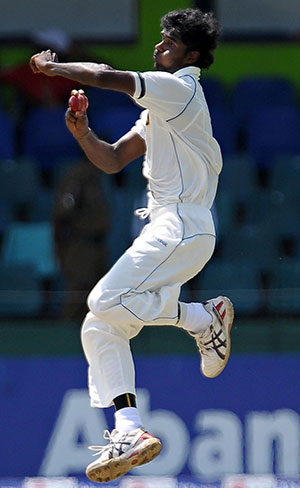 When the Sri Lankan think-tank look back at the series, they will certainly consider it a lost opportunity, as three consecutive batting collapses forced them to play catch up against a well drilled Australian side.
Looking back, the Sri Lankans will feel that the way they batted in the first innings of the Galle Test, where they were bowled out for 105 runs, was the turning point. Sri Lanka lost the series 1-0, very much like in England early this year, where their second innings collapse in Cardiff cost them the series 1-0.
At Pallekele, too, Sri Lanka collapsed in similar fashion, when they lost five wickets before lunch on day one after electing to bat first. But the Sri Lankans batted well in their second innings and with a bit of help from rain were able to save the second Test.
At SSC, meanwhile, Sri Lanka won the toss again, but went defensive when they put Australia in. However, the seam bowlers did a fine job to restrict the tourists for 316 runs in their first innings. Chilaw-based young fast bowler Shaminda Eranga was the player to emerge from the Sri Lankan camp, after exhibiting that he could generate serious pace and trouble the batsmen.
His selection was a bold one because the selectors had moved away from the traditional thinking pattern of having two specialist spinners. In the post-Muralitharan era, playing three fast bowlers could be the way forward for Sri Lanka, as another promising fast bowler Nuwan Pradeep Fernando will return for the series against Pakistan. Dhammika Prasad is another bowler who has impressed, but hasn't got a decent run.
Middle order batsman Thilan Samaraweera, who was dropped for the third Test after failing in the first two games, was left out for the upcoming Test series against Pakistan. The selectors had overlooked players with bigger reputations than him, but the strong willed Samaraweera, at the age of 35, has vowed to fight back.
Aussies and Mendis
Right from the moment Ajantha Mendis picked up six wickets at Pallekele in the T20 International, the Australians started speaking of him with lot of reverence.
"I always thought that he's a very good bowler," Australian captain Clarke said of him. "He's got lot of different deliveries and lot of variations. I am surprised he didn't play in the first Test to be honest. Hopefully they don't select him for [the second test].
"We looked at lot of footage, but it's harder to go and face him than to watch him on video."
Mendis was surprisingly overlooked for the first Test in Galle, but was named for the second Test on a flat deck and a mysterious back ailment then forced him out of the squad.
Milestones for Herath
The series saw Rangana Herath emerging as Sri Lanka's number one spinner ahead of Mendis and Suraj Randiv. He also became the fourth Sri Lankan to take 100 Test wickets after Muralitharan, Chaminda Vaas and Lasith Malinga. His seven for 156 in Australia's second innings at SSC, is his career best figures, which makes him only the fifth Sri Lankan to pick up seven or more wickets in an innings after Muralitharan, Vaas, Ravindra Pushpakumara and Ravi Ratnayake.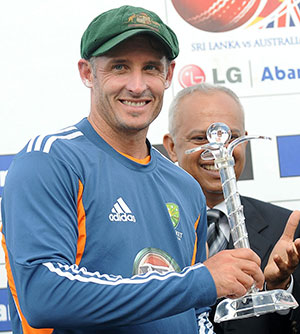 Australia would have returned home with a sense of fulfilment. In a rebuilding process, Australia arrived in Sri Lanka with a young squad and in middle of the series the Argus Report that had looked into Australia's debacle in the last Ashes campaign had suggested several shake ups into the set up which included change in the selection committee and a change in the team coach.
'Mr. Cricket' makes the difference
Michael Hussey, nicknamed 'Mr. Cricket,' was the stand out batsman throughout the series, piling up heaps of runs and pulling off some sensational catches at gully, which proved to be decisive at both Galle and Pallekele. He also struck a few crucial blows with the ball, with his victims being Kumar Sangakkara and Tharanga Paranavitana.
Hussey finished the series with a staggering 463 runs in five innings with two hundreds and two scores in the 90s at an average of 92.60. Sri Lankan captain Tillakaratne Dilshan, at the end of the series, conceded that it was 'Mr. Cricket' who had made the difference.
"Hussy made the difference in the series, no doubt about that," Dilshan said
"He batted at Galle with the tail-enders and got 95 and changed the complexion of the match. Then, he did the same thing at Pallekele and got a hundred. He is the main guy in their batting line-up. They are very strong with him in the middle. They bat around him."

Young players stand up for Australia
That their young players stood up for the team when it mattered is something Australia will be immensely pleased with. Trent Copeland, who made his debut in Galle, didn't have much pace, but his control was excellent and he finished with a good series. Off-spinner Nathan Lyon will surely tell his grand children that his first Test wicket was Kumar Sangakkara. With the famous Galle rampart as the backdrop for the scene, Lyon's first Test wicket came in his first ball in Test cricket as well. He went on to pick up a five-wicket haul. Interestingly, Lyon was yet to pick up a five-wicket haul in first class cricket when he had his impressive Test debut in Galle.
At Pallekele, when Sri Lanka had done the hard work after being bowled out for 174 runs in their first innings, it was debutant Shaun Marsh who stood up. Marsh, together with Hussey, added a record 258 runs for the fourth wicket. To ensure Australia capitalised on their first Test win in Galle, both batsmen went on to post centuries.
Young opener Phillip Hughes had had a tough series going through five innings without a half-century and in his last innings in the series, with a Test to save, he redeemed himself and smashed 126 runs, cashing in after Sri Lanka's new ball bowlers failed to exert the pressure that they had done very well in the first innings.
Warne-Muralitharan Trophy undermined?
With a dearth of quality spin bowlers in the country, some tend to get the feeling that Sri Lanka Cricket didn't do enough to cash in by using the two iconic figures of spin bowling – Shane Warne and Muralitharan. Even the host broadcaster, Ten Sports failed to call the series 'Warne – Muralitharan Trophy' for the first two Tests.
Calling Muralitharan on the morning of the final day's play of the series to check on his availability to present the trophy was nothing but an insult to the great man.
© Rex Clementine/The Island.