By Damith Samarakoon | August 30, 2011
Australia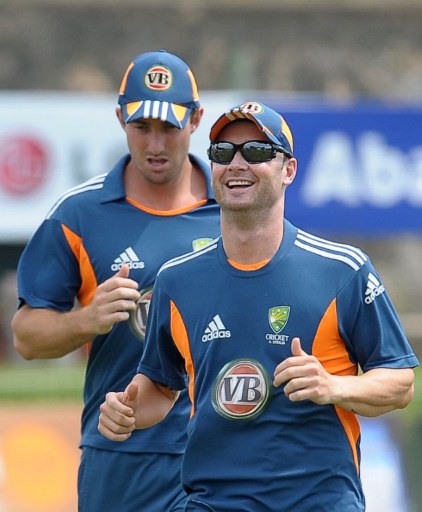 Knee-deep in rebuilding, being hungry and being prosecuted by Don Argus, Australia face their first real test since losing the Ashes and surrendering their World Champion status. They looked almost the part during the ODI series. Most importantly for Australia, Ponting looked in pretty suave form, so much so that old grumpy was happy, as much as Ricky Ponting could ever be happy, to sit out the tour game.
Australia and Michael Clarke will have you believe that this is a 'new era' for Australian cricket. But the fact of the matter is, personnel wise, the only changes from the Ashes loss will be Phil Hughes and Shaun Marsh getting their shot. The only real change you will probably notice, will be the way Michael Clarke captains. His cheerful admissions about being glad not to face up to a quick bowler (Lasith Malinga) is not really what we are used to from an Australian captain. I mean, look at Ricky, he's not captain anymore but still looks pretty pissed off at the world. But don't let the peroxide and tattoos fool you. Clarke is like the Harvey Specter (Suits) of the cricket world. He will use his good looks and unflustered nature as a weapon to stab you in the back. Clarke managed just the right balance between attack and defence in the ODIs. We should expect more of the same in the Test series.
Batting: Solid and deep. This is Australia's strength. Shane Watson, Ponting, Clarke and Hussey. Now that is a formidable top order. And all of them looked in good touch during the ODI series. This tour could potentially be the tour that re-launches Phil Hughes's career and sheds more light on the talents of Khawaja and Marsh. The problem for Australia will be how to fit all of them into the same side. With Haddin and the rest of the tail looking suspect against spin, much of the work will have to be done by the top five. But the plus for Australia is, that if needed, the lower order can hang around and score runs.
Bowling: If Australia win this series, it will be because of their fast men. The ODIs showed that the Sri Lankans still struggle when its dug in short and when there is a bit of nip. And if Ryan Harris, Mitchell Johnson, Peter Siddle and maybe Trent Copeland can get past the top four, they know they are in with a big chance of skittling out the rest. What Australia don't want to do is go down the 'when in Rome' path. Stick to your strength and get at the Sri Lankans. We don't like it, we never have. If the Aussies are thinking of playing two spinners, then they've already lost the plot. There is also the small matter of coping with the Sri Lankan heat; the bigger and unaccustomed you are, the harder you will fall.
Sri Lanka
Only two Test wins in nine games at home, in the last few years. Even if the West Indies series was played on paddle boats and washed out, we lost to England, India (twice) and now Australia in ODIs – Sri Lanka are no longer the dominant team they were at home. And much like Australia, Sri Lanka are also in a new phase; Tillakaratne Dilshan leading the side and no more Muttiah Muralitharan. A big worry for Sri Lankan fans is that we will be unable to win Test matches. And just like Australia, Sri Lanka will be banking on their top-draw cards in their batting and a few unknowns in their bowling. Dilshan has a chance to benchmark how he decides to lead this Sri Lankan Test side. Especially now that we have been handed a generous share of the Test pie in the FTP.
Batting: The Sri Lankan batting line up is top heavy, we will be relying on the top four to score most of the runs. Thilan Samaraweera's addition is a welcome one, which adds more stability to the middle order. But from that point on, it's anyone's guess. Everyone loves to brandy up Angelo Matthews but he is yet to deliver. Perhaps he should be given enough time to get fit, recover from the niggles and give Thirimanne or Chandimal the break they deserve. Prasanna Jayawardene also has a big part to play. The runs he scored in England were impressive and he will need to continue that form, if he is to shield the weak lower middle order.
Bowling: With no Malinga, SL will depend heavily on guys like Shaminda Eranga and Chanaka Welegedara for early breakthroughs. But they are up against two very attacking openers in Watson and Hughes. And with the form Watson has shown, this could be a very painful time for the two. Eranga showed he could nip it about early. Whether he can do the same with the red ball remains to be seen. Then, there is the spinner conundrum. If Sri Lanka are to win, then they have to get their spin attack right. They will favour the two or even three-spinner option. Mendis has been on the wane and after his initial romp in the T20s, the Aussies have handled him competently. Australians also play left armers well, so I would be happy to see Randiv/Mendis/Seekuge or Randiv/Mendis or Seekuge line up for the first Test in Galle. Whether the selectors have it them to make a big call like that, will remain to be seen.
Damith Samarakoon is a Sri Lankan cricket connoisseur living in Sydney. He blogs regularly at www.theflyslip.net and can often be found in his white flannels pretending to be an all rounder.
© Damith Samarakoon/Island Cricket