By Rex Clementine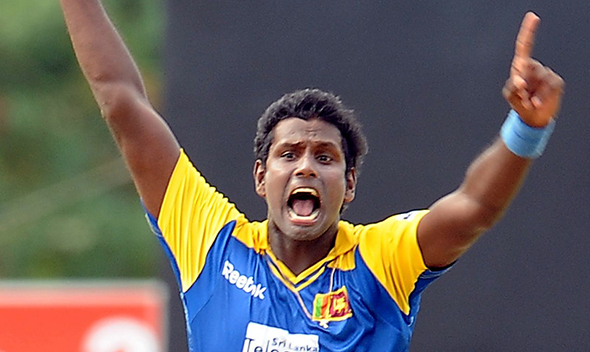 Angelo Mathews will not be bowling in Australia. He plays purely as a batsman due to injury. © AFP.
October 16, 2010 (Island Cricket): On the eve of the national cricket team's departure for a short series in Australia, Sri Lankan skipper, Kumar Sangakkara, stressed the need to come up with improved fielding efforts with the World Cup not too far away. He also said that the injured Angelo Mathews will not be bowling during the tour to Australia; Mathews will be playing purely as a batsman.
Sangakkara said that he wanted to see an overall improvement in the fielding standards after high standards Sri Lanka exhibited in fielding years ago, had dropped drastically in the last two years.
"Fielding is absolutely vital. We have stressed on that quite a lot during our training sessions. Fielding can make a huge difference and one direct hit or converting a half chance could win a game. We need to keep raising our standards every day," Sangakkara said.
While certain newcomers to the national team have failed to live up to the standards expected from any international cricketer nowadays, even the generally reliable fielders in the side have been below par in recent times.
The national team has been working with Australian fielding expert Gavin Fingleson in the last two weeks in an attempt to improve fielding skills and the team is expected to have certain improvements in fielding by the time the World Cup comes.
"We have been training hard in the last few weeks. It's hard to recreate the wickets you would get in Australia, but we've been working on the bowling machines to match the bounce. As I said, we have been putting a lot of emphasis on fielding as well. The preparations have been intense, but the real challenge is to put that into practice when the match day comes," Sangakkara added.
Sangakkara, who was nursing a left hamstring strain, has recovered, but Angelo Mathews, another player who was on the injury list hasn't recovered fully.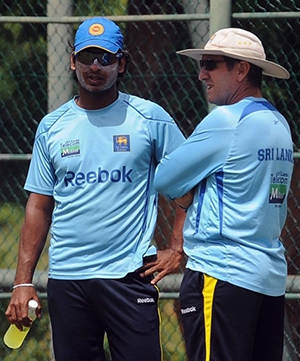 "My recovery has gone well. I need to continue my rehabilitation. Angelo [Mathews] meanwhile is fit to go on the tour, but he won't be bowling in the tour and will play only as a batsman," the skipper said.
Though opportunities in Australia have been limited, Sangakkara has done quite well whenever he has played there. The last time the team toured Australia, in 2007, after missing the first Test in Brisbane due to injury, Sangakkara went onto post a thrilling 192 in the second Test in Hobart and prior to that in 2004, hit twin half-centuries in the Cairns Test.
"I have scored lot of runs in ODIs as well in Australia and maybe the fact that I am a back-foot player helps me. It does help when the ball comes onto the bat. Playing in Australia is interesting. They play hard and when you play Australia it lifts your game."
Australia were badly exposed in the recent two Test series against India where their bowling deficiencies in particular were exposed. Apart from Shane Warne and Glen McGrath, the Australians also have missed Adam Gilchrist, Matthew Hayden and Justin Langer in the batting department. However, Sangakkara expected a tough challenge in the upcoming series.
"They are lacking some top class players; no doubt about that. We could see Brett Lee back in the side this series. But overall, they have done well without these players. When they have their backs against the wall, they are dangerous and they come hard at you. The challenge for us will be tough, but I think we have prepared enough to take on that challenge."
There has been some criticism after youngsters Dinesh Chandimal and Jeevan Mendis weren't picked for recent home ODIs. Chandimal, in particular, faced such a situation after scoring a hundred in Zimbabwe. There have been questions asked as to whether the two players been thrown into the deep-end in a tough tour to Australia after being ignored for back-to-back home series, which were considered relatively easy. Sangakkara, however, insisted that the two players will be given opportunities after the Australian series as well.
"Both these players went with the 'A' team to Australia and did quite well. It will be very unfair if we are going to judge them on just one tour. They have to be given a chance when we come back for the West Indies series. Both of them are in the squad because of their performances. Not just because talent or anything. Day in and day out these guys have scored runs and they have converted potential into performance."
Sangakkara also indicated that he has a fair idea about his World Cup squad and by the time the West Indies series comes, Sri Lanka could stick to the 15 players who would form the World Cup squad.
"When we come back from Australia, we will have a definite idea about our squad. Already we have a 95 percent clear idea as to who we want for the World Cup.".