By AFP | December 20, 2011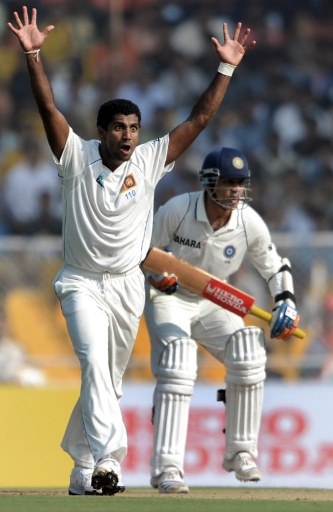 Uncapped fast bowler Kanishka Alvitigala and seamer Dhammika Prasad have flown out to South Africa to join Sri Lanka's struggling Test team, officials said Tuesday.
Sri Lanka, who were crushed in the first Test by an innings and 81 runs, had requested replacements after pace bowler Nuwan Pradeep was injured during a warm-up game in Benoni.
"Dhammika Prasad and Kanishka Alvitigala will be available for selection for the 2nd Test at Durban on 26th of December and for the final Test at Cape Town scheduled for 3rd January 2012," Sri Lanka Cricket said in a statement.
The governing body said both players flew out on Monday to join the team.
(Related: Sports minister intervenes, uncapped Alvitigala to be sent to SA)
The 25-year-old Alvitigala has taken 51 first-class wickets in 25 matches with a career-best of 5 for 34. He has been part of the Sri Lanka A team and toured England earlier this year.
The injury-prone Prasad, 28, has featured in eight Tests, taking five wickets on his debut match against India in 2008.
Sri Lanka also play a five-match one-day series during the tour of South Africa, which ends on January 22.
© AFP