By Ranjan Paranavithana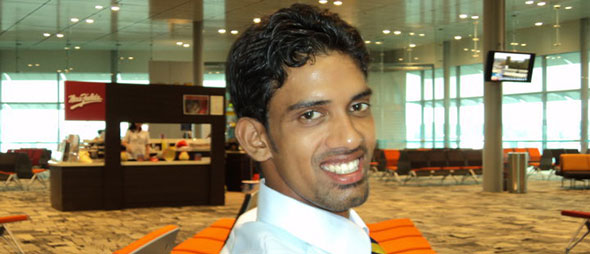 How did local umpires and coaches overlook Sachithra Senanayake's bowling action despite early concerns raised? © Island Cricket/Neran de SILVA.
August 20, 2011 (Island Cricket): We had to deviate from the game of cricket in the recent past, as the administration of the game took the centre stage for all the wrong reasons. Its time now to get back to the game.
Sri Lanka is taking on Australia, and Sri Lanka 'A' has just finished their tour of England.
Against Australia, Sri Lanka won the two Twenty20s quite easily and then went on to lose the first two ODIs quite badly. One reason is that our batsmen failed to come out of the Twenty20 mentality. They folded inside 40 overs, with the top order often perishing to rash shots. The wickets that were prepared for the matches too didn't help Sri Lanka.
To nullify the Australians, they were made grassless, slow with low bounce. That caused Sri Lanka's downfall. The ball was not coming onto the bat and our batsmen struggled right throughout. The spinners too struggled on flat wickets. But the wicket for the third ODI was different, and our players did well to win it. A 50-50 wicket will not do any harm to Sri Lanka's chances.
The selection committee, meanwhile, continues to baffle everyone. They selected left-arm spinner Rangana Herath for all the formats and now he is paying the price – he has become ineffective. The selectors don't consider Dhammika Prasad, who is a good all-rounder, for One-Day cricket. Instead, they turned to Suranga Lakmal; they will also soon destroy his career in a similar fashion.
Although we are bragging about potential fast bowlers to be our second string, there aren't many replacements for the seniors. Nuwan Pradeep and Shaminda Eranga have been there for some years. The 'A' team's tour to England shows we lack fast bowlers. It's the fast bowling academy that should be held responsible for this.
Too many changes to their actions and too much of cricket have left young pacemen prone to injury. And our fast bowling coaches very often use our best pacemen as net bowlers, when other countries do not do so. And too much of domestic cricket in the way of inter-club, provincial and mercantile macthes plays it part too.
Furthermore, as new tournaments are introduced every year we don't have a proper domestic season.
Some bowlers lose their places in the team for small technical faults. Chanaka Welagedera is a clear example. He has had a problem of running on the danger area, and because of that he was not considered for quite some time. A good bowling coach can correct this mistake within three days. When a bowler performs well, the bowling coach gets the credit, but when he is facing problems only the player is blamed, not the coach.
Dinesh Chandimal has suffered the same fate. A youngster with so much talent and potential, Chandimal got over 1000 runs in the recent premier season. His averages are good and he even hit two centuries in international matches. Because of his technical weakness, against left arm pacemen coming over the wicket and bowling outside off stump, he got out thrice. Now, he has lost his place in the team.
It's a great injustice done to this youngster. It's the duty of highly paid batting coaches to correct such mistakes. In addition, is Thisara Perera's weakness against the short pitched ball. And the fielding levels too have gone down. In the past, Ranjit Fernando, the then manager of the team, conducted fielding practices; without any doubts then standards were better than this.
We can't say the 'A' team did well in England. This is the only tour to England a batsman couldn't score a century. In one match, Seekkuge Prasanna captured six wickets. Other than that no bowler impressed. Sachithra Senanayake's action too came in for questioning. Although there was some suspicion during our domestic tournaments, umpires or bowling coaches didn't take it seriously. Even during SAF games in Bangladesh one bowler was reported with a suspicious action but nothing has been done so far to correct it. We still don't have a strong technical committee to address these matters.
These issues should be addressed if we are to emerge as a better cricketing nation. Over to you, Mr. Dharmadasa…
The author is the coach of Baduraliya Cricket Club and the former sports editor of the Lakbima newspaper in Sri Lanka.
© Ranjan Paranavithana