Sri Lanka's Muttiah Muralitharan was at the University of Western Australia (UWA) on Monday assisting scientists with the development of a new device to test bowling actions.
"I've been tested here (at UWA) five or six times," Muralitharan, who was in Australia on the invitation of UWA scientists, told reporters. "Every time there is a problem I come here and test, so the facility year by year is improving. They are still developing, for a new generation, how to overcome these problems."
The wearable sensors were demonstrated by Muralithran to members of the media and is expected to be ready in six months.
The benefit of the sensor technology, Muralitharan said, was that bowlers can immediately verify flaws in their action and "they can instantly change their action."
Currently, cricketers and coaches at junior levels do not have access to inexpensive technology to determine if bowlers conform to ICC regulations, while international players with suspect actions are sent to labs overseas for testing.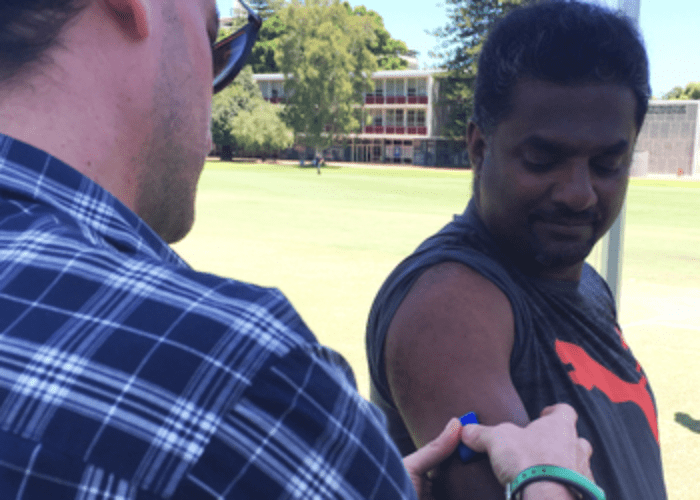 Muralitharan has had a long history dating back decades with the scientists at UWA, having had his action first scrutinised by biomechanist there in the late 90s.
Studies conducted at the university both exonerated Muralitharan and also assisted the ICC set regulations based on science.
Prior to a landmark study by UWA scientists, the ICC had set an arbitrary figure for determining if a bowler was throwing and left career-ending decisions to the subjective analysis of on-field umpires.
"I want to give to back to the game," Muralitharan explained his decision to travel to Australia and help the biomechanists there.
Senior UWA biomechanist Professor Jacqueline Alderson said it was a natural extension to reach out to Muralitharan when her team needed to test the technology, given their long-term relationship and the fact that no one in the world could test the capacity limits of the technology like he could.
"We are delighted and privileged that Murali is so enthusiastic about helping young bowlers develop their skills and that he is keen to be involved as brand ambassador for the technology once fully developed," Professor Alderson said.
"In 2014 we intentionally moved away from the more punitive legality assessments that we had undertaken for nearly two decades, to creating technology that could be used in the field by anyone looking to improve their bowling action and reduce their injury risk – especially back injury in junior bowlers."
© Island Cricket