Sri Lanka have endured a torrid 18 months in ODI cricket but the recent batting form of their two Pereras—Thisara and Kusal—has ushered inspiration to despondent fans and perhaps even the entire Sri Lankan team.
Both players struck centuries late in the game in a losing cause, taking the dispirited tourists close to unlikely wins in the first two matches of the ODI series in New Zealand.
Kusal was ferocious in the first ODI, scoring a century off 82 balls at number-three, and with Sri Lanka chasing a mammoth 372, he was virtually Sri Lanka's only hope in the final 10 overs.
He was finally dismissed with five overs remaining, having struck 102 off 86 balls, in a contest that was getting further and further out of Sri Lanka's grasp with every ball.
New Zealand had bossed much of the ODI with bat in hand and then struggled for wickets early on, but were in control by the end despite Kusal's heroics. His knock nonetheless would have given New Zealand skipper Kane Williamson and his charges food for thought to be wary of this Perera for the next game.
As it turned out, a Perera did do the damage again in the second game, only this time it was Thisara.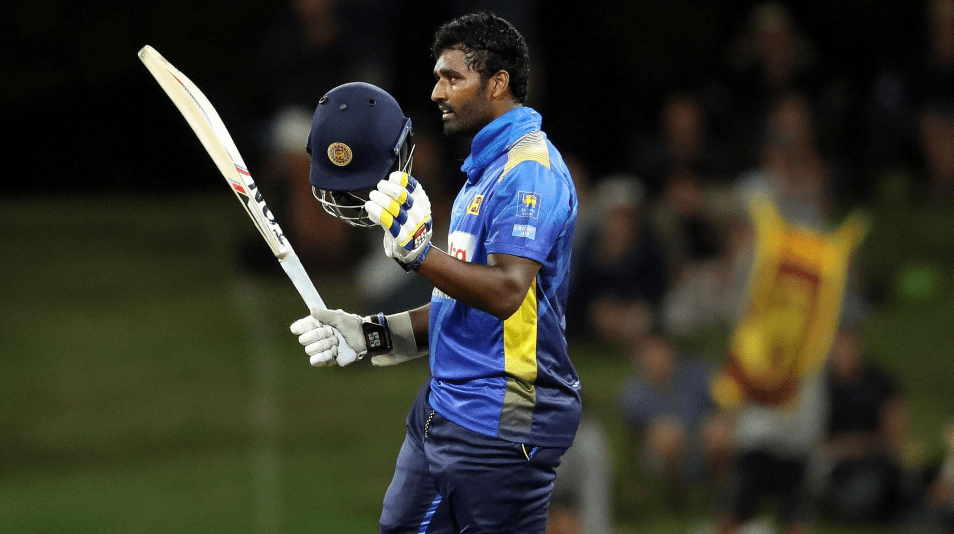 Fondly referred to as Panda by his teammates, Thisara played a significant role with the ball in the first ODI and Sri Lanka were forced to chase a huge score after he was mauled for 34 runs in a single over.
It was returning New Zealand all-rounder Jimmy Neesham who teed off on Thisara, and he bowled poorly at Mount Maunganui in the second game too, going wicketless and conceding 69 off seven overs.
Despite Thisara going for plenty again, Sri Lanka were chasing a slightly less daunting total of 320 in the second game. This time, however, they struggled for a solid start with the bat.
The top-order only enjoyed relatively small partnerships and each of them, including the first match hero Kusal Perera, struggled to make the most of a good start to their innings.
By all accounts an awesome knock by @PereraThisara . Watching it on highlights will be the same as watching it live 😀. Well played Panda. Keep working hard and becoming more consistent.

— Kumar Sangakkara (@KumarSanga2) January 6, 2019
The dismissal of opening batsman Danushka Gunathilaka, who scored 71 off 73, precipitated a disastrous collapse. Sri Lanka fell from 116/4 to 128/7.
In the middle of all this carnage, Thisara walked to the wicket and set about punishing the New Zealand attack with entertaining abandon.
Lasith Malinga was involved in a famous lower-order partnership with Angelo Mathews nine years ago in Melbourne but on this occasion played more of a backseat role to Thisara, as they partnered to score 76 for the eighth wicket. Less capable with the bat, Lakshan Sandakan, later came in at 10 and was happy to surrender the strike to Thisara.
By this time, Kiwi commentators were talking about who the New Zealand selectors would rest in the dead rubber. They had already come to the conclusion the game was lost for Sri Lanka, despite Thisara bringing up Sri Lanka's third-fastest century in ODI cricket. It was also the fastest century scored against New Zealand.
Rather than being progressively worn out of the contest this time, it was apparent that the longer Thisara batted, the more Sri Lanka found themselves in the game.
The usually relaxed and confident hosts were grassing simple catches and began to look concerned. With only five overs to go and Sri Lanka needing 10 an over, the New Zealanders in the commentary box were on the edge of their seats.
Seemingly undaunted by pressure, Thisara's grin got wider with each six as he smashed Tim Southee for four sixes in five balls to put Sri Lanka on the verge of something special—a feat which the other Perera could not manage in the first ODI.
In the process, Panda made his way to 140 from 74 balls and equalled Sanath Jayasuriya's record ODI score for the highest Sri Lankan innings against New Zealand. He also wiped off Jayasuriya's record for most ODI sixes in an innings, with 13 gargantuan hits in his whirlwind ton at the Bay Oval.
Last two games showed individual brilliance of KJP and Panda but still not the teams collective brilliance. More positives than Negatives. Still have to improve but heading in the right direction. #OneTeam⁠ ⁠

— Mahela Jayawardena (@MahelaJay) January 5, 2019
In what was to be the final over of the match, Thisara received treatment for his back and, when he was finally ready to resume his innings, Matt Henry, like Southee, was beginning to lose his nerve, bowling a wayward bouncer that was signalled wide to put Sri Lanka close to within a run a ball of the target.
But Perera mistimed a lofted straight-drive down the ground and Trent Boult at long-on finally hung on to a catch to grant New Zealand a 21-run win and an unassailable lead in the three match series.
There are concerns for Sri Lanka with ball in hand going into the World Cup this year. Batting collapses will also need to be avoided, if Sri Lanka are going to have any chance of success at cricket's showpiece event, but the knocks of both Pereras will encourage Sri Lankan fans and the players too; even within a loss there might just be inspirational moments that could reverse the island nation's fortunes in the 50-over format.
© Island Cricket