By Michael Roberts | April 28, 2011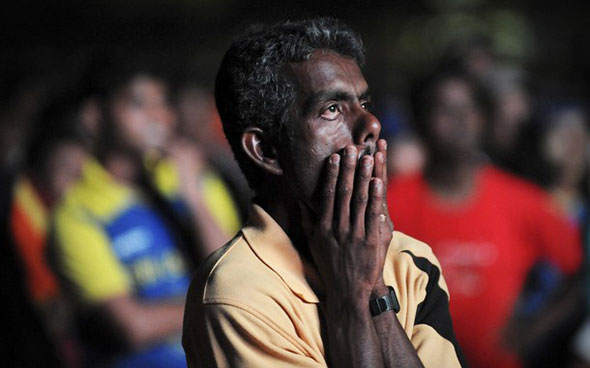 A dejected Sri Lankan cricket fan watches a live telecast of the ICC Cricket World Cup 2011 final between Sri Lanka and India on a giant screen, in Colombo, on April 2, 2011. AFP PHOTO/Ishara S. KODIKARA.
Many Sri Lankan fans expected the cricket team to win the World Cup and even stocked up with firecrackers to mark the celebratory moment. The disappointment has been commensurate with this high expectation. It has generated immense disappointment in many minds.
Though some foreign reports and some Lankans have congratulated the people and officials in the island for the manner in which they formally feted the returning cricket squad, there has been a dark side to the story: muckraking fabrications and rumours of the most vicious character – by mouth, email and newsline.
The foundation for this awful phenomenon, of course, is emotional turmoil. One can place a twist on a well-known aphorism by saying that "before they render persons mad, the gods generate emotional turmoil."
Since April 02, the disturbed sentiments in some Lankan hearts have stimulated a range of vicious tales.
The Sri Lankan cricketers and cricket administration are not being burnt alive after their loss in the final. However, their minds are being burnt. Take some of the rumours that are circulating.
1. It is claimed that the Indian multi-millionaire Mukesh Ambani had paid three, or four, Sri Lankan cricketers a million rupees to perform badly.
2. Exploiting the fact that Muralis' wife is Indian; some rumours contended that Murali planned to settle down in Chennai and therefore favoured India by not exerting himself to the full.
3. The body language of the Sri Lankan XI, as they came out to field, indicated that they were depressed and this was because someone had entered their dressing room and asked them to lose the game, because that would help Sri Lanka politically. The door is thus left open for gullible believers to insert "Namal" for "someone."
4. In a media briefing prior to a motion in Parliament opposition MP Mangala Samaraweera claimed that "the national selectors were not the ones selecting the national team, but the family members of the country's rulers" (as reported in The Island, 9 April 2011).
5. LankaNewsWeb reported that "The ICC is faced with a reasonable doubt on whether the World Cup final was politically set up [and therefore the] ICC Executive Committee [would] meet next week to decide on appointing a special team to re-observe the World Cup final match."
"Further that the ICC doubts have been based on two confidential reports handed to the Council by an English and Australian commentator, about several instances in the match that did not seem proper."[i]
6. The same source indicated that Namal Rajapaksa was sponsoring a Sri Lankan cricket philanthropist from England for the Chairmanship of the Sri Lanka Cricket Board, with DS de Silva; while Kangadaran Mathivanan was being favoured for the post of Secretary and Pramodya Wickramasinghe, Sanath Jayasuriya and Asoka Pathirana were in line for spots on the Board.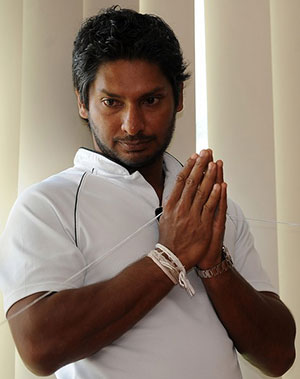 It will be noticed that the claims 3, 4 and 6 dovetail towards the same point of focus. Needless to say, such tales got further oxygen by the coincidental resignation of Kumar Sangakkara and the Selection Committee. Though I do not agree with Sangakkara's explicit reasoning or timing, I can state categorically on the authority provided by Charlie Austin (personal chat) that Sangakkara had decided on resigning several months back.
The Aravinda Selection Committee's term was to end on April 31, so it was quite rational for them to disband earlier, so that selections for the tour of England would be made by personnel who remained in place over the coming year.
The LankaNewsWeb stories landed in my e-mail inbox via several sources from the April 07 onwards. It remains to be seen whether there is any veracity in these purported facts, though prima facie evidence and internal contradictions raise serious doubts about their validity.
The authority and motivation of the LankaNewsWeb website are both subject to serious doubt, because it also carried a tale about Jayantha Dharmadasa's intentions of competing for the post of Chairman, when elections are held, with Ranjan Paranavithana earmarked as his point man.
I now have an email from Paranavithana (night, 9 April 2011) which rubbished the tale categorically and laughed at the idea of Dharmadasa distributing 500,000 rupees each to 75 clubs. So, one can conclude that this web newspaper is an out and out muckraker, a vicious muckraker at that.
Likewise, from conversations with Ranjit Fernando, I can assure readers that President Rajapaksa explicitly told the Selection Committee back in January to choose the best XV for the World Cup.
Indeed, anyone with a nose to the ground would know that if Namal Rajapaksa chose the XV, Jayasuriya would have been there. If Mangala Samaraweera's claim refers to the XI chosen for the World Cup Final, I can assure readers that young Rajapaksa had no influence whatever. This I say in the light of several argumentative conversations with Ranjit Fernando regarding Lanka's needs, after the semi-final and after a brief chat with Anura Tennkoon, when he returned from Mumbai.
After I drafted this text, Mahela Jayawardena has categorically stated that "there was no political interference" and that "there was excellent rapport" between team and selectors "in the past four months" (see his regular review column on The Sunday Times, 10 April 2009).
In brief, Mangala Samaraweera's hypothesis is pure malice in wonderland guided by political opportunism!
What interests me is the readiness with which so many cricket enthusiasts have considered such tales newsworthy and a cause for concern. It is the activity of circulating these tales by email or word-of-mouth gossip that I wish to focus on. Implicit in such acts is the acceptance of the tales.
What, then, encourages such retailing networks of gossip and defamation? I surmise here in a multi-factor hypothesis. One explanation would be to mark a widespread cultural trait among Sri Lankans to spin gossip, canard and even anonymous letters, sometimes instrumentally in search of a job or as denigration of a person one dislikes.
Another explanation is that which I outlined earlier: disappointment and turmoil after the World Cup final among some cricket enthusiasts, who then searched for reasons for the defeat (sometimes without any cricketing sense).
This thread of mental confusion has been bolstered by another pool of ferment and another body of personnel, namely, those hostile to the widespread tentacles, the patronage networks and the circuits of nepotism and alleged corruption that are such a pronounced feature of the Rajapaksa regime. While Mahinda Rajapaksa has wide popularity, there are strong bands of hostility not only in UNP circles, but also among sections of the middle class.
Patronage networks and top-down flows of largesse have been an integral aspect of Sri Lankan politics for decades.[ii] But these processes have taken more ramifying proportions under the Rajapaksas and become high profile because there are so many Rajapaksas here, there and everywhere.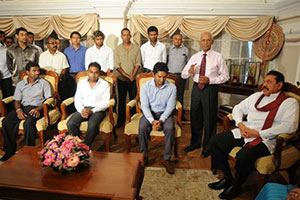 In any event, patronage towards the favoured few invariably creates dissatisfaction from those aspirants left out, so the political system in Sri Lanka has always contained inbuilt disaffection within its pores.
Under the Rajapaksas, the pools and rivers of hostility to their domination have also been fostered by (a) the intimidation of journalists that has occurred over the years and the phenomenon of white vans that have abducted critics of the ruling powers, especially during the war years; and (b) state campaigns of vilification and defamation directed against NGOs devoted to human rights and popular welfare.
Visiting from abroad, I am struck by the visceral character of the hate evoked by the Rajapakas. In liberal moderate circles, this profound hostility has been generated by their reasoned opposition to the intimidation of the press, as well as the nepotism and corruption that is said to be rife. It is nevertheless visceral and conducive to wholesale negativity.
In some individual instances, I also conjecture that this animosity towards the Rajapaksas promotes the practices that one associates with "the feud." Those in feud often cannot see beyond their immediate enemy. Worse still, a resort to vengeance dominates their thinking. Morality is discarded. Defaming or destroying the OTHER becomes an overwhelming goal.
For observers of the muckraking rumours around the Sri Lanka Cricket Board (SLC) and the team, the issue is whether journalists, who have been hurt in some way by the present government, have promoted some of the tales that are being circulated.
To my mind, the news items posted by LankaNewsWeb reeked of defamatory concoction. Ranjan Paranavithana's response reveals one to be a laughable canard. The question one has to ask now is whether the anonymous journalists behind this site are linked to those who sponsored the attempted boycott of the Galle Literary Festival.
The political order surrounding the Rajapaksa government is marked by ferment. It has set up a stream of animosity that has in its turn encouraged individuals to wreak revenge by taking up the defeat at the World Cup final and utilizing that moment to disparage Namal Rajapaksa.
However, as we saw, some rumours embrace the players and selectors as well and defame their character. An ethical stand against the regime does not justify mischievous fabrications that plant anguish in the minds of cricketing men and spawn chaos in their future preparations. Rumours and muckraking can burn minds.
[i] PVJ Jayasekera, Social and political change inCeylon, 1900-1919,University of London: unpub. Ph.D dissertation in History. 1970, p. 275; Diary entries by Cumberland (G.A., NWP) 11 August and 10 Sept. 1915, at Dept of National Archives, 38/21; and Diary entries by Browning (A.G.A., Matara), 4 and 5 June 1915, DNA 26/173.

[ii] Roberts, "Mentalities," in Exploring Confrontation,Reading, Harwood, 1994, pp. 185-89, 205-08.
The full unedited version of the above can be found on Michael Roberts' personal blog.
© Michael Roberts/Island Cricket