By Michael Roberts | June 3, 2011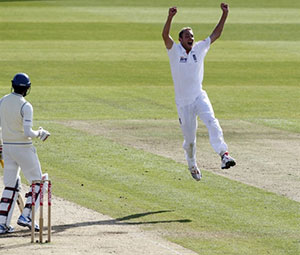 Cricket is an art form. It draws people because it is an art-form. As an art-form, one of its beauties is its unpredictability. So much so that enthusiasts speak of its "glorious unpredictability."
We witnessed that dimension of the First Test match at Cardiff, when Sri Lanka collapsed in a heap for 82 runs in its second innings to lose by an innings and 14 runs. Even Andrew Strauss, the England captain, expressed surprise. As the TV commentators discussed this issue, and the pertinent question whether Strauss had erred in batting on so that Ian Bell could reach his century, Holding made it clear that no one could have anticipated such an outcome.
Holding is wrong. Readers will have to accept it on faith that on that fateful Monday morning I wondered if Sri Lanka would get into trouble and lose the match if England declared at 491 for 5 first thing in the morning.
As it was, the rain delay gave me hope of a washed out draw. Once play commenced, Strauss's decision to bat on was ridiculous in my view; because one's team must be placed ahead of personal milestones [It did not look so terrible in retrospect of course].
At around midnight, when I saw that Paranavithana was out, I feared the worst and rushed off to bed rather than undergoing the prospect of slow torture if and when I tapped into take in the scores.
My reasoning was simple. England had nothing to lose and could go flat-out. Once a wicket or two fell, their spirits and capacities would soar. The impact on the opposing side then can be of catastrophic proportions. There is a snowball effect sometimes in cricket – I have seen and experienced it often enough. I still recall the occasion when a good Peradeniya cricket team collapsed for 17 runs against Trinity College at Asgiriya.
It is this unpredictability generated by the intelligent work of eleven players with differing skills (fast-bowling, spin, catching, diving, intelligent field-placement, etc) that makes cricket such a beautiful game, an arena for the connoisseur.
It will not appear that beautiful to the Sri Lankan squad and its trainers. Nor even to ardent fans unable to stand back and appreciate the finer points of the English victory. Some of these fans will be an immediate problem. They will turn virulent critical. They will slash, burn and excoriate the players (and add the Sri Lankan Cricket administration in their sweep of the scythe for good measure). We witnessed this in awful flow after Sri Lanka lost the World Cup final in Mumbai.
As I am not a statistical encyclopaedia, I learnt one thing watching the highlights of that dreadful second innings the next day. Sri Lanka has collapsed for less than 110 runs on ten other occasions in its 30 year history of Test cricket. Four such moments were in the 1980s. Interesting, too, is the fact that most of the Sri Lankan debacles of this sort occurred at the Asgiriya grounds. [Trinity College surely has a lot to answer for!!]
A friend indicated to me that in contrast with run-chases, Sri Lankans are not good at backs-against–the-wall resistance in a do-or-die manner, like a Mike Atherton vs the Safs, or Jimmy Anderson at one moment in Cardiff's recent past. Maybe. But he forgot the resistance mounted by Mahela Jayawardene, Nuwan Kulasekera and others at Lord's, during the previous tour of England; and the magnificent work of Kumar Sangakkara and Lasith Malinga at Bellerive more recently.
It is this contrasting type of history effecting the same batch of players, and/or created by the same batch of players (more or less), that renders cricket attractive, bringing in the element of chance that enthusiasts feed on (as do gamblers and bookies!).
Watching the collapse was not pretty, though there was much to admire in the English bowling, its line and length, in the second innings. The touch of seaming nip and spin may have helped the bowlers, but some batsmen made their own graves. Herath played an awful stroke. Samaraweera belied his caption as an anchor man with an injudicious cut. Perera may have got the highest score, but revealed a glaring incapacity against the bouncer at chest/head height that will be exploited by other sides in the future. The general Asian frailty against the seaming ball was there for all to see.
The immediate future looks dire. Let's hope that the debacle will spark grit and determination … and work on improved techniques.
Asides and the UDRS
Sri Lanka had three strokes of misfortune that may cumulatively have swayed the balance against them.
Maharoof being run out a the bowler's end off touch of bowler's arm in the first innings.
The Third Umpire's overturn of the Field-Umpire's ruling that gave Sangakkara out caught behind in innings one.
The Third Umpire's overturn of the Field-Umpire's ruling that gave Prasanna Jayawardena out caught behind in innings two.
I have always been a strong supporter of the URDRS method of adjudication. Despite what is said below, I remain its fan. With Hot Spot and Snicko now part of its repertoire, the UDRS system is getting more and more incisive. As viewers we are not party to the critical, verbal discussions between Field-Umpire and Third Umpire, so our capacities to assess the UDRS are constrained.
Despite this reservation and despite my positive evaluation of the UDRS system, I thought the principle of benefit of the doubt going to the batsman should have come into force in the instance of both decisions above, against Sangakkara as well as Jayawardena. My confidence in the decisions is not encouraged by my own prejudices about Rod Tucker, a Tasmanian who as a cricketer pushed the limits and epitomised the tenets "I am right" and "screw the opposition." Among some Aussies, in my experience, such tenets are especially likely to operate insidiously in relation to unfamiliar others – such as blackfellas and brownfellas.
So this is a call for all you fellas to keep a careful eye on Tucker the umpire. We have to be pleased that the ICC has demoted both Daryl Harper and Asoka de Silva from the top tier of Umpires. They had an unenviable reputation, including a capacity to make horrendous errors as third umpire. Let's see how the future evaluates Tucker.
Finally, let me recall my reservations about Dilshan's capacity as skipper to utilise the UDRS wisely. As batsman he used up one call injudiciously … as did Maharoof. Impulse that inspires wishful thinking is the cause of such hasty and ill-advised decisions. Personally, I want the ICC to permit at least three if not four reviews per innings. But given the present limit of two it will be incumbent of captains of fielding sides not to act on impulse.
© Island Cricket/Michael Roberts
Related:
Vicious rumour mill: killing Sri Lanka cricket by word
Sri Lanka's cricket captain; why there were better choices than Dilshan