By Michael Roberts | May 24, 2011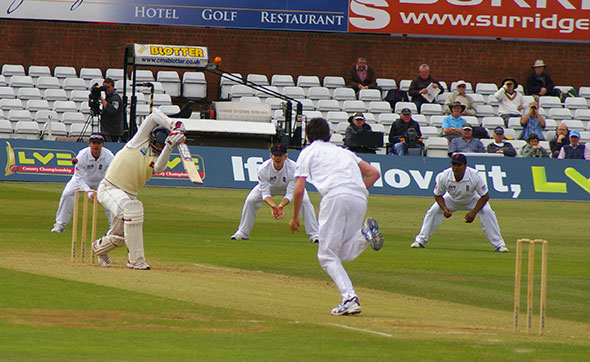 Tharanga Paranavitana drives handsomely on his way to a century against England Lions at Derby. © Maithri JAYASURIYA.
Sri Lanka's tour of England was undermined from the start. The culprit was that giant known as the Indian Premier League (IPL), which has cut a canyon within the terrain occupied by annual international cricket fixtures – thereby constituting a new power that Tony Greg has rightly questioned in recent times.
Tours of England require a decent warm-up period, even for those who have toured there before. That luxury was denied to Sri Lanka's players – all of them.
I doubt if the average Sri Lankan fan is aware of the difficulties posed by the cold and highly variable weather and seam-friendly pitches. Readers will have to take it on faith that I was a good fielder in any position in my youthful days.
Let me tell you that in my first summer of cricket in England in 1963 – obviously at my level of the game – I missed more catches (three in sum) than I had in eight whole years of cricket in Sri Lanka. This was, in part, because my fingers were numb and the ball hurt.
Fortunately, this 2011 season seems to have had an Indian spring (witness the French Open). It is a miracle that the Sri Lankan team got seven full days of cricket, with only a limited time off the field.
Nevertheless, both Prasanna Jayawardene and Dinesh Chandimal will probably be able to confirm how different and difficult batting conditions are. They have had precious little time in the middle, and in the second innings at Derby they had the misfortune of dealing with the second new ball at the start of their innings.
Within this relatively helpful circumstance, the Sri Lankan squad came up with two encouraging performances, most notably against England's second string at Derby, when they seemed down and out at one stage.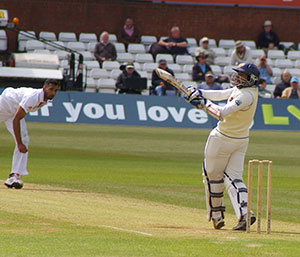 As one English cricket writer put it, the English "Lions" team "[could not] for a moment have assumed they would lose."
But lose they did by 38 runs.
Central to this Sri Lankan victory was the back-against-the-wall batting by Randiv, Samaraweera and Perera in the first innings; and Paranavithana, Dilshan, Samaraweera and Randiv in the second. But as vital was the bowling of the two Fernandos – Dilhara and Nuwan Pradeep, aided by Tissara Perera.
From afar, it seems that good captaincy was also a significant force. Apart from Dilshan leading from the front as opening batsman in the second innings, in the crunch fourth innings Dilshan and "Sri Lanka decided almost immediately that they would employ spin into the wind and rotate their seamers at the other end – [a decision that] paid dividends quickly when Tillakaratne Dilshan's off-spin had Jimmy Adams leg before propping forward" (Stephen Brenkley in The Independent).
The WIND! Let me stress that. Playing cricket in Adelaide, in the late 1970s and 1980s, on occasions, I experienced the force of the wind in a manner that I never encountered in midland England in the 1960s, or in Sri Lanka in the 1950s and 1960s/70s.
Not even in Galle, where my Aloysian home ground was — the "Galle Esplanade", better known to day as the Galle International Stadium — which was subjected to sea breeze on two sides.
On these occasional days in Australia, I was buffeted by the wind as the pace of the ball was a degree quicker. One dismissal, hooking too late, is still etched in my mind.
Armchair critics who castigate their leading players for failures, because of overzealous patriotic anguish, rarely take note of playing conditions of this type. My congratulations, therefore, are extended here to the captain, the think-tank and the bowlers in particular. This praise includes the bowlers who fared well against a Middlesex A minus Eleven.
The tour selectors now face a quandary in selecting a playing XI for the First Test. It is a good problem to have, better than a bare cupboard.
© Island Cricket/ Michael Roberts