By Michael Roberts | June 23, 2011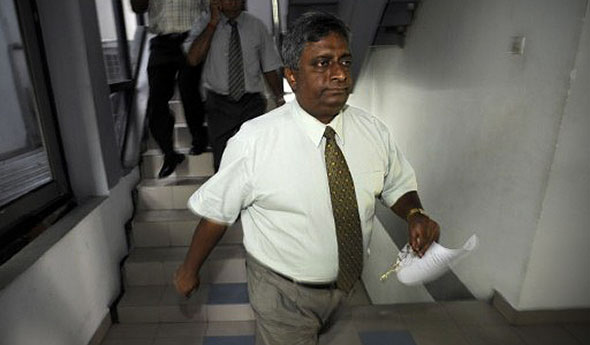 Sri Lanka's new chief selector Duleep Mendis. AFP/File/Ishara S. KODIKARA.
Sri Lanka's squad for the ODI matches in England was chosen by a new Selection Committee. The four led by Aravinda de Silva, who chose the World Cup XV, were due to end their tenure on April 30 and quite properly resigned well before, so that a new body of selectors could oversee the teams they selected for 2011-2012 et seq. I consider it unfortunate that at least one selector from the previous body was not retained in order to ensure some continuity of thinking.
Three contextual contingencies served as an unfortunate background to the selection process. One: Tharanga was ruled out, and ruled himself out, because of a pending drug case arising from Eliyantha White's malpractices. Two: Dilshan's fitness for the opening matches remained in doubt. Three: English playing conditions would be different from those encountered during the World Cup.
The following, make up the current ODI squad: Tillakaratne Dilshan (capt), Thilina Kandamby (vice-capt), Sanath Jayasuriya, Dimuth Karunaratne, Dinesh Chandimal, Kumar Sangakkara, Mahela Jayawardena, Jeevan Mendis, Angelo Mathews, Nuwan Kulasekera, Thissara Perera, Lasith Malinga, Suranga Lakmal, Dilhara Fernando, Suraj Randiv, Ajantha Mendis.
The prominent omissions from the previous squad are Chamara Silva, Chamara Kapugedera, Rangana Herath and Thilan Samaraweera.
Several significant questions can be raised, thereby bringing into focus issues that should have entered the deliberations of the Duleep Mendis Selection Committee (SC). Initially, let me spell them out briefly
A. Should Jayasuriya have been selected as opening batsman and/or spinning allrounder? And was the SC privy to his decision to retire after one ODI match? If the SC was in the know, should they have given him the monumental privilege of a swan-song on the world's stage when leaving international cricket? Phrased otherwise why place individual before team and country?
B. Shouldn't Tharanga Paranavitana and/or Lahiru Thirimanne have been considered as opening batsmen instead of Karunaratne, on the grounds of their relative familiarity with English conditions?
C. While Kandamby has solid captaincy capacities, has he the qualities to hold his place in the side as a middle order batsman and a fielder?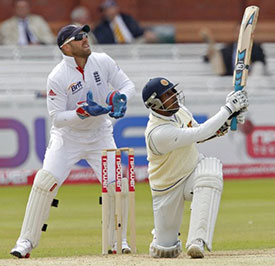 D. Why wasn't Prasanna Jayawardene considered as a batsman; he is superior to all those slated to bat at Nos. 5-7? Indeed, let me remark that several English commentators consider him technically-proficient and better than anyone else in the Lankan line-up in English conditions.
E. On what grounds is Herath omitted and Randiv and Ajantha Mendis selected as the two mainline spin options (supported by Jeevan Mendis, Kandambi and Dilshan)?
F. Did they place question marks around Thisara Perera as a batsman and thus as an allrounder, after the English pacemen revealed his abysmal capacities in facing short-pitched body-balls at Cardiff?
G. Should the third and fourth pacemen slots, behind Malinga and Kulasekera, have been granted to Fernando and Lakmal? That is, would not Chanaka Welegedara's left arm bowling (or that of Isuru Udana) not provide a better option?
Let me stress that I am not seeking to bash the selectors, but to raise considerations that should enter our reflections.
The Jayasuriya issue, 'A' above, is bracketed out for separate discussion, if I have the time.
However, his presence in the side does provide a left-arm spinning option that may have resulted in Herath's omission. But Decision 'E' above is undermined when Jayasuriya departs after one match; so the issue remains whether the other spinners would be better than Herath in English conditions in mid-late summer.
Issue B, opening batsman: opening batsmen can be slotted in anywhere in the order though of course, go-slow Boycott types would not be favoured at No. 6 or 7. With Dilshan, Chandimal and Jayasuriya in the squad, one already has three prospects as opening batsmen, so Dimuth Karunaratne may well get few opportunities. He impressed Ranjit Fernando during the A-Team tour of Australia recently and is certainly a good prospect. However, I believe the selectors are being mechanical in type-casting Paranavitana as merely a Test match player and jettisoning him from ODI selections.
For one thing, it would be good to have a steady opening batsman to complement the dasher-types represented by Dilshan, Jayasuriya and Chandimal. The clinching point is a comparison of like-against-like, namely, the respective statistics of their domestic one-day performances.
They are as follows:
| | | | | | | | |
| --- | --- | --- | --- | --- | --- | --- | --- |
| | Inns | Runs | HS | Ave | 100s | S/R | Catches |
| Paranavitana | 87 | 3181 | 116 | 42.41 | 5 | 71.49 | 50 |
| Karunaratne | 32 | 926 | 106 | 29.87 | 1 | 73.31 | 18 |
| Thirimanne | 30 | 703 | 78 | 25.00 | 0 | 66.38 | 10 |
That indicated, let me note that paper qualifications must always be tempered by visual observation and considerations of fielding capacity in the inner ring, namely, whether a player is quick and can be a reliable inner-ring fieldsman. Subject to this set of provisos, however, Paranavitana can be considered unlucky to be dropped in favour of his SSC teammate Karunaratne.
Issue C, Kandamby: I was impressed by Thilina Kandamby when he captained the U 19 Team touring Australia circa 1999 and they were subject to horrendous 'hora' umpiring. So his capacity to lead is not in question. But his choice as vice-captain indicates that he will play all matches.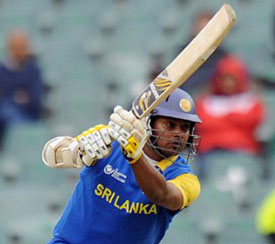 This raises two issues: (1) the issue of his automatic selection ahead of, say, Jeevan Mendis, Chandimal and Karunaratne; and (2) whether he deserved selection in the XV ahead of other prospects, such as Prasanna Jayawardene, Roshen Silva, Bhanuka Rajapaksa etc.
Kandamby has been part of the top XV during the last few years, so this experience at the highest levels counts in his favour over raw recruits such as Silva and Rajapaksa. It is the issue of his automatic selection ahead of suitable others (C1) that is a cause for concern.
Though he bats rather like Arjuna Ranatunga, his batting scores and capacities have, thus far, not been in the same league. Though rotund like Arjuna, he is not as mobile and will never, ever, be cricket-quick. When the XVI already has several ungainly or airy fielders, such as Dilhara Fernando and Ajantha Mendis; and several who are at best average (for e.g. Thisara Perera), then we face the prospect of a fielding XI that will leak 15-28 runs in a field that normally encourages scores of 250 or more. These extra runs can make a substantial difference, whether batting first or second.
Issue D, Prasanna Jayawardene's omission: The Third Test Match has confirmed what the debacle at Cardiff indicated: namely, that Jayawardene is one of our most competent batsman and deserves a place in all formats because he is a genuine allrounder. His batting, moreover, is not one of the dour type. He has a range of strokes and can score fast. He should have been pencilled in after his namesake Mahela Jayawardena and Sangakkara and before anyone else – the more so because he can replace Sangakkara behind the stumps.
Issue E, Herath's omission: In my mind, the wicket-taking capacities and economy-rates of the three spinners at the top end of our spinning hierarchy seem to be relatively equal and I doubt if Malinga Bandara, Sachithra Senanayake or Sajeewa Weerakoon can better any one of these three. So it's a toss-up. Randiv is the best of the lot as batsman – he seems to be No. 1 in the line-up.
Herath is a better fielder and batsman than Ajantha Mendis. The big question, then, is this: does Mendis still possess his mojo when he bowls against English batsmen (as distinct from Indian) in ODI conditions? We are going to learn the hard way.
Issue F, Thisara Perera's inclusion: Benefiting from Maharoof's injuries and inconsistent performances in ODI matches over the years 2007-10, Perera secured a spot in the top XV by late 2010. His youth, his height, his ability to bowl yorkers and, in particular, his big-hitting capacity –displayed for instance in Perth in a 20/20 match – confirmed his position as a bowling allrounder slotted in at No. 7 or No. 8. Now, that certitude is seriously damaged. His short innings at the Rose Bowl confirmed that he has a gaping flaw in his defensive armoury. His bowling was nothing much to write home about. We shall have to keep our fingers crossed or, alternatively, ask God Kataragama or St. Anthony to revolutionize his skills and patch up his flaws. Maybe the adrenaline of ODI format will secure this transformation all on its own.

Issue G, the third paceman: My question says it all. I do not have the capacity to assess relative merits because, with the exception of Dilhara Fernando, I have not seen enough of the contenders.
Final issue, fielding complement: This could turn out to be one of our major weaknesses. Dilshan, Mahela, Randiv, Mathews and Kulasekera are good fieldsman, with Dilshan and Mahela outstanding. I have not seen Jeevan Mendis, Karunaratne and Chandimal in this realm, but surmise they will be useful (a category in which I place Sangakkara if he is fielding) Old man Jayasuriya is still competent but not the old self. Malinga is quick across the turf, but rather harum scarum. I have not seen much of Lakmal, but he seems agile and should be adequate in some positions. Dilhara Fernando has safe hands, but both he and Perera are certainly not cricket-quick. Kandamby is lumberjack cumbersome and Ajantha Mendis seems to occupy another world when fielding. Together the last four named could serve up some embarrassments in the sphere of ground fielding. We should be grateful if it does not spread to catching.
Since this essay was drafted, Dilhara Fernando has broken down (again) and has returned home. He has been replaced by Dammika Prasad. Prasad will improve the batting capacities within the tail and he is decent on the field. His bowling and economy rate is iffy. It appears that the selectors think Welegedera is a poor ODI prospect. I do not have enough information or visual observations to comment on this preference.
© Michael Roberts/Island Cricket