By Michael Roberts | April 30, 2011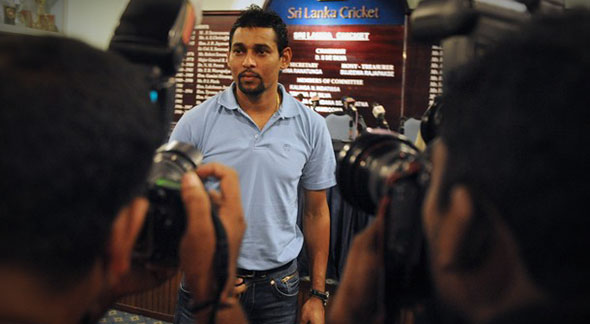 Sri Lanka's new captain Tillakaratne Dilshan was once known as Tuwan Mohammad Dilshan. AFP PHOTO/ Ishara S.KODIKARA.
Gossip in certain quarters claims that both Tillakaratne Dilshan and Suraj Randiv have changed their names because being Sinhala-Buddhist enhances their chances of selection to the highest levels in Sri Lankan cricket.
I was introduced to this allegation in an email communication from Mel Gunasekera of the international news agency AFP which I reproduce in full.
We met briefly on Sunday at Kushil Gunasekera's charity press conference at the Taj. Looking for some on-the-record comments for regional cricket piece.

Sri Lanka input is how sport has been a band-aid for the ethnically divided country. A World Cup win will be the first since the end of the war….. etc. What I would like to hear from you, since you have been commenting on the game for years is:

* that do you think cricket heals ethnic wounds?

* there is street talk and whisperings that you have to be a Sinhala Buddhist to get a toe into the team. Examples are Thillakaratne Mudiyanselage Dilshan formerely known as Tuwan Mohammad Dilshan; Hewa Kaluhalamullage Suraj Randiv earlier known as Suraj Mohammed. I've spoken to both players manager Roshan Abeysinghe who said the players took up their mothers' religion and identity for personal reasons. Abeysinghe even said that Dilshan wanted a Sinhala identity. Do you think there is pressure on players to embrace this Sinhala Buddhism idealogy (sic)?

Would appreciate an early response.
Gunasekera was cleaving to an investigative path, though one suspects that she was also searching for dirt to press liberal-moderate claims that pinpoint processes of Sinhalacization and Baudhacization extending their tentacles into the sports realm. I exclude my answer to her first question within this space and only reproduce that for the second; while concentrating mostly on Dilshan in my elaborations and leaving Suraj Randiv's story for a subsequent essay.
The short answer to the last question is "NO." I believe both their mothers are Sinhala and Sa'adi Thawfeeq told me that Suraj's father, or some paternal kinfolk, had cheated the family [that last detail is vague in my memory – so check with him]. He will also be able to clarify details re Dilshan I expect.

It seems absurd to suggest that there is an SB push when Dilhara F, Ajantha M, Angelo M, Dhammika Prasad and Chaminda Vaas are Catholics[1] and Arnold is either Methodist or Catholic; and when most of them make a sign of the cross before they start their bowling run.

About two years ago I approached Nishantha Ranatunga (Vice-President, Colts) and asked him if Matthews [who is a Colts CC player] was Burgher or Tamil; and in offhand style he said: "I don't know. We don't look into those things" — an answer that was, albeit unintentionally, good politics but bloody irritating for me in terms of empirical info.

I think you should embark on more reading before proceeding. Check out my two academic articles which are reprinted as chapters 2 and 3 in Intrusions.

Better still, count the number of players who have represented the Premier League clubs in the last ten or 20 years; then work out ethnicity. (A) I think you will find that there are not even 10 Tamils who have played club cricket over these 10-20 years; and (B) that therefore in relative proportion the Tamils have been overrepresented in the top squads. Claim B of course is absurd and is purely because of the top-quality skill levels of Murali, Arnold and Matthews in recent years.

Finally I suggest more direct chats with Dilshan and Suraj before relying on street talk.
As far as I can work out, Gunasekera did not press this allegation in her subsequent reportage in this field[2].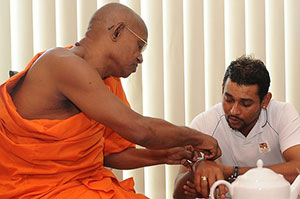 However, a chance meeting at Chesterfield's funeral with Ranjan Paranavithana, a journalist-cum-coach, enables me to expand on my faint recollections in ways that provide critical background information for the counter-argument that is signalled in my reply to Gunasekera.
The first step in all our surveys is to move away from the tendency to rely only on patriline in investing persons with ethnicity. Female power has to be recognized by attending to the duality of bloodlines.
As it happens, the cricket teams of the last thirty years have a few players of mixed lineage[3]. So, the first point of emphasis is to mark the fact that Dilshan's mother is Sinhala and Buddhist, while his father is Ja (Malay) and Muslim. Born on 14 September 1976, Dilshan was duly christened Tuwan Mohamed Dilshan and his younger brother (born in Jaffna on 23 June 1982) was 'christened' Tuwan Mohamed Nishan Sampath. It is possible that both were circumcised.
But the critical fact is that both joined their mother in attending Buddhist ceremonies in their home locality of Kalutara. Kalutara is a heavily Buddhist area, though there are pockets of Catholics and Muslims – albeit Muslims of Moor lineage as distinct from Ja (a critical differentiation in the Sri Lankan dispensation).
A second step is required, especially from those in the West who pursue this issue and are unfamiliar with the syncretistic character of religiosity in much of Asia.
Religious practice in Sri Lanka involves a considerable measure of cross-fertilization. Devotees from the different religions propitiate deities and saints from other religions. Arguably, the Muslims are the least likely to cross boundaries; but this proviso extends mostly to those of Moor heritage. From my experience and reading, the Malays in Sri Lanka have not only intermarried more, but also taken to syncretistic forms of devotion to a far greater degree.
The third critical step, is for one to attend to the temporal stages in Dilshan's career. This is a basic requirement and one any rookie journalist should have adhered to.
Dilshan's father was a policeman and he was educated at Sinhala Maha Vidyalaya in Jaffna and then at Kalutara Vidyalaya. Dilshan initially played for the Kalutara Town Club before moving to Singha Sports Club for the 1997/98 domestic season and thence on to the Sebastianites in Moratuwa from 1998 to 2000.
A terrific domestic season for Sebastianites in 1998/99 as opening batsman and wicket keeper earned him a spot in Sri Lanka's A Team squad touring England in July-August 1999 under Russel Arnold. He was then part of the A Team touring South Africa in October 1999 — at which point he was diverted to Zimbabwe to join the First XV.
In short, being Malay and presumably Muslim (in the public view) did not endanger his entry into the top ranks of Sri Lankan cricket in any way at this stage.
Ranjan Paranavithana was his coach at Sebastianites and he testifies to the fact that Dilshan was brought up in Buddhist ways by his mother and that his change of name was induced by his courtship of a Sinhala girl, Nilanka Withanage. This alteration was formalised in 2002 when he married the lass at a wedding reception at the Galadari Hotel[4].
The choice of name was arbitrary happen-chance: it was based on a tongue-in-cheek, on-the-spot coinage developed by Ranjan Paranavithana when Dilshan expressed his intention of doing so. This formulation was entirely in keeping with the indigenous practice of using the genitive "ge" (meaning "of") to indicate locality and/or lineage and/or occupation and/or honorifics.
Strands of Muslim fundamentalism are found in Lanka and it would seem that some Muslims were not pleased by this public transformation and are among those that circulate rumours about Sinhala Buddhist discrimination.
On one occasion during a Test match in Kandy a few Muslims confronted Sa'adi Thawfeeq and alleged that Dilshan had done so in order to consolidate his place. Sa'adi then directed them to speak to Paranavithana: "[So I had to] explain to them the real story. I said that although [he had] a Malay name he was a Buddhist from childhood. Then they were happy and thanked me for the explanation," says Paranavithana[5].

Review
If one looked at the first page on Dilshan's profile on cricketarchive.co.uk, one would find this entry:
"Technically sound, comfortable against fast bowling, possessed of quick feet, strong wrists and natural timing, Dilshan has talent in abundance. But the bright start to his career was followed by a frustrating 15 months when he was shunted up and down the order, and in and out of the side. After a lean series against England in 2001 he was dumped until a one-day and Test return in 2003. He came back mentally stronger and determined to play his own natural aggressive game. The approach was immediately successful with a string of good scores against England and Australia in 2003 and 2004. He has continued to be a steady influence in the middle order of the Test side with good years in 2005 (average 56.50 after nine Tests) and 2007 (average 60 after four Tests). He has also been an important member of the one-day team with his aggressive batting in the middle order complemented by his electric fielding, especially at backward point, and underrated off spin. These all-round skills ensured he was signed by the Delhi Daredevils for the inaugural IPL in 2008."
However, there is a tale within the tale of Dilshan's rise to the highest tier in 1999. Dilshan's entry was facilitated by a radical change in the cricket administration in mid-year.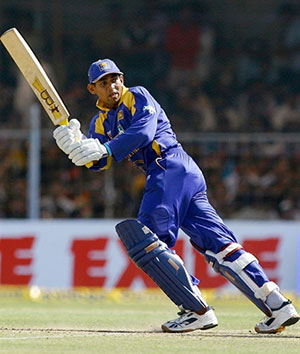 After the disastrous World Cup campaign in 1999, the government had deposed the elected oligarchy running the BCCSL and established an Interim Committee under Rienzie Wijetilleke, who then entrusted selections to a Committee headed by Sidath Wettimuny aided by Michael Tissera and Ashantha de Mel. The Selection Committee proceeded to radically overhaul the First XV squads by introducing new players, especially in the ODI format, (e.g. Indika de Saram, Chamara Silva).
But they also retained older senior players in judicious intermixture. Aravinda de Silva was among those selected for the tour of Zimbabwe in November 1999.
At this point, an attempt to discredit the new Interim Committee was initiated by those out of favour. Rumour has it that at a meeting in the house of the deposed kingpin in cricket, which assembled several cricket dignitaries, it was decided that de Silva should pull out of the tour and cite personal reasons. So, here, I do rely on "street gossip," but do so because it emanates from several quarters and from people I trust and because the information is in line with Sri Lankan ways of political feuding.
The intent behind this little conspiracy was to hit back at one's enemies by bringing the performance on the tour into disrepute. Zimbabwe, one should not forget, was led by Andy Flower and had a formidable team. However, the best laid plans of mice and men often become undone. The touring squad under Sanath Jayasuriya fared quite well. The First Test was drawn after Sri Lanka scored 416 runs, with Marvan Atapattu amassing 216 runs. The Second Test was won by six wickets and the Third Test was drawn after rain interruptions.
Guess who the Man of the Match in the Second Test was? It was none other than Tuwan Mohamed Dilshan. Batting at No. 5, he scored 163 runs in a total of 492, while Sri Lanka went on to win the match by six wickets.
When I was in Lanka, a little while later, I asked my nephew-in-law what Dilshan's innings was like. His answer was short: 'impeccable."
However, Dilshan's position in the top XVs in both formats of the game was not secured by just one innings. For one, Kaluwitharana was Sri Lanka's keeper and the Test squad, under the new captain Jayasuriya, included Atapattu, Russel Arnold, Mahela Jayawardene, Aravinda de Silva and Arjuna Ranatunga.
Though inserting fresh blood into the ODI XI, the Wettimuny Committee judiciously re-introduced senior batsmen for the various Test series; and this policy was strengthened in 2002-03 when Hashan Tillekeratne's weight of runs in the domestic circuit brought him back into contention in the late middle order.
For another, Dilshan's form in the years 2000-03 was inconsistent and his performance in Pakistan in February-March 2000 was quite dismal.
Thirdly, in ODI matches he was usually batting in the difficult No. 6 or No. 7 positions, where players had to normally hit the deck blasting off and often sacrificed their wickets for the cause.
At this point, changes in the government led to the replacement of the Wijetilleke Interim Committee in mid 2002 by an elected committee headed by Hemaka Amarasuriya, one which we now know was warming the place for the return of Thilanga Sumathipala in 2003. The musical chairs in governing the board in 2002-2005 also meant musical chairs in the Selection Committees[6].
In the meantime, encouraged by Jayasuriya[7], Dilshan moved from Sebastianites to Bloomfield in the domestic season of 2001/02. Bloomfield is arguably the most Sinhala-Buddhist in spirit of all the clubs.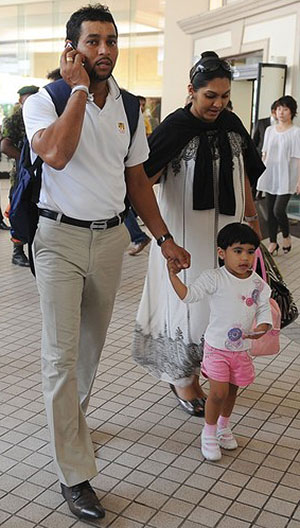 However, the fact remains that in the 1990s and 2000s players from the low-prestige clubs in the outstations, such as Galle CC, Matara SC, Singha SC, Kurunegala Youth Club, and Sebastianites have tended to gravitate to the prestigious Colombo clubs whenever opportunities opened up.
There is always competition among a number of new prospects for openings in Sri Lanka's second tier, the A Team. Invariably, as in any cricket-playing country, some good candidates lose out because the vacancies are few. This is where club power can sway the decisions of a selection committee. This is a major issue that I shall address in a future article. If there has been a measure of discrimination from time to time, it is in this terrain of club clout at particular moments that one can identify prima facie cases of favouritism.
As for Dilshan, from Paranavithans's testimony we now know that it was long-standing affinity and impending marriage that prompted him to adopt a patently Sinhala Buddhist name.
Finally, let me stress here that allegations of ethnic and religious bias in selections for the cricket team in the recent past have usually emanated from Tamil migrant quarters, though Shehan Karunatilleke has rushed in recently to reveal his ignorance in this field[8]. This is a complex topic which will be addressed separately in an article in purview. But Ranjit Fernando's forthright dismissal of this suggestion in conversation in Lanka recently was supported as firmly by Chandra Schaffter and Jehan Mubarak from within the players' ranks, when I raised the question on the telephone last week.
The weight of their verdict is enhanced by their credentials: Fernando is a Catholic-Sinhalese and has been in close association with cricket in various capacities for a long time. Schaffter is a Ceylon cap from yesteryear who is of Indian Tamil origin and has been a sagacious manager of our cricket squads from time to time (notably in 2001-02), besides figuring in the administration of the Tamil Union for a long period. Mubarak is a Ceylon cap who is of Moor-Sinhala parentage, one who may not be in the top squad at present, but still plays domestic cricket seriously and is among the 96 players contracted by SLC under a new expanded scheme.
If such men affirm that there has been no systematic bias towards Sinhalese and Buddhists in the cricket selections over the past twenty years, how can anyone sustain such claims without presenting specific details of a prima facie kind?
_________________________________________________
1. I had TM Mirando's name here as well, but may be wrong on this score.
2. What she did write was this: "While Muralitharan is the only Tamil in the team, Sri Lanka's Muslim minority is also partially represented by opening batsman Tillakaratne Dilshan. Dilshan, who has a Muslim father and Sinhalese mother, was born Tuwan Mohamed Dilshan but converted from Islam to Buddhism and changed his name. His manager, Roshan Abeysinghe, said he did it "for personal reasons," adding that Dilshan 'wanted a Sinhala identity'." (see "Cup final reprieve from Sri Lanka's tensions". Gunasekera fails to recognise that Angelo Mathews is a Tamil, both in his own reckoning (conveyed to Anura Tennekoon in response to a direct question) and also recognised in the Wikipedia entry on Tamils.
3. Examples include Ravi Ratnayake, Ravindra Pushpakumara, Marvan Atapattu, Jehan Mubarak, TM Dilshan and Suraj Randiv.
4. Email note (1) from Paranavithana, 29 April 2011. They had one child, but have since divorced. Dilshan then married actress Manjula Thilini in 2008 and they have two girls.
5. Email note (2) from Paranavithana, 29 April 2011.
6. See Roberts, "Musical Chairs IN Cricket Selections," in Essaying Cricket, Colombo, Vijitha Yapa Publications, 2006, pp. 136-30.
7. Email note (1) from Paranavithana, 29 April 2011.
8. Karunatilleke, "How cricket saved Sri Lanka".
© Island Cricket/Michael Roberts