By Michael Roberts | May 25, 2011

The Sri Lanka team is pictured during a training session at Swalec Stadium in Cardiff, Wales, on May 25, 2011, on the eve of their 1st Test cricket match against England. AFP PHOTO / IAN KINGTON.
As I write, the Sri Lankan tour selectors led by Duleep Mendis and the team's think-tank may have already decided upon the XI they wish to deploy against England a Cardiff. England may not have been kind in providing a tour for the second time round in the less batting-friendly conditions of early summer, but they have been generous in choosing a ground for the series opener where the pitch is said to be slower and more spin friendly than other possible Test venues.
The selectors will be guided by the condition of the pitch, weather forecasts and the manner in which those on tour played their cricket during the two warm-up matches, in choosing the final playing XI for tomorrow's first Test match against England.
For any armchair pundit, to provide definitive choices without seeing the two matches live and reading the pitch at Cardiff is as absurd as it is arrogant. I will circumnavigate both absurdity and arrogance by presenting readers with a list of the non-injury related dilemmas that face the selectors.
1. Do we opt for a six-batsman, wicketkeeper, four-bowler format or strengthen match-winning capacities by having five bowlers and five batsmen?
2. Assuming they opt for six batsmen, do they stick to the clear choice signalled thus far in preferring Dinesh Chandimal to Lahiru Thirimanne at number six?
3. If they opt for four bowlers only, should they (A) select two spinners and two pacemen or (B) opt for just one spinner and three pacemen?
4. What is the priority order they have assigned for the pacemen in the light of expected conditions; is it Dilhara Fernando, Chanaka Welagedara, Nuwan Pradeep (at the time of writing, there was some speculation that he had sustained an injury, and is expected to be replaced by Farveez Maharoof) , Thisara Perera and Suranga Lakmal?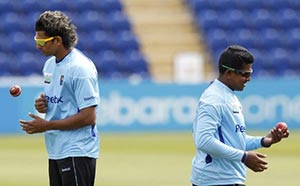 5. Which spin bowler will create the most problems for England and take more wickets in Cardiff? And if course going in with two spinners and two pacemen is decided upon, which other spinner is best as support?
6. If Fernando, Welagedara/Pradeep and Ajantha Mendis are chosen as our best three-prong attack in combination with either one of the bowling allrounders, namely, Perera and Randiv, then does the presence of three bunnies at Nos. 9, 10 and 11 jeopardise the advantage of having three bowlers deemed slightly better than the other options?
7. While Prasanna Jayawardena has performed reasonably well as a batsman at Test level and in domestic cricket; is his technique and form such as to raise the thought of either Sangakkara or Chandimal donning the gloves? Will what one gains on the swings from such a radical decision be lost on the roundabout as the replacement keeper misses some sharp stumping possibilities or sharp catches?
I will not make selections, but list just THREE of the possible combinations below before addressing Issue No. 4 above by providing some background statistics from recent year as fodder for those who wish to ponder the issues.
| | | |
| --- | --- | --- |
| 1. T. Dilshan | 1. T. Dilshan | 1. T. Dilshan |
| 2. T. Paranavitana | 2. T. Paranavitana | 2. T. Paranavitana |
| 3. K. Sangakkara | 3. K. Sangakkara | 3. K. Sangakkara |
| 4. M. Jayawardene | 4. M. Jayawardene | 4. M. Jayawardene |
| 5. T. Samaraweera | 5. T. Samaraweera | 5. T. Samaraweera |
| 6. D. Chandimal | 6. D. Chandimal | 6. D. Chandimal |
| 7. P. Jayawardene | 7. P. Jayawardene | 7. T. Perera |
| 8. T. Perera | 8. R. Herath/S. Randiv | 8. R. Herath |
| 9. A. Mendis | 9. A. Mendis | 9. A. Mendis |
| 10. D. Fernando | 10. D. Fernando | 10. D. Fernando |
| 11. C. Welagedara | 11. C. Welagedera/N. Pradeep | 11. N. Pradeep |
| | * Wicketkeeper | |
I will illustrate the conundrum by taking up Issue No. 4 above as an illustration of the absurdity of anyone making a lounge-chair decision.
Issue No. 4: Choice of Pace Bowlers
Chanaka Welagedara (aged 29) is a left-arm bowler, so there is a strong likelihood that he will be chosen with the most experienced of the pacemen in the XV, namely, Dilhara Fernando (aged 31), to mount the swing and seam attack — even though both of them have a propensity to no-ball.
Welagedara has played six Test matches thus far but his bowling average of 58.91 does not inspire confidence.
Indeed, the right-arm medium paceman Suranga Lakmal (aged 23) has a better average of 44.00 from his two Tests.
Excluding the allrounder Perera, the respective "First Class" averages areas of the four bowlers are as follows:
Welagedera = 29.62, s/r = 49.77, e/r = 3.59.
Lakmal = 31.39, s/r = 44.89, e/r = 4.19.
Fernando = 29.85, s/r = 50.02, e/r = 3.58.
Pradeep = 34.75, s/r = 52.2, e/r = 3.98.
The problem with such statistics is the fact that they embrace different spans of time and do not indicate bowling form in recent years. Thus, a good student will undertake a refined review that hones in on recent form with attention to country and ground conditions.
But, ultimately, that sort of study is still house-bound. It should be the line, length and heart revealed by each man in match conditions in a particular country that determines the final choice.
With necessary changes, this rule applies to all the dilemmas I have specified above. Thus, without watching Chandimal at work one cannot, for instance, decide whether he is good enough with the gloves to keep at the international level.
© Island Cricket/ Michael Roberts