By Michael Roberts | April 25, 2011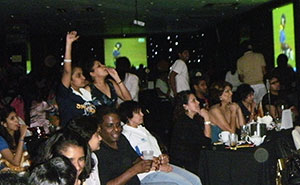 I had no desire to witness the finals of the ICC Cricket World Cup 2011 at Wankhede stadium in Mumbai. In my reading, it was not an economical investment in either time or money. It was also hassle-free to watch the match unfold while seated in a comfortable lounge chair.
As events turned out, Nishan de Mel invited me to join Viran Corea's table at the Jaic Hilton ballroom where large screen viewing was available at Rs. 1000 a seat; this was good value, I thought.
As it happened, there were FOUR large screens on the walls of the darkened room, besides snacks and drinks and some deafening music in between overs.
As far as I could assess, there were some 150 patrons in the room, inclusive of one table of Indian supporters alongside that of Viran Corea. Again, in my conjectural evaluation the patrons were not those filthy rich, but ranged across the middle class strata of Colombo.
This was truly an experience out of Jules Verne. The audience were armed with vuvuzelas (plastic horn or lepetata Mambu) and even flags. A continuous crescendo of buzz and noise pulsed through the room.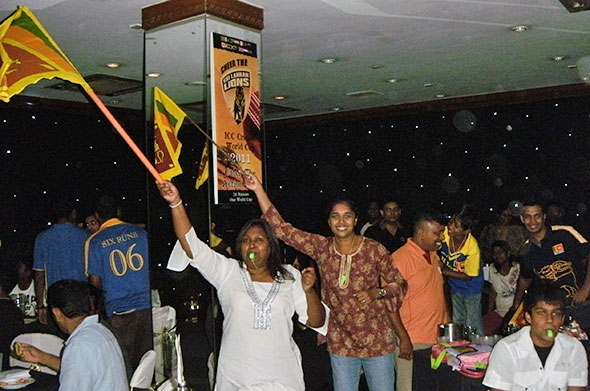 The atmosphere inside the Jaic Hilton ballroom resembled that of a cricket stadium. © Michael ROBERTS.
As Kulasekera, Jayawardena and Tissara Perera hauled the Sri Lankan total into the 270s, this crescendo burst the ceilings. When Lasith Malinga appeared, his name was shouted, sometimes with chords of female rapture. As Tendulkar and Sehwag fell to Malinga, the shouts were delirious. Then, as images of crestfallen Indian fans appeared on the screen, jeers arose and insults were hurled at them [reproducing, I may add, the cultural practices encoded in the ancient Sinhala games of buhukeliya and ankeliya].
These people were NOT in Colombo; for most of them, they were at the Wankhede Stadium, courtesy of the media screen and its virtuality!
I was probably out of place. I simply could not transport myself to Wankhede through media space. I'm perhaps too rational and pragmatic… Just not a bloke for the surreal transcendental realms. I'm simply not fertile soil for Kāli, Kannagi, Kataragama, Krishna, Siva, Jesus, the Virgin Mary and the Buddha as bodhisattva.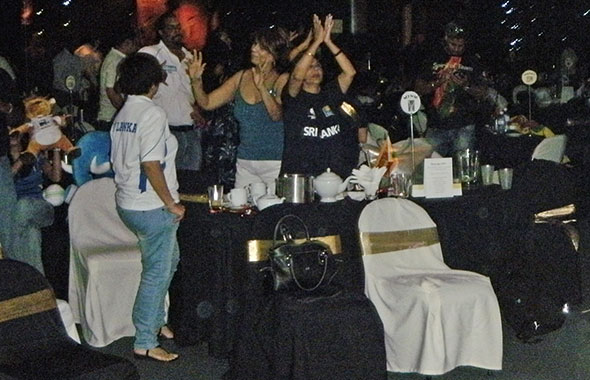 Indian cricket fans celebrate their victory. © Michael ROBERTS
There is always a finale to such surreal experiences, whether for those in virtual reality or those, like me, outside that realm. As India marched confidently to victory, the room was silent — with the singular, noisy exception of a rapturous table of Indians. They jumped for joy and some even fell on the floor in pleasure as the final blow was struck.
One of the best moments of that night then unfolded: a balding Sri Lankan gentleman from the table to our right walked purposefully to the young Indians and congratulated them warmly with a handshake and hug. THAT was enough to warm the cockles of my heart. I went home calm and pleased.
© Island Cricket/Michael Roberts.