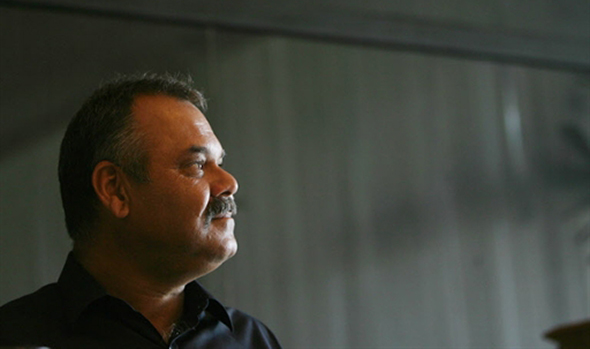 Former Australian Test player and one time coach of Sri Lanka, Dav Whatmore, has seen more of Murali up close than any of the great spinner's detractors combined. AFP PHOTO/Deshakalyan CHOWDHUY.
July 24, 2010 (Island Cricket): Shortly after Davenell Frederick Whatmore took over as coach of Sri Lanka, the islanders were rapidly transformed from minnows of world cricket to world cup champions. Under Whatmore, the Sri Lankans masterminded the legendary 1996 world cup win.
Whatmore was appointed coach at a time when Sri Lanka's 1995/96 squad – now considered by some to be Sri Lanka's finest all time eleven – a team that included the likes of Aravinda De Silva, Arjuna Ranatunga, Muttiah Muralitharan, Sanath Jayasuriya, Chaminda Vaas and others were merely considered a team with potential, but not formidable enough to be considered a serious threat.
Back in 1995/96, Whatmore's ability as a coach to fine tune existing skills and his dedication towards inculcating the professional attitude, mindset and psyche needed to win big matches transformed Sri Lanka from a team of shy, backward, but talented players to professional cricketers oozing with self confidence. Before Whatmore, a Sri Lankan win against England or Australia was considered an upset.
During his time with team Sri Lanka, Dav, as he is fondly known, not only coached Sri Lanka to success, he also witnessed several of Sri Lanka's most trying moments first hand.
For the Sri Lankans, playing Australia on Boxing Day in front of over 55,000 spectators at the MCG was a huge deal. It was the first time they had been invited to play a Boxing Day Test which is usually reserved for the best Test sides touring Australia.
The Boxing Day Test match in 1995 will never be remembered for Gurusinha's century, Boon's century, or even Steve Waugh's fine knock. It was umpire Darrell Hair's no-balling of Muttiah Muralitharan that put this Test match in the history books. Hair called Muralitharan for throwing seven times in all and Dav was there to witness it all.
Sri Lanka's former coach, former coach of Bangladesh, now coach of the Kolkata Knight Riders, also a former Australian Test player, Dav Whatmore, spoke exclusively to Island Cricket recently about Muttiah Muralitharan.
When did you first witness Muralitharan bowling and what was your first impression?
DW: I first saw him in mid 1995 during a Sri Lanka training session. I knew instantly this lad had something special.
Does Muttiah Muralitharan throw?
DW: No, Murali does not throw. He has been subjected to every test known and has passed them all.
What elements in his bowling action create the impression of a throw?
DW: Muralitharan has an unusually bent arm and an elbow which doesn't straighten. It remains bent throughout delivery. He uses his wrist as well as fingers to spin the ball which creates an optical illusion to the untrained eye that there is straightening of the elbow.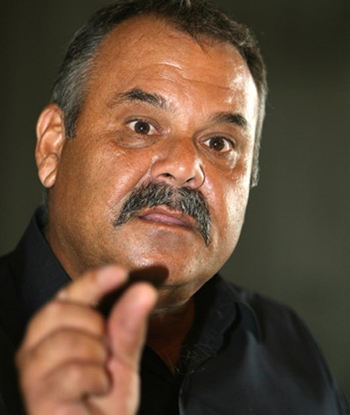 You were with Muralitharan as coach of the Sri Lankan team when both Darrell Hair and Ross Emerson called him for throwing. How did Muralitharan handle the whole fiasco, did his shoulders ever slump? What was Muralitharan's mood like in the dressing room and how did he handle the abuse in Australia, the scrutiny and the constant criticism?
DW: Muralitharan handled a very sensitive situation extremely well. It must have been sheer hell for him to be told that his action was illegal. In his mind and mine, he was clean.
Murali received plenty of support from fellow team mates, officials and support staff. He was visibly upset, but had the knowledge that many were supporting him.

What went through your mind when Darrell Hair first no-balled him at the MCG on Boxing Day in 1995 for throwing?
DW: I had no idea at first. It wasn't until I heard Bill Lawry on commentary in the TV in the dressing room suggesting that the umpire was no-balling him for throwing.
Later, in January 1996 when playing the West Indies, umpire Ross Emerson in his debut international match as an umpire no-balled Muralitharan even when he was bowling leg breaks. You were seen on the sidelines filming the events unfolding in the middle with the use of a video camera. Can you elaborate on what took place and why you were filming?
DW: I was asked by John Harmer, a respected bio-mechanist and a friend of mine to obtain some footage of Murali from a particular angle. It was an angle that was not covered by the broadcasters for TV. I obliged but much to the annoyance of a very verbally abusive crowd at the Gabba. The angle was from mid-on, which was the best place to analyse the action.
Do you think the ICC did enough to clear Muralitharan's name and squash the controversy after bio-mechanical testing cleared him? Or do you feel the ICC's response was insufficient which in turn led to the continued scrutiny and abuse in Australia?
DW: The ICC has a process in place to deal with these situations. This process was strictly adhered to and results have shown Muralitharan to be guilt free. I feel people will advance opinions regardless of supporting evidence to the contrary. That's human nature, I guess.
How would you rate Muralitharan over other spinners?
DW: Muralitharan is undoubtedly the best finger spinner in the history of the game. Together with Shane Warne they are the stand outs in the game.
© Island Cricket