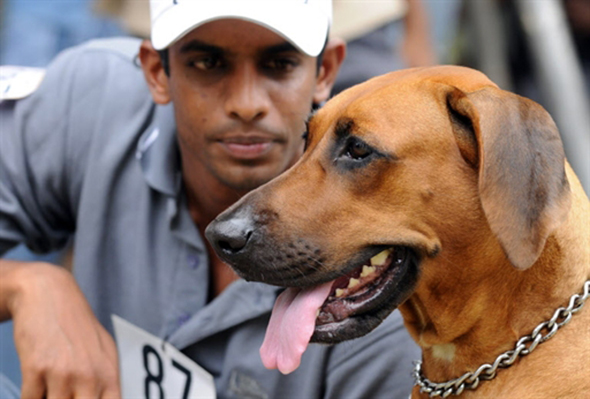 Jehan Mubarak and his pet dog take part in the island's annual all breed championship dog show in Colombo on September 7, 2008. © AFP/Ishara S. KODIKARA.
Describe the funniest moment you have had on a cricket field?
Russel Arnold and I ran into each other (both of us sprawled on the ground) while going for what would otherwise have been an easy run, and I was run out!
What is the most memorable cricket match you played in?
The first round match against Australia at the 2009 ICC WT20. It was the first time I played in a side that beat Australia. It was great to hit Brett Lee for two Sixers as well!
Who is the fastest bowler you have faced?
Brett Lee.
Who is your favourite Sri Lankan batsman and bowler, past or present?
Aravinda de Silva and Muttiah Muralitharan.
Outside of the Sri Lankan cricket team, which international cricketer do you consider to be a close friend?
No one, really. We don't have much time off the field when we're on tour.

Among the Sri Lankan cricketers, including both past and present, who do you consider a dear and close friend?
Upul Tharanga, Michael Vandort and Chamara Kapugedara.
Which position in the batting order would you like to see yourself batting?
At number three.
What country do you like to tour the most?
England.
What's more awe inspiring? Lord's Cricket Ground or Melbourne Cricket Ground?
Lord's, without a shadow of doubt.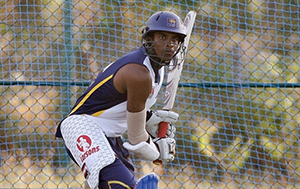 Why aren't you playing at the IPL or a similar overseas league?
Well, I would love to, but unfortunately the IPL teams have not shown a major interest as yet. Hopefully with two more teams and a fresh auction next year who knows?
Based on current form, do you think you should be playing for Sri Lanka right now?
That is for the selectors to decide. I believe I'm still good enough to play for Sri Lanka, and I need to put up good performances in the domestic leagues to impress them.
How often do you hit the gym?
Four times a week.
Where do you like to hang out in Sri Lanka?
At home, or at a friend's place.
Who do you like hanging out with the most?
Few of my friends I have known from school.
Do you own a gaming console?
Nope.
What kind of food do you like?
Sri Lankan, Chinese and Thai.
What is your favourite drink?
Ginger Beer (the Sri Lankan brand).
What would I find in your refrigerator right now?
Ice Cream, Pasta, Chicken, Juice, and the usual breakfast stuff.
What is your favourite restaurant?
'1864' at the Galle Face Hotel in Colombo.
What is the last song you listened to on your MP3 player?
Probably something off the Red Hot Chilli Peppers' album – Stadium Arcadium.
What is your favourite book?
Lord of the Rings by J.R.R. Tolkien and Birdsong by Sebastian Faulks.
What is your favourite brand of jeans?
Levis.
What is your favourite designer label?
Not particular about labels, really. I have couple of Guess t-shirts that I really like?
Do you have any siblings?
Yes, my sister – Kamakshi.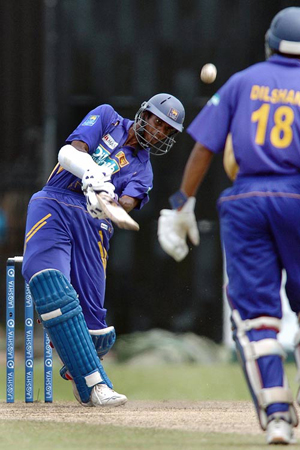 Are you married, in a relationship, or single?
I'm married.
What is your favourite website?
www.dbooth.net/internerd It's hilarious!
What car do you drive?
Mazda 3.
If you could trade places with any other person for a week, famous or not, living or dead, real or fictional. With whom would it be?
Anyone from the F1 [Formula One] circuit. I would love to get behind the wheel of a Formula 1 car (probably a Ferrari, and probably Schumacher).
What's the last movie you watched?
Alice in wonderland (2010) by Tim Burton.
Who is your favourite actor?
Tom Hanks, Russell Crowe and Edward Norton.
Washington or Colombo?
That's a tough one. I spent just a couple of years in D.C after I was born. I will have to revisit the place get back to you. From what I hear though, it will give Colombo quite a run.
What grinds your gears?
The way some people drive in Colombo.
How would you describe yourself in three words?
Easy going. Oh, three words… Very easy going??
What is your biggest disappointment?
Not cementing a place in the Sri Lankan team yet.
Apart form being a professional cricketer, do you work elsewhere?
Yes, at CIC Agribusinesses (R&D).
What was life like before cricket?
I was actually a swimmer at school before I started playing cricket, and represented Sri Lanka at the junior level. Once, I was in the SAF Games preliminary squad but had to pull out due to cricket.
Didn't you also play Water Polo?
Yes, I was a member of the Sri Lankan Water Polo team in 2002. I was also very much into drama at school; I was the chairman of the Shakespeare drama society.
What is the highest level of education you have completed?
I graduated with a Degree in Science from the University of Colombo.
© Island Cricket.