February 18, 2011
Sri Lanka's second highest run scorer at the 1996 World Cup Asanka Gurusinha speaks to Island Cricket about the islanders' chances at the ICC Cricket World Cup 2011 and more.
It is said that Sri Lanka will have no genuine home advantage at the 2011 World Cup as the three venues for the World Cup have not been fully trialled.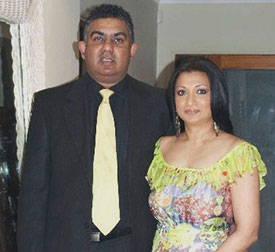 This situation is certainly a shame. However, our team is a professional outfit, so the impact should be minimal.
Chaminda Vaas has been placed on stand-by in case of injury to Kalusekara. Have the selectors made a mistake, or is it a good thing he has this opportunity?
I believe the selectors have picked the best 15 men for the job. I have no reason to question their selection. I would prefer to keep my faith in Aravinda de Silva and his team of selectors; they know what they are doing.
What is your take on the Sri Lankan team for the World Cup? Are they capable of winning it – or is the burden of expectation going to be a problem?
Winning a World Cup is certainly not as easy task. Our team statistically looks strong. However, they will need to have their five top-order batsmen score most of the runs and back it up with exceptional fielding. Nothing is impossible!
Does it surprise you that Brian Lara and Paul Collingwood say that India are favoured to win the World Cup 2011 and mention South Africa, England and Australia as possible semi-finalists. Sri Lanka gets only a brief mention. How do you feel about this?
I disagree. I believe India and Sri Lanka are the favourites, with Australia and England to join them in the semi-finals.
How important will the role of Muttiah Muralitharan be in this World Cup?
I firmly believe that no single player can win a cricket match on his own. All 11 players will need to contribute at their optimum. Murali at his best can certainly have an impact and I hope he does.

Is Kumar Sangakkara the right captain, or is Mahela Jayawardene a better tactician?
Both these chaps are wonderful players with different leadership styles. If all goes well, the coming together of their skills, experience and leadership will prove fruitful.
Is the 2007 team better than the side for this the 10th edition of the World Cup?
In 2007, we made it to the finals and lost to Australia. In 2010, we beat Australia in Australia for the first time; I think the current team is in better form than in 2007.
Duleep Mendis said in 1996 no one expected the team to win the trophy. Yet, it has also been pointed out how Sri Lanka were fortunate with Australia and West Indies withdrawing for security reasons and it was the luck of the draw and India made the mistake of not batting first in Eden Gardens.
Although we had not been given much of a chance of winning the Cup, the team had other plans. We were quietly confident that we could pull it off. The choices that the other teams made were beyond our control. We were simply focussing on the elements we could control.
In the 1996 tournament, Sri Lanka had the most experienced team representing our country and we believed we were up to the task.
You were Sri Lanka's second highest run scorer in the 1996 World Cup, amassing 307 runs at an average of 51.16 in that tournament. Yet, the accolades go elsewhere when Sri Lanka's 1996 World Cup win is mentioned. Do you feel hard done-by this?
Cricket is a team sport and I did not expect any special accolades for my personal achievements. The team had a plan; each one of us played a very significant role in it. I attribute the success of the team to a perfect execution of the plan.

Did your retirement from international cricket go as planned?
To be very honest, I don't think I could categorise my retirement as 'planned'. It was a culmination of events that led to it. I'm glad I moved on at the time I did.
What was the disagreement you had with Arjuna Ranatunga after the World Cup and why do you feel it lead to your omission from the side?
Disagreements in a team are to be expected. But, what transpired after the 1996 World Cup win still remains a bit of a mystery to me. Therefore, I am unable to elaborate.
When did you finally feel your career was over? When did you move to Australia?
I moved to Australia in November 1996 and I realised my career was over when I pulled out of the New Zealand tour.
What is your favourite World Cup moment?
I would have to say it was the win itself! It was just a surreal moment in my life.
Who did you enjoy batting with most and why?
Arjuna Ranatunga. We played lots of cricket together for Sinhalese Sports Club (SSC) and Sri Lanka, which resulted in us having a deep understanding of each other's capabilities & limitations. That led to some memorable times in the cricketing arena.
Which bowler troubled you most at Test and ODI levels?
Wasim Akram.

What is your favourite venue?
SSC grounds in Colombo.
© Island Cricket