After recovering from a knee injury, which deprived him of his debut earlier this year, fast bowler Nuwan Pradeep speaks to Island Cricket about his road to recovery and being selected for the series against Pakistan in UAE next month.
September 21, 2011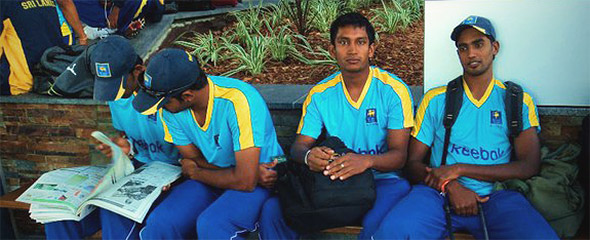 Nuwan Pradeep (right in picture) is likely to make his Test debut during the upcoming Pakistan tour. © Nadeera Nawela/Island Cricket.
How did you sustain your injury?
NP: I injured myself during a warm-up match against England Lions. When fielding, I tried to stop the ball, and my knee hit the ground pretty hard. At the time, I didn't feel a thing – it was OK. The very next ball, I took a running catch too, but the following morning I could barely walk.
What happened next?
NP: The physio took a look at me. He said that I will have to rest for at least two months. I had to return from England. I took a flight back to Sri Lanka.
What exactly was the injury?
NP: I was told that my tendons were damaged in my knee.
How is your knee now?
NP: I have fully recovered. The knee is fine now. I can run and walk fine, and I have started bowling as well. I am ready for the Pakistan tour. I am ready to play Pakistan.
Some say you are the fastest bowler in Sri Lanka at the moment; how fast can you bowl?
NP: I can bowl over 140 km/h.
What about your action? Is it true that you have an action similar to Lasith Malinga?
NP: No, that's not true. My action is totally different. I don't have a slinging action like Malinga.
Sri Lankan selectors have named Nuwan Pradeep in their 16-man squad for the Test series against Pakistan in UAE. He is expected to make his Test debut during the series, after the disappointment in England earlier this year. During Sri Lanka's 2011 tour of England, Pradeep impressed with figures of 4/29 against England Lions and was inline for Test selection when he suffered the injury.
In an interview last year, Sri Lanka's fast bowling coach Anusha Samaranayake said Pradeep can clock speeds of 150 km/h. "He's got express pace and he's also accurate. He's a very special bowler; comes at the batsman with a very long run up and his pace has troubled many batsmen in the domestic circuit," Samaranayake said.
Nuwan Pradeep was talking to Island Cricket's Hilal Suhaib.
© Island Cricket