December 26, 2010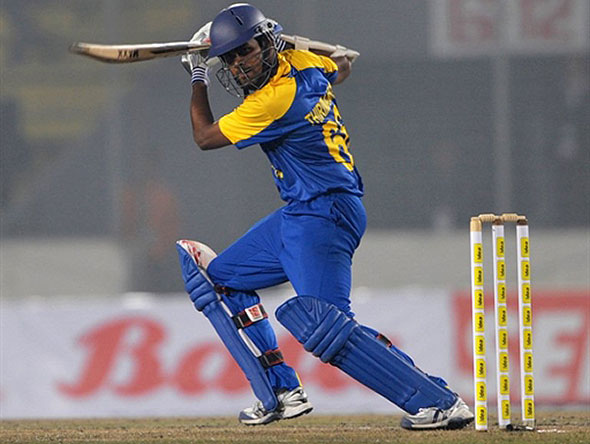 Lahiru Thirimanne is certain to be one of Sri Lanka's next generation of batting stars. AFP PHOTO/Munir uz ZAMAN.
One of the best young batsmen on the island, Lahiru Thirimanne, was identified early in his young career as one of Sri Lanka's future batting stars.
An impressive 2009/10 Premier League Tier-A tournament saw him score 709 runs at an average of 59.08, which led to his inclusion in the national side for the Tri-Nation Tournament in Bangladesh this year and his inclusion in the 30-man preliminary World Cup 2011 squad.
Playing for the Board President's XI against a touring Pakistan in June, 2009, and faced with a bowling attack that comprised the likes of Mohammad Aamer, Danish Kaneria and Saeed Ajmal, Thirimanne scored a sensational century highlighting his ability to handle pressure well and perform when it mattered against one of the world's best bowling attacks.
The 21 year old spoke exclusively to Island Cricket this week, the following are excerpts of that interview:
At which position in the Sri Lankan batting line up would you like to see yourself batting in?
I would like to open batting. When I played for my school, I opened batting. But I have batted at number three and four for my club, so any spot in the top order is fine.
You have been a prolific run getter in first-class cricket as an opening batsman; do you think you will find it harder to reach that kind of consistency batting lower down the order for Sri Lanka?
I don't think so. Right now, any opportunity is appreciated. I have to grab it with both hands, if it comes my way.
You have made over 2000 first-class runs at an average of 42.10, but do you feel you are ready for Test cricket, or would you like to play a few more seasons of first class cricket before taking the next step?
I think you gain experience and maturity by playing at the Test level. I think I am ready for the next step. If you look at India, they introduce Test players at a young age and it has been successful.
How hard was it to adjust from domestic cricket to international cricket? What kind of adjustments do young players from Sri Lanka need to make when playing at the highest level?
Because the authorities have made an effort to limit the gap between domestic cricket and international cricket over the last decade, the change is not that drastic. But the key to success at the international level is fitness. Players need to work a lot harder than they did at the domestic level.
You toured Zimbabwe under the captaincy of Tillakaratne Dilshan and you made your ODI debut in Bangladesh with Kumar Sangakkara as the captain; how is Dilshan different from Sangakkara as captain?
I played only two ODIs under Sangakkara and one under Dilshan, so it's hard to judge. They are both good captains who offer a lot of help and motivation to youngsters.
You were part of the Sri Lanka A squad that played Pakistan A in Hambantota this year; why do you think batsmen from both sides struggled to score runs in that game? What is the wicket like at the new stadium in Hambantota?
That was the first time a first-class match was played at the venue, I think, and since we didn't get a chance to practise much there and the wicket being new, it offered a little something extra to the bowlers. I remember that it was unusually windy out in the middle, too.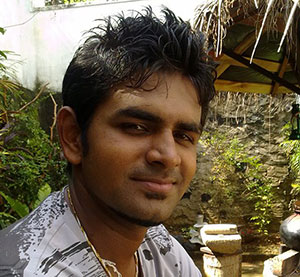 What changes have taken place in your technique since leaving school cricket?
I only had to make a small changed in my stance.
What is your most memorable knock?
There are a few. The three-day matches against India and Pakistan where I made two centuries and a half-century in three innings was special.
Do you see yourself as purely a batsman, or as an all-rounder? Can you bowl?
I consider myself a batsman, but I have started bowling medium pace for my club recently.
What is your favourite stroke?
The cover drive.
If there was one stroke you would like to put away, what is it?
Driving way outside the off stump.
Who is the toughest bowler you have faced thus far?
Zaheer Khan.
Who is your favourite batsman? Who inspired your style of batting?
Kevin Pietersen is my favourite batsman, but I like Kumar Sangakkara's style as well.
What do you like to do when you're not playing cricket?
I love staying at home and watching a lot of TV.
© Island Cricket