Former Sri Lankan physiotherapist Tommy Simsek speaks exclusively to Island Cricket on Upul Tharanga's recent ban from international cricket for consuming a banned substance
July 30, 2011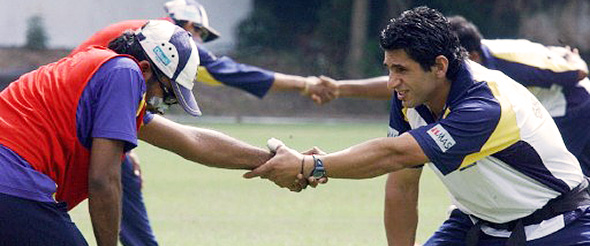 Former Sri Lankan Physio Tommy Simsek (R). AFP/File/SANKA VIDANAGAMA.
How aware were you of all the medication, prescription or otherwise, consumed by Sri Lankan players during your time as physio?
TS: I was only as aware as the players were willing to allow me to be. Most of the time, players were quite good at informing me that they saw a doctor and were prescribed medicines. They would usually let me know in order for me to check the medicines that they were given. There's no way for me to know a player is taking a medication unless the player or his doctor informs me that he is taking it.
Prior to this incident involving Upul Tharanga, would you say Sri Lankan cricketers were provided with enough information regarding doping in sport to avoid ingesting unknown substances?
TS: Yes they were. I have given all players an information sheet on anti doping and explained the basic principles in simple terms. I also gave a handout listing all the banned substances and they were supposed to take this with them any time they saw a doctor and were prescribed medicine. Further to this, periodically I would give a brief lecture on players' responsibilities regarding banned substances. The players had been told frequently not take anything unless they knew exactly what was in it and were quite aware that they should not take anything without being one-hundred percent sure that it was safe (including Ayurvedic potions). To enable this, players were encouraged to check the medications with me before they took them, whenever they were given any prescribed medications. In Upul's defence, the potion which he allegedly took had been taken by other cricketers and was supposedly checked and cleared in laboratory tests and was supposedly made from safe and legal all-natural herbal extracts from the Himalayas.
When you first heard about Tharanga being tested positive for taking a banned substance what was your reaction?
TS: What I felt was disappointment. I was disappointed for Upul on a personal level and I was disappointed that this happened to a Sri Lankan cricket player. My reaction was obviously to try and help Upul and his manager in preparing for Upul's defence.
What is your take on spiritual healers treating professional athletes?
TS: Personally, I come from a science background, so I do not believe in the benefits of a spiritual healer. I think faith healer is a better name for them, because if you have faith and sincerely believe that something, or someone, is going to help you, then in most cases you will feel better after such an intervention. Psychological benefits can be a powerful factor and it is well known that placebo treatment often results in perceived improvement in symptoms. Having said that, I don't mind athletes seeking the help of faith-healers if it makes them feel better, as long as the faith healer does the athlete no harm. I am against faith healers that claim unrealistic powers, or offer unrealistic benefits, or convince athletes into unknowingly taking illegal substances.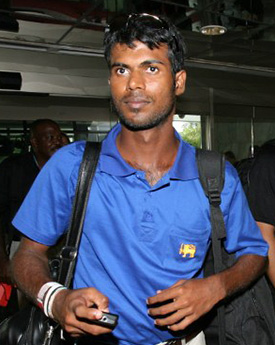 Were you aware that Tharanga was being treated by such a healer?
TS: No I was not aware that Upul was being treated by a faith healer. Most of the players knew I was cynical about the effects and treatment offered by faith healers, so they were quite coy about letting me know they had seen a faith healer. So, most of the time, if a player had seen a faith healer, they kept it secret from me.
What would a qualified sports physiotherapist such as yourself recommend as a treatment plan for Tharanga's injury?
TS: Tharanga's injury is exacerbated by throwing, particularly hard or long throwing. The most important thing Upul can do to improve his shoulder condition is to improve his throwing technique. Since his throwing pattern is quite ingrained, due to years of throwing the way he does, this will not be quick and easy. But he needs to persist with it and he needs the fielding coach to work closely with him to remedy this flawed throwing action; Upul throws too front on, requiring his arm to excessively, horizontally extend. In addition, to improving his throwing technique Upul needs to work hard on an appropriate shoulder conditioning and rehab program, as well as building up general strength and muscle.
Tharanga was tested positive for using a banned substance, when he was under your medical supervision; in hindsight, what could you have done to prevent this?
TS: I think I had done all that I could to prevent any player from taking a banned substance. The players then had to do their bit, which is the most important part. I gave the players a list of banned substances and told them not to take any medications that had ingredients that were on the list. Furthermore, I informed players that if they took any illegal substances, they would be found personally at fault, so they should not take any medications, or substances, without knowing with absolute certainty that it was a safe substance. I told them: "Do not put it into your body unless you are one-hundred percent sure it is safe!" Players were free to show me the medications personally, or to call or text me, with the names of the medications at any time and I would check the medications for them. The Anti-Doping guidelines state that ultimately it is the players' own responsibility not to take any banned substances. And ignorance about taking a banned substance is no excuse, even if the medication was given by a doctor. So, all players are aware of their responsibility regarding banned substances. In Upul's case, he inadvertently took an illegal substance thinking that it was safe, as the alleged potion had allegedly been tested and cleared. And allegedly, other players around the world had taken an identical potion and had subsequently been tested and been cleared.
How would you advice a young athlete faced with the same predicament Tharanga was faced with?
TS: I would give the same advice that I have given all Sri Lankan players previously: "Don't take any medications, without knowing with absolute certainty, that they contain no banned substances." As we do not know what ingredients are contained within the potions given by faith healers, these should also not be taken. This was explained to players previously, but after the Tharanga incident I'm sure they will take these warnings more seriously. I would also advise young athletes, that often there are no easy or quick fix alternatives for most things, so they should work hard at practise on their techniques and work hard off the field with their rehab, strength and conditioning.

Upul Tharanga is currently serving out a three-month ban which ends at midnight on August 8. Click here for the ICC press release announcing the verdict of the anti-doping tribunal.
Tommy Simsek's contract with Sri Lanka Cricket (SLC) ended after the ICC Cricket World Cup 2011.
Simsek was speaking with Island Cricket's Hilal Suhaib.
© Island Cricket