By Gavin Van Hoff | July 11, 2017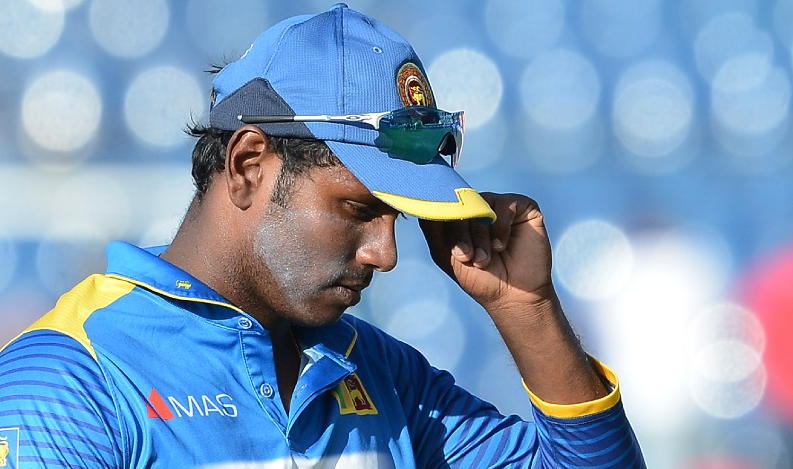 Sri Lanka captain Angelo Mathews is feeling the pressure after Zimbabwe won for the first time ever a series against Sri Lanka. © AFP
Kumar Sangakkara took to Twitter after Sri Lanka's 3-2 ODI series loss to Zimbabwe to drive home a strong point to his fellow Sri Lankans after local politicians, cricket pundits and fans on social media have blamed everything from an all-powerful "cricket mafia" controlled by players' managers/agents to players' fitness, fielding performances, captaincy and coaches for Sri Lanka's recent defeats on the cricket field.
Worryingly for Sri Lanka, the island's sports ministry and cricket board officials have seemingly acted on what most would consider irrational criticism.
Sangakkara tweeted: "Who do you now blame for losing the series? Conspiracy? Managers? Or the correct structures not being in place for years."
"This is when [the players] need even more support, nurturing and patience [and] correct measures put in place for for resurgence and improvement," Sangakkara added.
"Not a time for people with vested interests to score social and political brownie points and distract attention from actual facts. Quo Vadis Sri Lanka cricket?"
Over the last two years, Sri Lanka have managed just 16 wins from 46 ODIs, They failed to win an ODI series against Bangladesh earlier this year and have now been defeated by Zimbabwe in a five-match series — both at home, where they have historically dominated.
The losses have been poorly accepted by sections of the Sri Lankan media, with conspiracy theories being proliferated by Sinhala-language websites and even the sports editor of a leading Sri Lankan newspaper calling for the permanent axing of Lasith Malinga and alleging a secret a "mafia" was responsible for everything from selections to the hiring and firing of coaches.
"We believe that the stepmotherly treatment meted out to Dinesh Chandimal is stemming from this very mafia," wrote The Island's sports editor Rex Clementine.
"Many believe that the time has come for SLC and Malinga to part ways," Clementine further added. "Actually the board should have parted ways with him the day he chose to play one form of cricket over the other. No individual is bigger than the game."
As the defeats rack up, Sri Lankan cricketers are being labelled as belonging to a mafia or they are grouped by who their agent is and team selections are viewed with suspicion by a public exposed to unsubstantiated claims by the local media.
For example, Sachith Pathirana has been maligned with claims he is only being selected because of the 'Kandy mafia', which then calls into question the integrity of chief selector Sanath Jayasuriya, if true.
"The only reason why Sachith Pathirana has featured regularly in the national team in recent times is because his father has control over six votes at the cricket AGM," Clementine wrote in another column.
Sangakkara and Mahela Jayawardene were interviewed by the Sri Lankan newspaper Sunday Times recently to answer to rumours published by Sinhala gossip websites, which claimed their manager influenced Sri Lanka team selections.
"The general practice is the captain and the coach sit along with the national selectors and once the consultations are over, they leave the selectors alone to complete the task on their own," Jayawardene explained. "So there is very little chance for the captain to influence the selection process."
As Sri Lanka were smarting from defeat in the first ODI against Zimbabwe, Lakshan Sandakan's impressive four-wicket haul in the second match of the series helped the home side level 1-1, and shortly after the victory, Sinhala-language online gossip publications alleged Jayawardene and Sangakkara's manager, who is reportedly also Mainga and Sri Lanka captain Angelo Mathews's agent, had attempted to keep Sandakan out of the side to include a player managed by him.
Not having the left-arm spinner in the side for the first match was the reason for Zimbabwe's spirited run-chase and win, the asinine theory went. Sandakan however could not replicate his second ODI heroics in subsequent games and found himself dropped for the all-important series decider.
"I think the theory that a player manager manipulates team selection is an absurd assumption and a malicious one," Sangakkara told Sri Lanka's Sunday Times.
"Any captain's success depends on having the most competent and skilled players in his team, not players he personally likes or a manager likes. A captain's reputation is built on his team winning. His longevity depends on the same, not in pandering to his manager or agent."
These explanations are still insufficient for some, as the disbelievers are now ridiculously suggesting Sangakkara and Jayawardene are lying and risking their reputations to cover for their manager.
Commenting on rumours about Jayawardene and Sangakkara's manager and also providing his remedy to fix Sri Lanka's woes, Arjuna Ranatunga appeared to tell a gathering of reporters last week no one but he can defeat this "cricket mafia".
"Even if Maithripala Sirisena or Ranil Wickramasinge or the former president of the country contest in cricket board elections they will lose because this cricket mafia is something completely different," Ranatunga said.
"Behind the cricket mafia are player agents and those agents often select the team. I say with responsibility, Charlie Austin (Sangakkara and Jayawardene's manager) is the man who is destroying the sport."
Ranatunga said he will prevent players from hiring managers if he is in charge of the cricket board, but perhaps nothing was more shocking than his insinuation that top cricketers managed by Austin, such as Jayawardene and Sangakkara, may have gained financially by coercing younger players to sign with their agent.
In 2008, Ranatunga was ousted as chairman of the government-appointed interim-administration running the cricket board by the Mahinda Rajapksa regime, after he was involved in an ugly spat with the Indian cricket board and Sri Lanka's cricketers over a tour to England (planned at the last-minute and clashed with the IPL schedule).
Sri Lankan players utilised the right channels — the cricketers' association and their representatives — to negotiate with Ranatunga's interim-committee for a solution. Throughout the entire episode, Ranatunga took a hardline approach and made insulting public remarks aimed at Indian cricket officials.
The Rajapaksa government eventually intervened and its ally India had access to Sri Lanka's best talent for their premier domestic T20 competition, but the brash Ranatunga was handed a bitter defeat and lost his position as the head of the cricket board shortly after.
For the former chairman of the English cricket board Giles Clarke, Ranatunga and Sri Lanka may have been merely pawns in a larger game. England had hoped to launch their own T20 league with the now-convicted fraudster Allen Stanford by their side and had no qualms with impeding India's IPL.
"For the ECB, the Sri Lanka tour can be seen as further indication that, under the chairmanship of Giles Clarke, they are winning new friends in the sub-continent," reported The Telegraph back then. "[Ranatunga], the chairman of Sri Lanka Cricket, began the defection of sub-continental teams to England's side last week. Ranatunga is a fierce Sri Lankan nationalist and it is thought he is tired of his board being seen as Indian lackeys."
Ranatunga framed his inability to intelligently resolve the conflict as: 'the players pandering to their agents' demands and choosing IPL over Sri Lanka.' He appears to have pinned the blame on Jayawardene and Sangakkara, who took the lead during those heated 2008 discussions, as well as on their manager and associate Austin, and has since been condemnatory of players' managers and the IPL tournament.
With Graham Ford's sudden resignation after Sri Lanka's group-stage exit at the Champions Trophy, the wrath of the irrational has now shifted towards Sri Lanka's skipper.
There was talk amongst Sri Lankan journalists of board officials being unhappy with the coach, shortly before Ford up and left. Now, Mathews has been probed by reporters on if he plans to continue as captain until the 2019 World Cup.
Sri Lanka are without a top coach today and could soon find themselves with a new captain and in more trouble if they fail to acknowledge they were outplayed in recent times by good sides and avoid reacting immaturely.
It is fair to say there were occasions when players faulted, and it's true they weren't at their best on some days, but losing streaks eventually turn into winning ones; behaving destructively and irrationally won't help.
Cricket officials and the sports minister must not react to these losses by changing long-term plans or by axing experienced players. They must also not make hurried decisions based on the nonsensical views from vindictive opportunists and conspiracy theorists.
© Island Cricket