By Gavin Van Hoff | July 12, 2017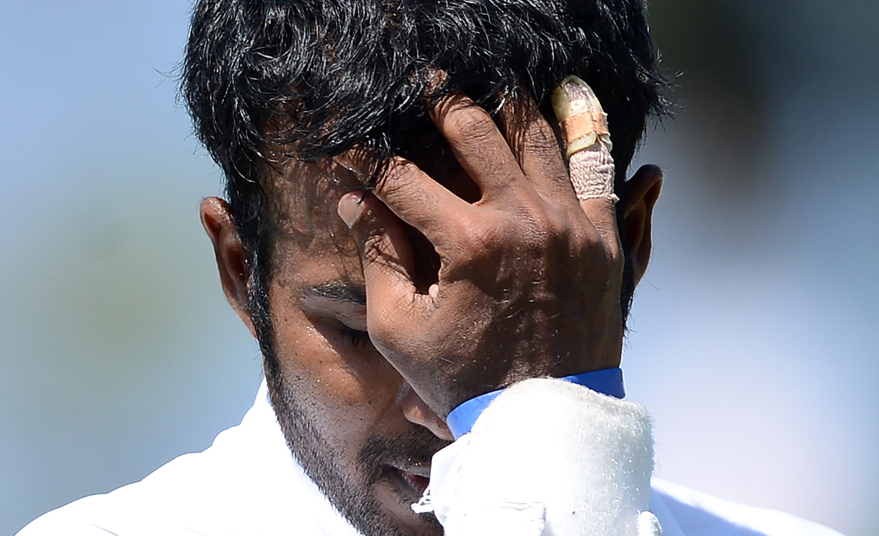 Discarded not too long ago as a batsman with a weakness outside off-stump, Upul Tharanga is now Sri Lanka's ODI and T20I captain. © AFP
Upul Tharanga is apparently good enough to be captain for ODIs and T20Is but not the Test side, which is another odd decision by Sri Lanka's selectors, but are the selectors actually making these important decisions?
With reports of the SLC president and other executive committee members also actively involved in picking players, one wonders who ultimately holds responsibility for team selections.
Is chairman of selectors Sanath Jayasuriya ultimately responsible for all selection-related matters or does Thilanga Sumathipala have the final say?
This is important because, without someone taking ownership of something as crucial as selections, the board and the selectors get away with nonsensical team combinations and random, bizarre inclusions that hinder the team's chances of success.
Tharanga, whose overall record suggests he is Sri Lanka's most-accomplished opening batsman, continues to be at the receiving end of some strange decisions and finds himself today a middle order batsman in the ODI side, only months after he was recalled to open batting against tougher opposition than Zimbabwe.
"We can't thank Upul Tharanga enough," former captain Angelo Mathews said earlier this month. "He has moved up and down the order to accommodate others. He has been an unlucky player. Can't thank him enough."
The manner in which Tharanga's career has panned out in the almost five-year period Jayasuriya has served as chief selector underlines the disarray these selectors have brought to Sri Lanka's most-beloved sport.
Jayasuriya kept Tharanga out of action for a considerable period, claiming his days as an opener were past him due to a flaw in his technique (despite possessing a dozen ODI centuries at the time). Then, last year, the Matara Mauler had a change of heart and Tharanga was suddenly good enough to be recalled and asked to face the new ball against a formidable Proteas pace attack in South Africa, but only after Jayasuriya's first-choice openers were struggling to cope with the pace and bounce there.
Tharanga eventually delivered because he was always good enough, and he earned his place back through match-winning performances. He is now Sri Lanka's choice to captain at the 2019 World Cup. It's fair to say Tharanga's career was almost destroyed because of inane thinking.
Two captains?
Jayasuriya's selection panel has experimented with split-captaincy before and it failed miserably, so why would they go down that road again?
In 2014, Jayasuriya appointed Dinesh Chandimal captain for the World Twenty20 tournament, when Chandimal was struggling to keep his place in the T20 side. Eventually, Lasith Malinga took over mid-tournament as captain after Chandimal was dropped from the side and Malinga led Sri Lanka to their first world title since 1996.
The selection panel, headed by Jayasuriya, includes Romesh Kaluwitharana, Asanka Gurusinha, Ranjith Madurasinghe and Eric Upashantha.
Gurusinha, who holds the post of cricket manager, was recently added to the panel. The other four have served for long enough to have chopped and changed Sri Lanka to the bottom of the rankings. They've rarely fielded a settled XI in consecutive matches.
Horses for courses
The horses for courses policy, where teams pick players based on multiple factors such as their opposition, the state of the pitch and weather conditions, has been successfully employed by other teams, but it has proven to be detrimental in the hands of vacuous Sri Lankans.
If you were a bowler, say Amila Aponso or Akila Dananjaya for example, you would be lucky to be selected for back-to-back matches. There is simply no guarantee these selectors will give players a long enough opportunity to find their feet at the international level and perform more consistently.
There will always be anxiety when players feel their place in the side is not secure, which is harmful to their success.
"When there's inconsistent selection, as a player you feel that even your own dressing room is creating doubts in your head, let alone the doubts that the opposition is creating," Thilan Samaraweera said in an interview with ESPNcricinfo, highlighting this very point.
"You can prepare for the opposition, but when there are doubts from the dressing room, that can really affect you. You don't know where you stand. I've experienced that, and I think that's happening in the Sri Lanka set-up now."
Kumar Sangakkara too has said the same.
"One of the main things that the current Sri Lankan team really needs is security and confidence [and] also to have some sort of continuity," he said at an event in April.
"Most people won't thrive in an environment where there is insecurity. Either you're looking over your shoulder or above your head, waiting for that sword to fall," Sangakkara added.
Sri Lanka have lost a number of greats in recent years, but those players didn't become cricket superstars overnight. It took years of persistence by the selectors to build a strong unit.
Isn't shuffling through 30-40 players in months, which these selectors have done, outright stupidity and also reckless? It has hurt Sri Lanka and harmed the careers of many skilled cricketers.
So, who is ultimately responsible for these chaotic selections and the illogical appointment of two captains? Is it Sumathipala or Jayasuriya or both?
Sri Lanka is desperately in need of a new selection panel made up of intellectuals not ageing pinch hitters and former bits-and-pieces cricketers, but no honourable men will serve Sri Lankan cricket when the president of the board is a divisive and controversial politician who feels he can micro-manage and interfere in selection matters.
The Sumathipala administration last month took rapid action against Lasith Malinga for speaking to the media without permission from the board, but they will not move as urgently to fire the current group of selectors, or allow competent individuals to take their place, because cricket board officials needs lackeys like Jayasuriya who will follow their orders, not independent-thinking selectors who will not entertain favouritism by the executive committee.
It should be clear to most by now that the SLC administration, including the selectors, are to blame for the mess Sri Lankan cricket is in today.
© Island Cricket