By Muhammad Asif Khan | November 3, 2017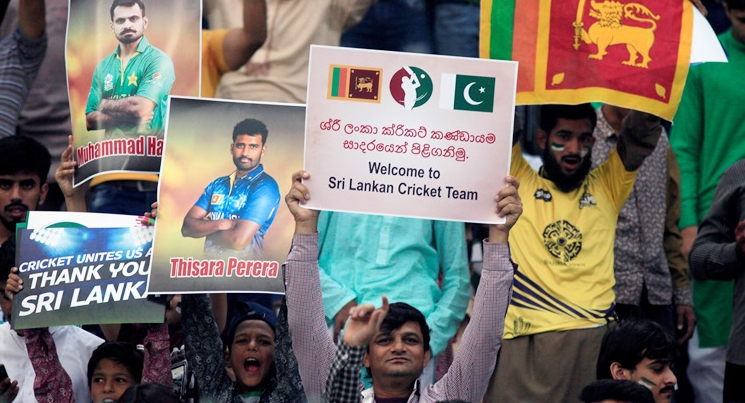 Pakistani cricket fans in the stands showed their appreciation for the visiting Sri Lankans during the third and final T20I in Lahore. © Reuters
I was always confident Sri Lanka will tour Pakistan despite the concerns. I knew they will keep their promise. My conviction was based on my fabulous experience with the people of this amazing country some three years ago.
Everywhere I travelled to in Sri Lanka in late 2014, I experienced warm welcomes and generous people. During my travel from one corner of the island to the other, I sensed the bond of friendship between Pakistan and Sri Lanka. My mates on that tour, journalists Abdul Ghaffar and Ubaid Awan, would second me on that — we felt at home throughout our fortnight-long stay.
In Colombo, the locals would gather around us to talk about Pakistan, upon knowing our identity. The taxi driver in Hambantota went out of his way to find us accommodation. When we reached the town of Hambantota after dark and stepped out for food, we could find only one establishment (a small hut) but they had already closed for the day, however, to our pleasant surprise, they re-assembled the stove to cook up eggs just for us.
In Dambulla, the guest house owner insisted we visit his home for dinner. He introduced us to his family and friends and talked at length about Pakistan. Later, a family accommodated us in their van for a free ride to Colombo from Dambulla and dropped us at the guest house's doorstep during the wee hours.
The generosity and kindness we experienced was no different in Kandy, Galle, or elsewhere.
One common sentiment expressed by virtually all Sri Lankans we met on our travels was their appreciation and gratitude towards Pakistan for helping Sri Lanka during the war. But still, the decision to embark on the trip to Lahore, the city where the horrific 2009 incident took place, is highly commendable.
The people of Pakistan and former players too are ecstatic and appreciative.
"We have all the respect, all the love for Sri Lanka. I think they are one of the best friends we have ever had," Shoaib Akhtar said. "They are the most humble and warm-hearted people. We all love them and are thankful," Akhtar added.
Rashid Latif, a former Pakistan captain, praised the Sri Lankan board and their efforts to convince the players to travel to Pakistan.
"The initial impression was that Sri Lanka were reluctant but the entire credit goes to their cricket board," Latif said.
Latif said he hoped this tour would pave the way for a gradual revival of international cricket in Pakistan.
Danish Kaneria, who was a member of the Pakistan side during that ill-fated 2009 home series against Sri Lanka, was also overjoyed with the return of a top Test nation to Pakistan's shores. "I thank Sri Lanka from the bottom of my heart," he said.
Wicketkeeper-batsman Kamran Akmal was of the opinion that Sri Lanka's tour will transmit encouraging signals across the world.
"We are thankful to Sri Lanka, their visit will relay positive signals and soon other teams will follow their footsteps," Akmal hoped.
And not just the cricketers, on behalf of all Pakistanis: Thank you, Sri Lanka!
Muhammad Asif Khan is a journalist based in Pakistan and has reported for NewsOne, Score Line and Wisden.
© Island Cricket