By Gavin Van Hoff | December 28, 2017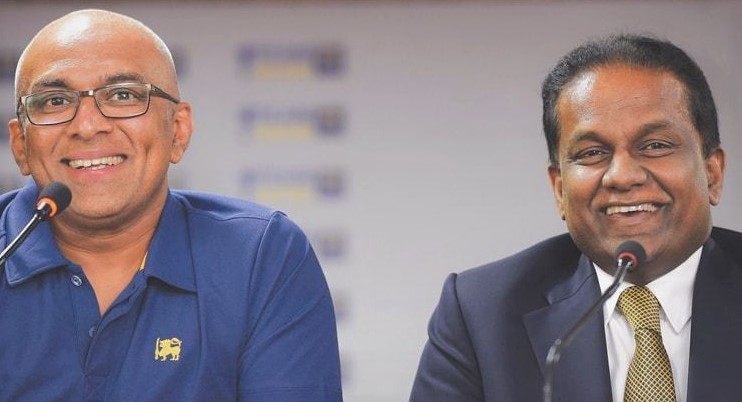 Thilanga Sumathipala's administration has invested heavily on Chandika Hathurusingha, perhaps in hope the new coach can prevent their likely ouster after a torrid year. © AFP
It was a year in which Sri Lanka's head coach Graham Ford never returned from his annual vacation and the fielding coach Nic Pothas was hurriedly promoted to fill the vacancy. It was a roller-coaster ride, with moments of euphoria after Pakistan were whitewashed 2-0 in a Test series, but much to every Sri Lankan cricket fan's chagrin came defeats to Zimbabwe and Bangladesh in the limited-over formats, while two full tours featuring India resulted in 19 matches in all — Sri Lanka won just two ODIs against India.
Dozens of players were trialled and discarded by the selection panel headed by Sanath Jayasuriya, before he resigned for the second time in two years, forced this time by fan protests in Pallekele and not the administration. Continuity continued to elude Sri Lanka through much of the year as a result of Jayasuriya's often asinine selections, which critics argued were destructive to the future of Sri Lankan cricket. His successor, Graeme Labrooy, in his brief time as chief selector, has already exemplified the urgent need for a more intelligent individual for this important role.
Sri Lanka Cricket's finances, according to board president Thilanga Sumathipala, is in a healthy state with SLC no longer in debt. No independent audit however has been conducted to validate this claim. While the players saw a reduction of wages in their new contracts, Sumathipala's administration has spent millions of rupees on moving the Asian Cricket Council office to Colombo, galas, music videos, lavish send-offs before big tournaments and handouts to clubs; and they also stand accused of interfering in team and squad selections.
Sumathipala's appointment of former Sri Lanka cricketer Asanka Gurusinha to a newly created role of cricket manager undermined Ford's position as head coach, which is widely-believed to be the reason for Ford's resignation. Gurusinha himself has made no positive impact since his move to Sri Lanka from Australia, where for years he held a management position in sales for a publishing company.
Of the 13 Tests played in the year, Sri Lanka won four, with two of those victories coming against Bangladesh and Zimbabwe, making the two wins against Pakistan oddities. They lost a Test to Bangladesh for the first time ever and were dismal against India and South Africa.
It was a calamity in ODIs, as Sri Lanka lost 23 of the 29 ODIs they played in 2017. Two of their five victories came against Zimbabwe in a series that saw Zimbabwe record their first ever series win on Sri Lankan soil.
The 20-over format saw Sri Lanka lose 10 of the 15 T20s played in the year. Although they lost more matches than they won, series wins in South Africa and Australia were certainly high-points of a very tough year.
As the losses mount and new lows are set on the field, the Sumathipala administration's meddling in selections and coaching matters, as well as the board's lack of willingness to move away from the inferior club tournament to improve the standard of domestic tournaments, have come sharply into focus.
The Sumathipala administration appears to be on shaky ground, as the sports minister has threatened to dissolve the cricket board if that is what is required to resurrect Sri Lankan cricket, which is why the board has heavily invested in Chandika Hathurusingha to bail them out.
Sumathipala has publicly promised to no longer interfere and has agreed to allow Hathurusingha the freedom to do as he pleases, perhaps in hope that the former Bangladesh coach poached by him can help save his job. Sri Lankan cricket fans will be hopeful that 2018 will be better, solely based on the fact the head coach will not be hindered by Sumathipala micro-managing at every turn.
© Island Cricket