By Channaka de Silva | May 27, 2017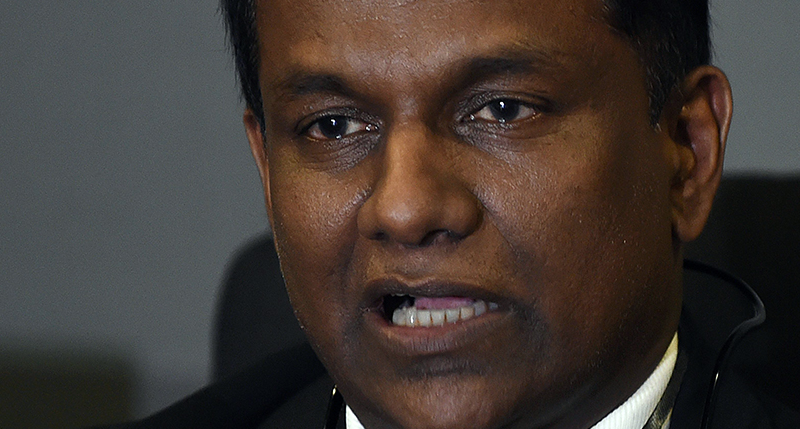 Thilanga Sumathipala was elected SLC president in January 2016. © AFP
Sri Lanka has reached a nadir. The country's chances of being considered a top Test nation is hanging by a thread. Considering recent performances against the ninth-ranked Test team Bangladesh at home, no legitimate claim can be made against relegating Sri Lanka to the lower level of the once-proposed two-tier Test format.
Even the chances of an automatic qualification for the next ODI World Cup now seems an uphill struggle, as Bangladesh have now overtaken Sri Lanka in the ODI rankings. The loss to Scotland in the Champions Trophy practise match in Beckenham too was humiliating and the Scots's first-ever victory against a major opposition.
Sri Lanka was a competitive side in all formats for many years. That was a privilege likely taken for granted ever since gaining Test status in 1981, but in an ever-changing world that increasingly places importance on financial results (over results on the field), Sri Lanka may have committed a grave mistake in taking things too easy.
The writing was always on the wall, as the slide since the 90s has been alarming, but despite the frequent danger signs authorities were complacent. Were they not aware of what was required to mend this? Forward-thinking and planning are not attributes often associated with the Sri Lankan mindset.
Two decades since Sri Lanka's awe-inspiring 1996 World Cup win, the most popular sport in the country is reaping the results of living in a fool's paradise. It may be too late to turn it around, and worryingly, very few seem to care.
Politicians, who unfortunately have the authority to make important decisions on a subject they have no clue about, and cricket board officials, view SLC merely as a gold mine. They only see the millions of dollars SLC attracts and their only objective appears to be lining their pockets.
After a career of more than 25 years as a cricket journalist, I am yet to meet an official who has given me the impression he is there with the sole intention of serving the sport. It is perhaps not always possible to create that impression, but it does not mean one cannot better the game while also indulging in their personal interests.
We have heard many fabled stories about how Gamini Dissanayake worked tirelessly to win the nation Test status and how Ana Punchihewa planned and worked painstakingly to help Sri Lanka win the '96 World Cup. We also have another kind of example in N. Sirinivasan, the former president of the Indian cricket board.
Sirinivasan, who also served as chairman of the ICC, took an authoritarian approach, which won him enemies and critics, and he understood how to wield power and subjugate the cricket world to submit to his plans. His accomplishments were, of course, thanks to the immense wealth and financial power of the BCCI, but despite his successes, there were corruption allegations against Sirinivasan, claiming he had accumulated much wealth via his position.
With the introduction of the IPL, the focus of the game turned to the millions that could be made. There was no turning back for India as a cricket team. The forward-thinking Sirinivasan saw India to the pinnacle of world cricket within a short time. It simply was an unimaginable rise in the pre-IPL era.
This highlights how administrators play a role in a team's performances on the field and how they can transform good teams to great ones.

Historically, SLC's administration has revolved around one man. The situation was a tad bit different only when SLC was governed by an interim-committee headed by Sidath Wettimuny. It's the general pattern of how things work in the country. Today's SLC is a miniature version of Sri Lanka's present government.
Take the government for example, one man was all powerful and called all the shots just three years ago. He launched many tangible development plans, and large-scale construction projects were a hallmark of his reign. The opposition realised how formidable the man in power was, so sworn enemies joined hands to defeat the strongman, and they won making innumerable promises. The story is much the same at SLC.
The public were hopeful about the new government, just as they were optimistic of change at the cricket board. But unfortunately, SLC is still a miniature model of the island's government, which soon found itself mired down with corruption allegations (the bond and coal purchase issue). Allegations against SLC too began surfacing and the performance of Sri Lanka's cricket team slid downhill rapidly. While the economy remains stagnant, politicians are accused of enjoying luxuries; and that despite the nation's ailing financial conditions.
The national cricket team is faltering but no meaningful undertaking is in sight to remedy it, apart from splashing money on an ever-expanding payroll. The stunning defeats against Bangladesh was rock-bottom for Sri Lanka and the media felt it was the death of the game.
It is no secret then that SLC president Thilanga Sumathipala is a man on a mission. That mission is not to bring back the glory days for the board and the sport but more of a public relations drive.
Last month, ESPNcricinfo's Andrew Fernando, who has a very good understanding of the inner machinations of SLC, summed it up beautifully when he questioned the reasons behind SLC's PR craze.
"In fact, in 16 months in office so far, Sumathipala has pursued publicity with unmitigated desperation – bouncing up to every camera in his vicinity, schmoozing every journalist who has made his acquaintance," Fernando wrote. "A relentless carousel of PR stunts has been his term: if there is a media dinner this month, there will be a pre-series song-and-dance tamasha the next; if there is a high-flying hour-long press conference this week, a charity dinner or a grandiose tournament announcement is perpetually around the corner.

"All that effort, and yet, for what? What does Sumathipala think he is achieving? Sri Lanka's public certainly hasn't been fooled by his overtures…"
The recent visit to Kandy's Temple of the Tooth saw SLC's foreign coaching staff and non-Buddhist cricketers wearing white sarongs and participating in Buddhist religious rituals. It was live streamed on social media, with the camera on Sumathipala at every given opportunity. A Facebook meme from a cricket fan provided a rather curt message on what was happening.
From the very moment they were elected on January 3, 2016, the Sumathipala administration's motives were clear. They very quickly won the confidence of the sports minister after Arjuna Ranatunga launched a vitriolic attack on the minister and his officials, following the Ranatunga group's loss at the SLC election last year.
SLC's lavish and unabashed spending was exposed as early as within three months of the new administration assuming office. The type of allegations that began surrounding Sumathipala and his men resembled charges against previous SLC officials, mainly among them — aiding well-connected individuals in the island obtain tenders and contracts at SLC.
Many heads rolled at SLC, and interestingly, they were all allegedly supporters of Sumathipala's main challenger Nishantha Ranatunga. One of the top officials who faced the axe was SLC's head of marketing Vajira Dassanayake.

"He (Sumathipala) told the staff present that he is aware of information leaking out due to the conduct of some staff members," Dassanayake told at an official inquiry. "He further told that he would take appropriate action to remove such obstacles and he is aware of the proper legal mechanism to achieve such an action."
Another sacked employee Gayathrie Wickremasinghe made some serious allegations of sexual harassment at SLC, but as it tends to happen in Sri Lanka, the outcry was swiftly hushed and the matter was swept under the carpet.
But if anyone thought the terminations were a genuine attempt at cost-cutting, as SLC was bleeding millions in employee wages every month, they couldn't have been more wrong. Hordes of new employees, most of them with clear connections to SLC officials, were offered new positions.

Charith Senanayake, a former Sri Lanka cricketer who waged quite an effective social media campaign to dent the image of SLC officials in the previous administration after being removed from his position, was reinstated by the Sumathipala administration as team manager. Even though Senanayake's social media campaign may have indirectly supported Sumathipala and his team gain popularity, he was essentially not a member of the Sumathipala team and many speculated his hiring as team manager was just a gesture of gratitude.
Senanayake is known as a straight man in cricket circles. It wasn't long before he fell foul with the new regime and was shown the door in a diplomatic way on what appears to be a trumped-up charge.
Controversies have been a feature of SLC for a long time. There was no shortage of it even this year, when a blatant incident of match-fixing in domestic cricket came to light. Those in the know understood what transpired and who were involved.
As top SLC officials were alleged to be involved, many were eager to find the outcome of the much-publicised inquiry SLC was to undertake. But similar to how the Sri Lankan government's plethora of investigations on incidents of murder and corruption have gone, SLC's inquiry appears to have disappeared and gone nowhere.
A few months back, a task group had been created to fight SLC's alleged corruption. It presumably is spearheaded by former employees who were terminated by the present SLC regime (the wealth of inside information they possess, points very much in that direction). They send out a regular e-mail bulletin called "SLC Leaks", exposing questionable activities. Some of the points and allegations they raise are quite damning, if true.
The most serious allegations and facts from one of their recent bulletins makes interesting reading:
– Rs. 19 million spent on establishing the ACC office in Colombo within the SLC premises. The opening ceremony of the ACC office cost SLC around 7-8 million, with no return to SLC. An agreement was signed for a period of 10 years with no funds generated to SLC.
– Cricket Aid scandal still not cleared and COPE directive to be carried out.
– SLC funds being utilized for Cricket Aid functions.
– Kidney Project: Funds that have been collected used for SLC office bearers' travel and renovations at SLC.
– SLC staff terminated without a valid reason. New employment at SLC were arbitrary appointments and not carried out as per the HR policy.
– Grants over Rs. 150 million provided to non-playing first-class clubs, district and provincial members
– Funds provided to districts through the provinces for age group and club tournaments exceed Rs. 100 million.
– SLC executive committee members provided with mobile phones valued at Rs. 30 million.
– Setting up of Brain Center to analyze players at cost of Rs. 36-40 million.
– SLC management office to be demolished and rebuilt at a cost of Rs. 250 million.
– Hambantota Stadium in a dilapidated state and no matches played at Hambantota.
– Appointment of three managers for the national team:

a) Charith Senanayake receives a salary but requested to stay at home and not carry out duties.
b) Ranjith Fernando appointed manager of the national team.
c) Asanka Gurusinha designated 'cricket manager' for the national team.
When analysing the performance and record of the current SLC administration at the halfway point of their time in office, it's the same old story and no different than prior managements. The Sumathipala administration in fact appears far worse.

There was a brief but promising period when SLC was controlled by the government-appointed interim-committee headed by Wettimuny in 2015. They showed a genuine interest in developing cricket, as well as a commitment to eliminate deeply-rooted corruption in the setup.

But, ironically, with the first clean election at SLC in years, democracy appears to have destroyed what little hope the public had of good governance at the cricket board. Sri Lanka's cricket seems to be eternally stuck within the boundaries of individuals who have their petty minds set firmly on personal glory and benefits, rather than the development of the game.
The writer is the former sports editor of Daily Mirror and recipient of multiple awards from the Editors' Guild of Sri Lanka, Sri Lanka Press Institute and Sri Lanka Cricket. He won the award for Sri Lanka's Scoop of the Year and an award for creative writing from University of Colombo, and has also served as a member of the panel of judges for the Laureus World Sports Awards. He possesses more than 25 years of experience reporting on cricket in Sri Lanka and around the world.
© Island Cricket