By Thiviyanthan Krishnamohan | October 16, 2017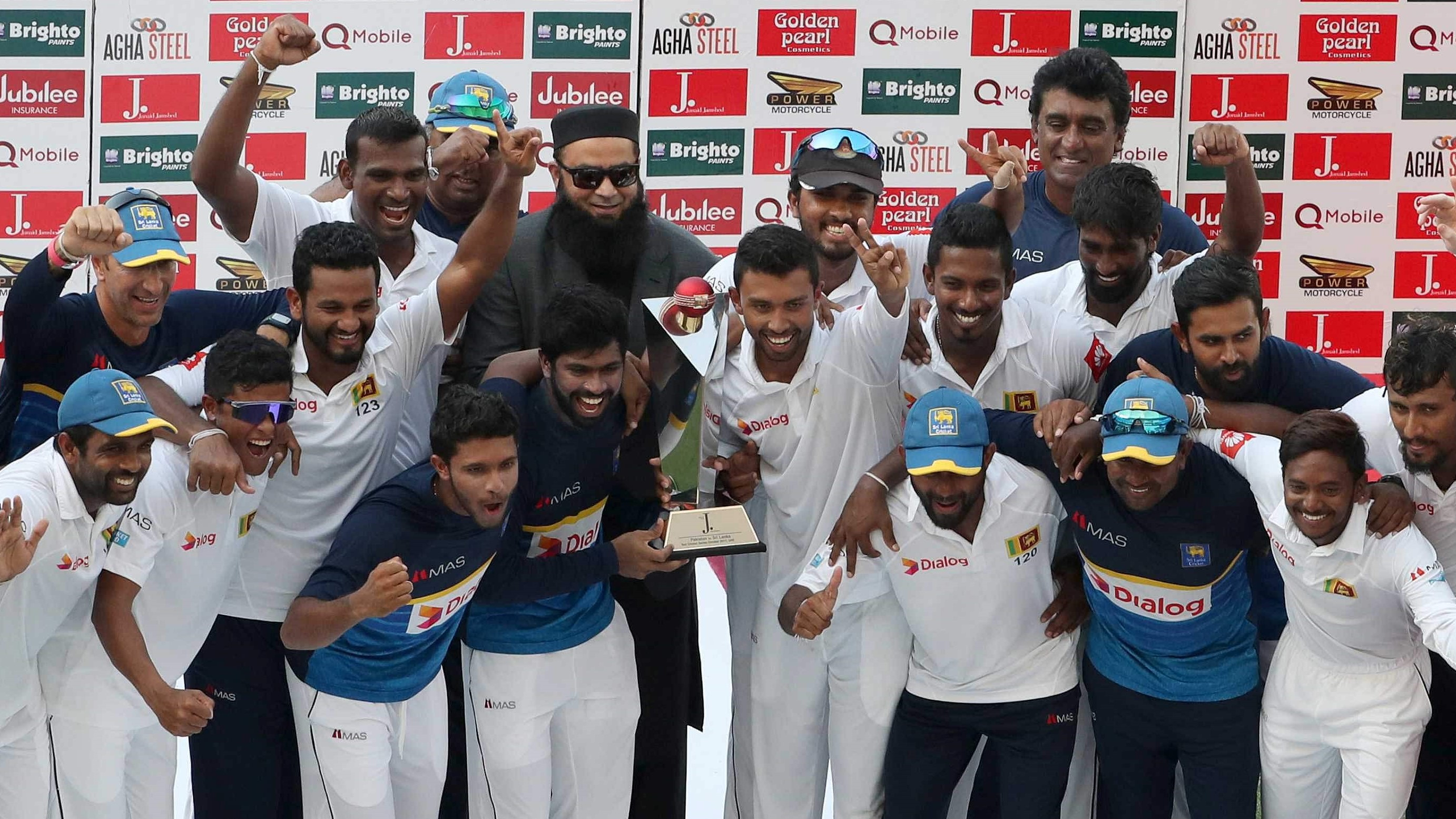 Have the islanders turned the corner after their 2-0 victory against Pakistan? © AFP
They beat a side that was playing its first Test series since the departure of their greats Misbah-ul-Haq and Younis Khan, the two cogs around which the entire Pakistani Test team functioned. Sarfraz Ahmed was leading for the first time in the five-day format and their side included a debutant too, while Pakistan's opening batsmen were raw and others were coming to terms with different batting positions. What did Sri Lanka really accomplish and what does this series victory mean for the future?
It's not as if Sri Lanka outplayed Pakistan. Sri Lanka were never in contention to win the first Test match until the final innings of that Test, when the mercurial Pakistan did what they are notorious for. You could accuse me of taking away credit from Rangana Herath, but remember, one good innings from a Pakistani batsman could have easily taken the game away from Sri Lanka.
Sri Lanka was playing a side that had only just begun its transition period — no Misbah or Younis. Speaking of transition periods, I should remind you Sri Lanka's is still ongoing despite the fact that we would like to think it's over with this win.
In the second Test, the third innings turned into a microcosm of Sri Lanka's travails of the last two years. Even a series win should make no team gloss over losing all your wickets for a sub-hundred total on a pitch that was behaving way better than Ben Stokes on alcohol. The defensive mentality of Dinesh Chandimal's men is a widely criticised but rarely documented phenomenon. In recent times, this pessimistic approach to Test cricket, perhaps to cricket as a whole, has proven to be Sri Lanka's anathema.
Sri Lanka's rate of scoring in Abu Dhabi and Dubai can be best described as inadequate. Had the surfaces been treacherous, you could have appreciated the batsmen's circumspect approach but these were featherbeds, barely offering anything for the bowlers. In the age of 20-over cricket, Test cricket has changed and this is visible in the bellicose batting style top Test teams employ.
During their recent tours to the island, India and Bangladesh attacked Sri Lankan bowlers and put the much vaunted Sri Lankan spinners under tremendous pressure. Dilruwan Perera and Rangana Herath tend to set batsmen up for their dismissals, but how do you do that when you can't bowl more than three successive deliveries at any one batsman? None of Sri Lanka's current spinners have the ability to run through a batting lineup without the pitch offering prodigious turn, and this weakness was accentuated in home Test series recently, as they managed to win only against Zimbabwe (they almost lost that).
Sri Lanka's batsmen regularly allowed the opposition back into the game, even after long partnerships, thanks to their slow nature — they appear to lack the confidence to attack and put the other team under pressure, or even just rotate the strike. Only Niroshan Dickwella, who is an audacious stroke-maker, found a way to score against the Indian spinners. Dimuth Karunaratne has already showcased how his renewed mindset has helped him be amongst the runs and become Sri Lanka's best Test batsman this year.
In the UAE, Sri Lanka found in Pakistan a team who would play Test cricket much like them, a team they couldn't be beaten by. Sarfraz's men too were defensive — it seemed at times that these two teams were trying to win a slow race. There was, of course, cheers for Pakistan and Sri Lanka for providing us with close Test finishes, but it generally felt as if they were making no real attempt to win. They were boxers running circles in the ring, hoping the other would trip over a shoelace. The Tests went down to the wire not because these two teams competed intensely.
Sri Lanka were by no means brilliant. They did their fair share to lose in the third innings of both Tests, whereas Pakistan rivaled Sri Lanka with even poorer performances in the fourth innings of the first Test and the second innings of the second Test. In the end, the team that dug its grave faster were buried quicker.
Against better teams, Sri Lankan batters' meek attitude is bound to fail them. An honest appraisal of Sri Lanka's performances in this series would lay bare the fact that Sri Lanka showed little improvement from previous Tests.
Off-spinner Perera struggled to pick up wickets in the Test series against Bangladesh, Zimbabwe and India, and his performance in the final innings of the second Test should not eclipse his struggles against better teams. Herath is 39, and since Perera is 35, Sri Lanka does not need another 'transition phase' when these two end their careers. It makes more sense to groom a young spinner now. If Sri Lanka continue their reliance on aging spinners for too long, then by the time their inexperienced batsmen establish themselves, Sri Lanka may have to groom new spinners and find themselves once again a team in transition after the retirement of seniors.
The Pakistan series proved nothing much has changed for Sri Lanka since India thrashed them. The victory against Pakistan in the two-match series is not emblematic of any progress nor was it as a result of any new change implemented by SLC. Against tougher opposition, like in India next month, Sri Lanka will find itself faced with customary defeats.
If any true progress is to be witnessed, then Sri Lanka is in dire need of radical changes, especially to its first-class cricket format and the structure of its cricket board. If fans think the defeats are behind them following this win, they need to only look back at what followed after Sri Lanka whitewashed Australia in 2016 — consecutive defeats, resignations of coaches and captains, and new lows.
The views expressed in this article are those of the author's. Click here to submit your own opinion articles.
© Island Cricket