By Thiviyanthan Krishnamohan | November 28, 2017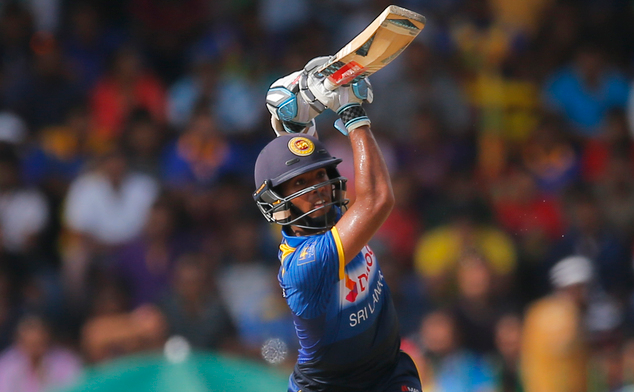 Kusal Mendis was not picked for Sri Lanka's Test series in India after having a poor Test series against Pakistan. © AP
On this island, where mediocrity is the norm and conservatism is ingrained in the DNA of the populace, where even a semblance of temerity is frowned upon, there stood out a rookie whose counter-attacking batting breathed fresh air into the dying brand of Sri Lankan cricket.
Kusal Mendis has turned matches Sri Lanka's way with his skilful batting in his brief career. Who remembers how he tamed Australian bowlers last year to help Sri Lanka come-from-behind and rout Australia in a Test match? The young Mendis scored a century against India during the home series in August as well. Let me remind you that a very few are scoring centuries for Sri Lanka these days. And yet his axing for the tough Test tour of India is hardly surprising, given the way Sri Lanka Cricket is known to operate.
The newly-appointed chief selector Graeme Labrooy, barely a few weeks before dropping Mendis, had assured the players he would not do what his predecessor Sanath Jayasuriya did. "If they are selected to play in a Test match or an ODI, we will continue with the identified lot as long as possible and give them a fair chance of performing rather than letting them play one or two innings and replace them with somebody else," Labrooy promised at the time.
It took the chairman of selectors, who incidentally also serves as ICC match referee, just one Test series to walk back that pledge. One would be forgiven for viewing a local politician as more competent than a Sri Lankan selector. That is not approbation for our politicians.

There have been multiple explanations provided by the selectors for dropping Mendis from Sri Lanka's Test squad for the tour of India and they all seem ridiculous.
Gamini Wickramasinghe, a member of the selection committee, claimed "technical mistakes" lead to Mendis's ousting, while Labrooy asserted that "he (Mendis) has got everything in his armoury." Then Avishka Gunawardene, who was Sri Lanka's batting coach during the ODI series against India, vouched for Mendis's technique but had presaged the youngster's poor state of mind. These SLC officials appear to be in a state of confusion.
When explaining his decision to drop Mendis from the Test squad to face India, Labrooy told The Island, "We don't want a situation where he plays two more innings, gets two low scores and then drop him and destroy his confidence further."
So then, what's the alternative to destroying his confidence by dropping him after two innings? How about not discarding one of your best, genius? The selectors felt dropping him immediately would not have the same negative effect as dropping him after two more innings. There is no better way to boost a player's confidence than to guarantee his place in the side and help him overcome the temporary loss of form.
Giving Mendis the assurance that he would be playing until he returns to form would have been a more prudent solution to boost the young player's confidence. Instead, a player who is widely-considered to be one of Sri Lanka's best batsmen finds himself playing domestic cricket, and that too at a time when the national side needs him the most. Sri Lanka's batting has been shambolic in India thus far, and they have often found themselves struggling to cross 300 runs in an innings in the Test series.
Mendis's replacement at number-three in Sri Lanka's Test batting line-up for the tour of India was Lahiru Thirimanne, whose inclusion was not due to any noteworthy recent performances in domestic tournaments. Thirimanne was extremely poor during the last domestic season and hasn't done anything outstanding for Sri Lanka A either. He was brought back into the team purely because of the confidence the selectors had in his potential.
Thirimanne, 28, has had many unsuccessful comebacks. He was dropped two years ago by the then chief selector Kapila Wijegunawardene after a string of low scores but again found a place in the side following the second coming of Sanath Jayasuriya as the chairman of the selection panel and then axed again for not delivering for his side. After Jayasuriya was removed this year, in came a new selection committee and also a cricket manager (Asanka Gurusinha) and so Thirimanne has returned.
Besides the illogical thinking, the self-righteous confidence the selectors have placed in Thirimanne borders on foolish favoritism, as other more-deserving batsmen are being needlessly sidelined.
Labrooy, defending his decision to appoint Thirimanne as the vice-captain of the Test side, told the media: "The success in our cricket going back to the late 70s was because that we had lots of captains and vice-captains working in harmony. We need to try the same formula. That's one reason why we gave Thiri the vice-captaincy."
What kind of success did Sri Lanka have in the late 70s, Mr. Labrooy? We were whipping boys of international cricket until the late 90s, no? Also, trying what 'worked' in the 70s may not work in 2017. Sri Lanka needs batsmen who can score them runs, not "lots of captains and vice-captains working in harmony."
After dropping the 22-year-old Mendis, Labrooy explained away his decision by saying Mendis "has age on his side". Perhaps he thinks Mendis still has time on his side, whereas the ageing Thirimanne is fast running out of time.
Those responsible for selections are displaying a keenness towards seeing Thirimanne achieve their perceived potential. In hope that Thirimanne will come good, Mendis — a player with four international centuries in his brief career — and other players with more-accomplished first-class records than Thirimanne have missed out.
The thinking by Labrooy's panel sheds light on their lack of trust in the work done by prior selection panels and also their lack of awareness of statistics and recent performances of players. In Sri Lanka, the selectors don't tend to carry on from where the previous selectors left off. This panel feels Thirimanne was mistreated by previous selectors and so they have gone back to Thrimanne. They want to give him a fair chance but don't realise they have been unfair to Mendis.
Unlike Thirimanne, Mendis has scored match-winning knocks against top attacks and has been far-more consistent than most Sri Lankan batsmen. Mendis, who was the second-highest Test run scorer for Sri Lanka this year at the time of his axing, has three centuries (made against Australia, India and Bangladesh) and four half-centuries after playing 22 Test matches, while Thirimanne has played 29 Tests but has just one century against Bangladesh and five half-centuries going back all the way to 2011.
The decision to drop Sri Lanka's best young batsman in years (the backbone of a brittle batting line-up that often struggles to post winning totals) is an asinine one. Selections in Sri Lanka continue to be made on hunches and the gut feelings of middle-aged former cricketers who don't appear to follow the game closely, when data-driven decisions and sharp-thinking are needed.
© Island Cricket