By Kristopher Hinz | August 24, 2018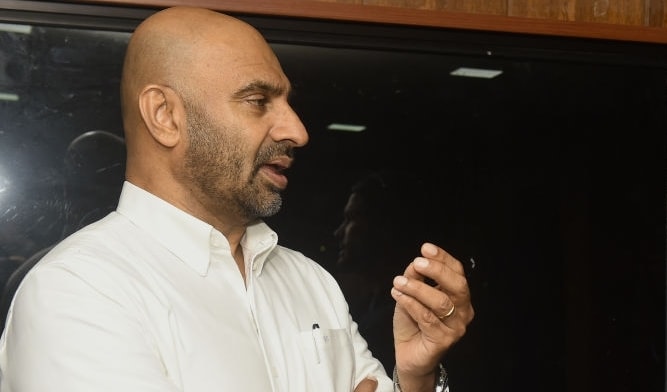 Graeme Labrooy was appointed Sri Lanka's chairman of selectors in 2017. © AFP
Sri Lanka have been on a dreadful losing streak in the ODI format, with the team not having completed a series win in their last nine bilateral ODI series, and this includes a 3-2 loss to lower-ranked Zimbabwe at home.
Sri Lankan cricket greats Muttiah Muralitharan, Kumar Sangakkara, Aravinda de Silva, Arjuna Ranatunga and Mahela Jayawardene have all been critical of the lack of patience shown by selectors, and have highlighted the need to not make changes to the side as often as they have.
"I did not become a champion bowler in one day. For 4-5 years, Arjuna kept giving me the confidence. That's how I became who I am," Muralitharan said earlier this year.
"Now every time a batsman goes out to bat he is told you have to score or else we will bench you. The same is true for bowlers. In the last one year Sri Lanka has fielded some 60 players across all formats. 60 players in one year! This is irrational and tells you there is no vision how the game should be run. Such frequent chopping and changing will only end up destroying the game further."
Sri Lanka's selectors have experimented with the opening batting combinations in ODIs, with Sadeera Samarawickrama, Sandun Weerakkody, Niroshan Dickwella, Danushka Gunathillaka, Dinesh Chandimal, Upul Tharanga and Dilshan Munaweera all being trialled since January 2017.
Constant changes to the ODI batting order should be a worry ahead of the World Cup next year, and it's worth noting Sri Lanka's most-recent victories in the final two ODIs against South Africa were set up by solid opening partnerships.
Dickwella and Tharanga have of late been allowed the opportunity to play through a series, and they've begun to deliver. Such consistency in selections could be crucial to Sri Lanka performing well in the World Cup in England in 2019, and patience by the selectors contributes greatly to on-field performances.
On the other end of the scale, five batsmen have played a single match in the opening slot for less than 20 runs in the last two years; Munaweera scored 11 against India in August 2017, Weerakkody scored five in the January 2017 series against South Africa, Avishka Fernando and Samarawickrama both recorded ducks in their only attempts at opening the innings. Even Chandimal has been tried in a solitary match as an opener against India in August 2017.
After the 2015 World Cup, former Sri Lanka skipper Jayawardene admitted that not grooming an opening batting combination well before that World Cup was a mistake.
"This was one of the areas of the batting that we should have tightened up and decided on much earlier," Jayawardene told Island Cricket. "We should have found someone to partner with [Tillakaratne] Dilshan earlier on so that there was more consistency in the opening pairing, but this is a lesson we will hopefully learn from."
Thankfully, with the World Cup six months away, Dickwella and Tharanga finally seem to have been given the opportunity to find some rhythm at the crease and develop chemistry in their partnership.
Sri Lankan fans will be hoping the selectors have learned from the blunders of the past and show maturity, so that the team will be spared embarrassing blushes and possibly even pull off an upset or two at the 2019 World Cup.
© Island Cricket