The Best SL – ODI batting performer with 41 Av in AWAY series since mid-2016 up to 2019 January (since mid-2018, he was systematically choked without allowing international exposure for a total of 11 months plus repeated axing to discard, just before 2019 WC):

The intentions are pretty clear.  One of those bloggers in IC is desperately trying to uplift his buddy Dhanushka Gunathilake by repeatedly putting up rubbish blogs to attack Upul Tharanga…simply because his buddy is no match for SL's one of the best-ever ODI Openers; Tharanga.
Obviously those bloggers (ie: Ashoka &  Daniel Alexander etc) are currently trying hard to make use of severely CURTAILED batting form (achieved without allowing ANY INTERNATIONALS for ELEVEN MONTHS (from Feb 2018 – June 2018 & from Oct 2018 to March 2019) since Jan 2018 to Match 2019  & thoroughly suppressed his batting form by 2 repeated axing implemented within the 2 ODIs given with a 5 months in-between blackout…. to further attack the victimized Tharanga.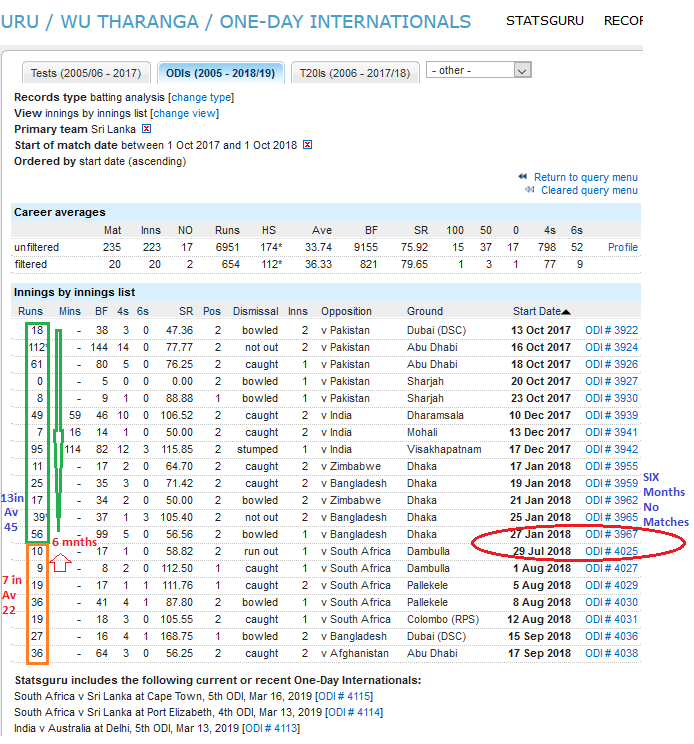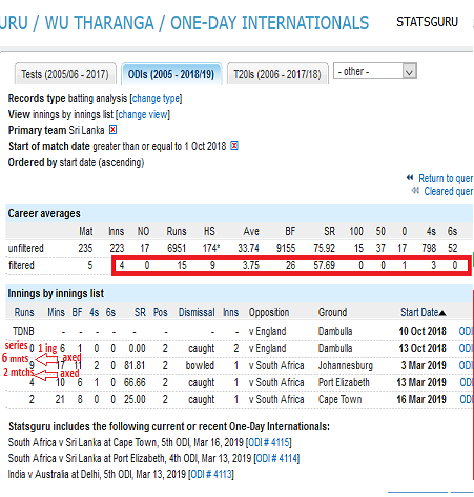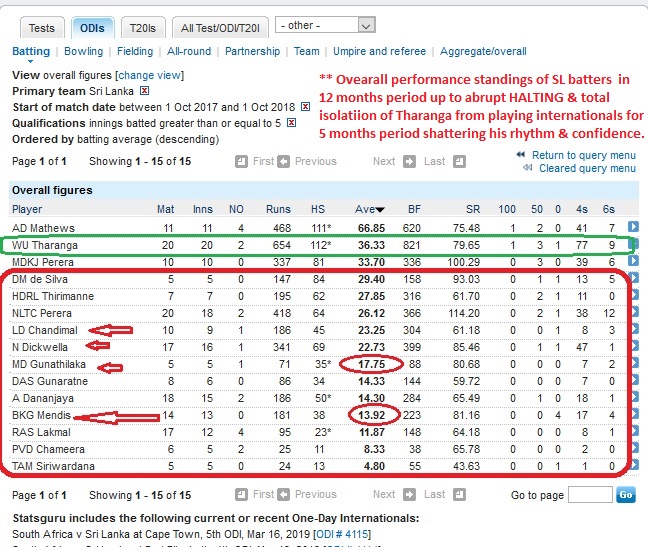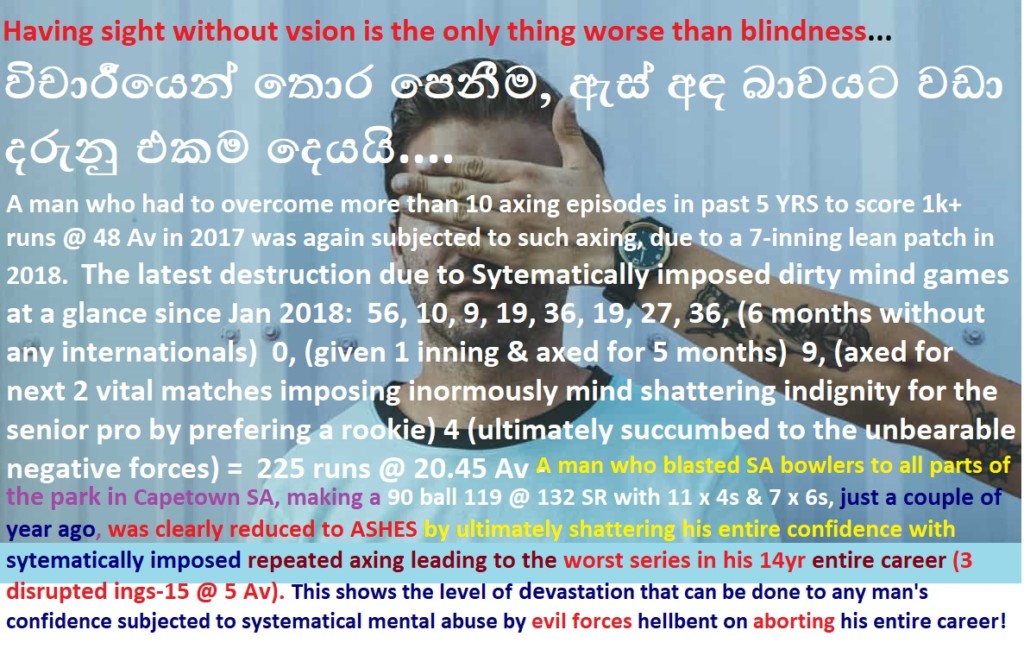 Now just look at the so called opener Dhanushka's performance against those teams so far: 
Dhanushka Gunathilake:
Vs Aus –  15.33 Av
Vs Eng –  28.40 Av
Vs India – 26.66 Av
Vs WI –    12 .00 Av
Vs Pk –    13.00 Av
Vs Nz –    35.71 Av
Is the above record look like a player with a lot of potential as opener? After playing 23 innings  to collect 623 @ 27 Av – he has made just 4 x50s and yet to to score Hundred Vs those teams. Only vs Nz he had managed 30 or above Average. His overall average is just 32 mainly thanks to Zimbabwe & Ireland after playing 35 innings. 
We lost the 2017 Zimbabwe series mainly due to Opener Dhanushka's selfish slow batting as Opener (similar to Chandimal & Mathews), wasting more than 25 overs (maintained well below par- under 6 rpo) going at a pretty slow Strike Rate in the 70s without acceleration to score a match loosing personal 60 runs, on a 300+ (100+ SR demanding) demanding flat track….  this absurdity left No 5 Tharanga with an unbeaten 79* @ 110SR (even after making a die hard effort to score at a rate of  8 rpo in the remained 18 overs to propel the hopelessly placed score to 320) at the end and the side was stranded without sufficient overs to set a target beyond 350, thanks to the upfront selfish play of opener Dhanushka.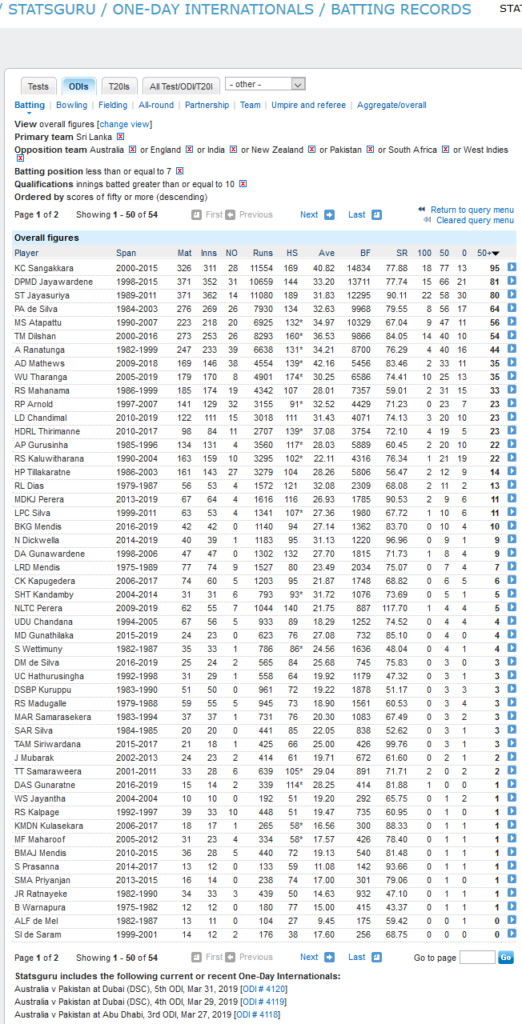 On the other hand, Upul Tharanga had scored 35 x 50+ scores including 10 x 100+ scores vs those six teams putting up 4,901 runs @ maintaining 30.25 Av – Tharanga is ranked 9th in the all time SL batters who scored most number of 50+ score Vs those 6 teams..! Sanga is no1 with (95 x50+) @ 40 Av / Jayawardane ranked 2nd (81 x 50+) – 33 Av  & Jayasuriya ranked 3rd with (80 x 50+ ) – 31 Av / Aravinda ranked 4th with (64 x 50+) – 32 Av .
The truth is, a mediocre Opener like Dhanushka, who needed 33 innings to top his first thousand runs… can only dream to achieve such status ever.!!!!   Opener Tharanga had reached his 1k runs in just 28 ings with 4 x100 as SL's QUICKEST to date apart from reaching his 3k & 4k as quickest & 2k, 5k & 6k as 2nd quickest in SL)  :D)
Without slinging further mud at already strangled & thrown away best SL ODI performer in past 24 months – up to the systematic strangulation implemented on him by authorities, starting to blackout since mid 2018 (to make it easy to creep in their beloved buddy Dimuth Karunarathne – 17 AVERAGE in his last 11 Test innings)…… ask your buddies to perform well & show their colors at the super league provincial tournament to grab a spot in the WC squad.
With this on going circus & throat-cutting in progress to grab spots in the WC squad… only an early exit is assured in upcoming 2019 WC. I have already picked the side to cheer this time & keep my nterest in watching the entire WC up to the Final, rather than loosing my mind & sleep, over disgusting disappointments.