He was axed quoting a lean patch of just EIGHT INNINGS since his last 50+ score in 2018. How can we forget that he became just one of the only three batters who topped thousand runs in that year 2017 , just a year ago.
In an year entire batting unit repeatedly crumbled like thin wafer (as we see even today in SL ODIs), this guy was the solitary run maker & loneranger who fought single handed battles trying to bring much needed wins to SL at least in four occasions Vs SA, Pk & India in away series & in the doomed Zmb series at home. But unfortunately those diehard efforts were all wasted by the rest , since there wasn't a single batter who could keep at least one end intact until the end, for him to finish & bring those victories. He was stranded without partners in four or five occasions.
Tharanga's batting record of 8 innings leading up to his series winning 50+ score in 2018 :
< 49,7,95,11,25,17,39*(56) >
Dec 2017- Feb 2018 up to his 50+ score = 8 innings – 299 runs @ 43 Av
Since his 50+ in Jan 2018 – Jul 2018 – SIX Months with ZERO international exposure in any format.
From Jul 2018 to Oct 2018 AXING
< 10, 9,19,36,19,27,36, 0 >
Oct 2018 = 8 innings 156 runs @ 20 Av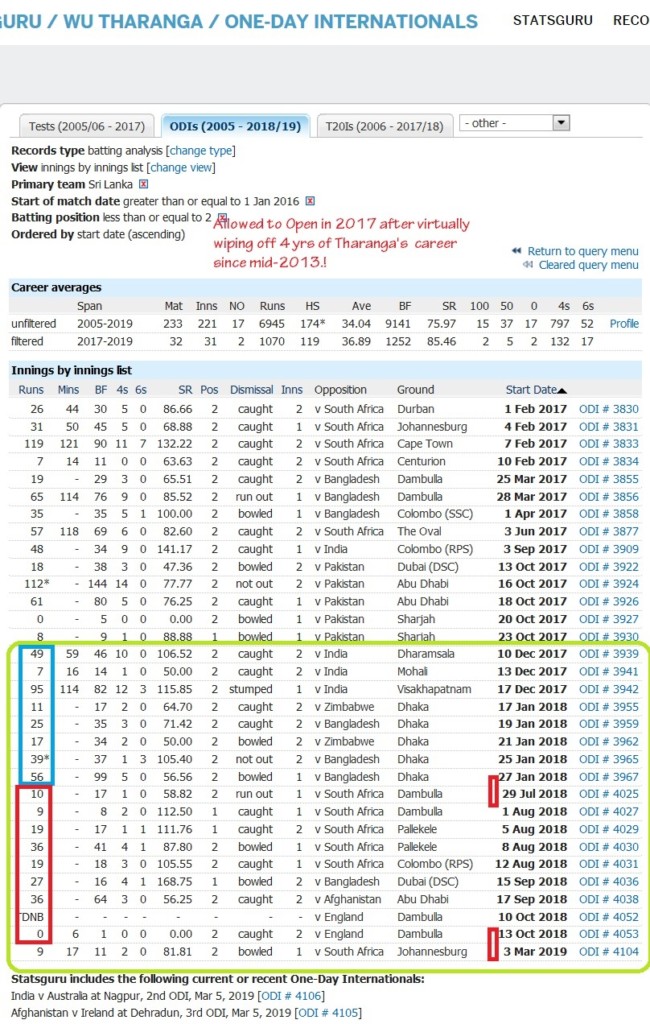 From Oct 2018 Axing to March 2019 Solitary ODI – FIVE MONTHS with ZERO international exposure in any format, while the rest of all in current team have played more than 20 innings in all formats in Nz, Aus & SA series duruing the past Five months period & some failed miserably. But strangely, they all seem to be immune to the cruel axe repeatedly falls on this particular guy.
The question I have to ask from such illogical decision makers is… WHY is this on going clear disparity, inflicting more damage to our cricket.. ?
By extraordinarily picking an individual player to blunt his progress, what do we acheive?
Especially who had steadily produced valuable runs to SL, unlike many impotent hopefuls, who are enjoying granted spots in the side?
By repeatedly axing him like that, did we ever move forward even an inch to date ?
Obviously NOT in Real Life !