Time to consider Chamika Karunaratne as a proper middle order batter?
After getting thrashed by the Proteas, the current SL T20 team is under severe criticism. The general perception about our current Sri Lanka team is that their bowling is a little below average and their batting is mediocre. So today were going to take a look at some stats, check these criticisms are valid enough to consider and going to play the what-if-I-were-the-chief-selector game.
Current Sri Lanka squad for T20 Worldcup: (at least one change is expected)
Kusal Perera,Avishka Fernando,Dinesh Chandimal,Bhanuka Rajapaksa, Dhananjaya De Silva,Kamindu Mendis, Charith Asalanka,Dasun Shanaka, Chamika Karunaratne, Wanindu Hasaranga, Nuwan Pradeep,Dushmantha Chameera,Mahesh Theekshana,Praveen Jayawickrama, Lahiru Madushanka
Today we'll be looking at the best batting lineup (top 8) out of this squad. If we look at the strike rate of SL's world cup squad none of our batsmen's strike rate are up to the international standards except Kusal Janith Perera. (Unfortunate he had injured his hamstring in this crucial time)
Before starting,
*Stats spoiler alert: Wanindu Hasaranga has never hit a six in T20 internationals
Lower Middle order
If we look down the lower middle order it's almost sure that Dasun Shanaka, Wanindu Hasaranga and Chamika Karunaratne are going to fill these positions. But my suggestion here is that, the team management should promote Chamika Karunaratne ahead of Dasun Shanaka and Wanindu Hasaranga at 6. Dasun Shanaka and Wanindu Hasaranga should take 7 and 8. The reason behind move is that I personally feel Chamika Karunaratne plays spin way better than Dasun Shanaka. I noticed that while blocking the ball Chamika Karunaratne take a proper stride and defends whereas Dasun Shanaka takes a half stride. And most of the times Chamika Karunaratne hits through the line but Dasun Shanaka tries to slog across the line. If the conditions are pacer friendly I would consider Dasun Shanaka at no.6, Chamika Karunaratne at 7 and swap that order in spin friendly conditions. And I think Wanindu Hasaranga is most effective in batting during the death overs. I'm not saying he's poor during the middle overs. He always gives his best during the critical moments of the game and that's why I'd love to watch him batting during the death overs.
Against Spin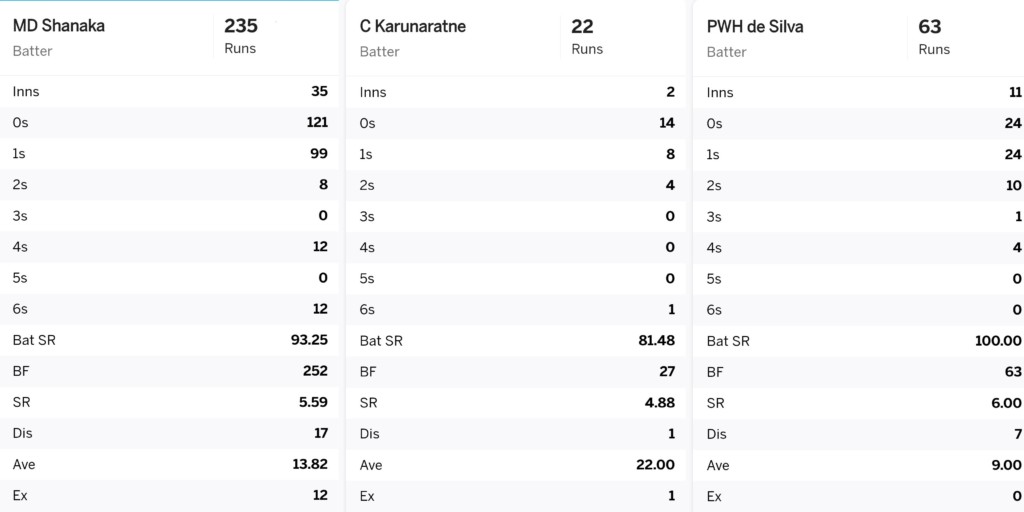 Against Pace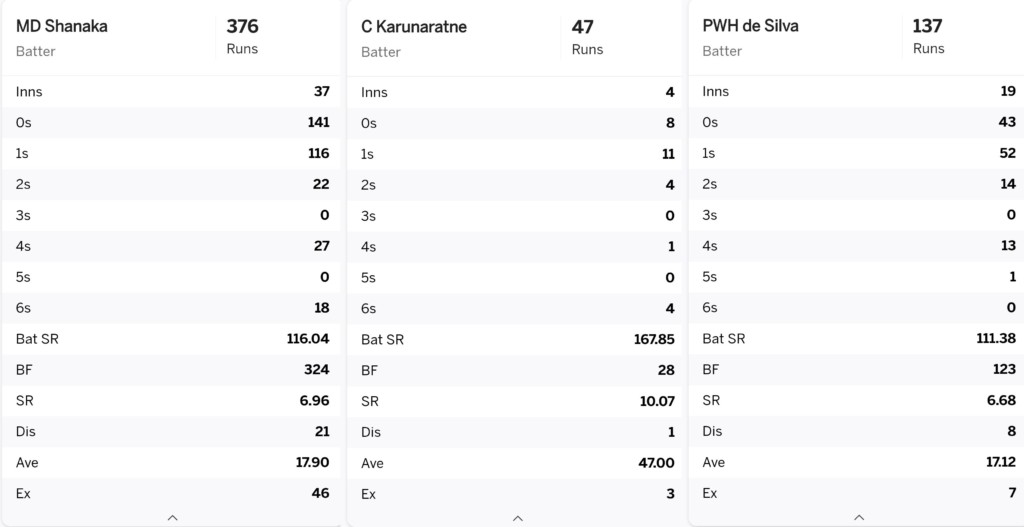 Top 5
And here comes the tricky part the top 5. If Kusal Perera's fit he's definitely going to open the batting. So 2-5 we have 4 batting spots here and 6 players for those positions (+1 who's going to replace the injured Lahiru Madushanka) In ideal scenario, we would've selected 2 left handed batsmen in the available 3, same with the right handers. But the problem here is the poor strike rate and below average power hitting ability of 3 right handed batters Dinesh Chandimal, Avishka Fernando and DDS. You could argue that Bhanuka Rajapaksa is also not having a great time in the middle. But in my personal opinion he can be the X-factor for this team and I would just keep him my XI for his aggressive intent and for his lofted six over extra cover in last match against South Africa.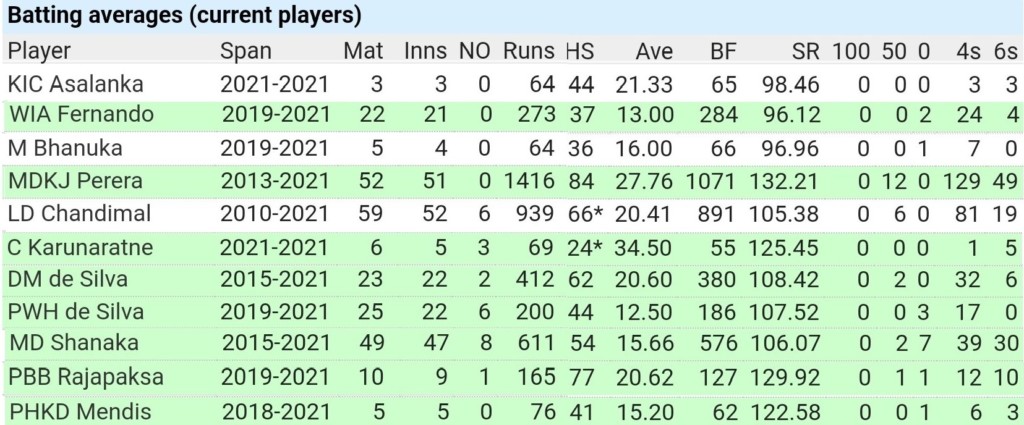 Because of these poor stats, I've got no other option but to take the hard decision to drop the current vice caption DDS and include either Avishka or Chandimal; not both of them.
And that's the main reason for me to include Angelo Mathews to replace the injured Lahiru Madushanka. He could maintain the left hand- right hand balance, tackle spin bowling well and clear the boundaries when needed. But as a fan I've got no idea whether the management will add Mathews into this squad. If they do it that might be the perfect boost for the currently underperforming batting unit.
Now, the worst case scenario,
What if Kusal Perera fails to recover for the World cup, Mathews doesn't get added into the squad. We'll have to look for 2 replacements. Obviously MInod will replace Kusal and I assume a right handed aggressive batter (which we currently don't have any) will replace Lahiru Madushanka. Ashen Bandara maybe? (He's a good sweeper though)
In that situation I'll rather include all 3 left handed batters and go with opening batters minod and either avishka or chandimal. Maybe I'll swap in DDS for either asalanka or kamindu according to the match conditions.
Finally, even though Sri Lanka lost to South Africa for 3-0 recently in home conditions, I believe that they can definitely play better than this. Certainly those big boundaries and spin friendly pitches in Khettarama didn't help as well. Don't forget that South Africa played with 2 world class spinners in their side.
Best case possible top 8
1. Kusal Perera
2. Avishka Fernando/Dinesh Chandimal
3. Bhanuka Rajapaksa
4. Angelo Mathews
5. Charith Asalanka
6. Chamika Karunaratne
7. Dasun Shanaka
8. Wanindu Hasaranga
Worst case possible top 8
1. Minod Bhanuka
2. Avishka Fernando/Dinesh Chandimal
3. Bhanuka Rajapaksa
4. Kamindu Mendis/ Dhananjaya De Silva
5. Charith Asalanka
6. Chamika Karunaratne
7. Dasun Shanaka
8. Wanindu Hasaranga
And that's my top 8 for this T20 Worldcup. Tomorrow we'll be looking at our bowling lineup stats and some other aspects of the game. Feel free to put your comments and don't forget to mention your top 8 batters list.