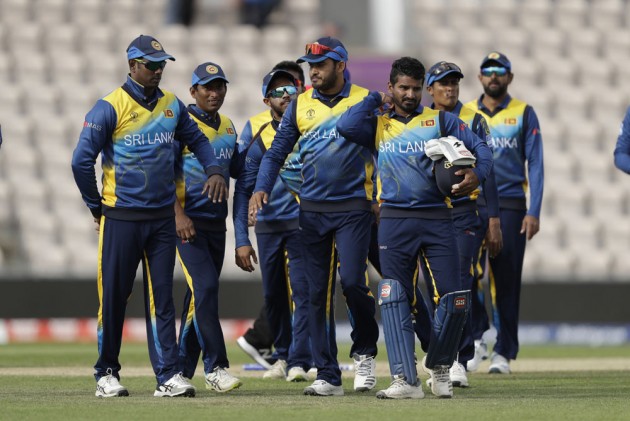 Sri Lanka's current World Cup campaign may not be over…..yet. However, it is never too early to begin planning for the next World Cup in India in 2023.
Considering the situation that Sri Lanka is currently in – 57 players used in the last 4 years, 7 ODI captains, 4 coaches, all for number 9 ODI ranking to show – it is only normal to think "where to from here?"
However, if we take a step back it and look at the bigger picture it is not yet at the "apocalypse" stage. There is light at the end of tunnel…..IF (a very, very big IF) Sri Lanka Cricket can get its act together.
Keeping the politics out of it and looking at the team and its performance only, the future isn't as bleak. So what does the road to recover look like?
First, SLC need to make a collective (from President down to school level coaches) decision to refocus the priorities of the team with the number 1 priority being taking Sri Lanka to the number 1 ranking across all formats (but a minimum of number 1 ranking in ODIs) by 2023. That as a nation, should be our goal.
Second, get the structure around the national team to be strong. When I say structure, am not talking about the domestic system (as we know that involves politics), but am talking about Selectors, coaches, etc. It is these people that will have a big impact on who plays for Sri Lanka & how they play so if we don't get this right, there is no chance that the players can expect to play at their peak performance. The selectors, coaches & other direct support staff are the foundation to the national team and you can't build anything without a solid foundation.
Damith Weerasinghe from The Papare put it succinctly in his article when he mentioned, selectors need to be given a minimum 4 year term locked in. This allows the selectors to start forming a strategy and working towards it without the worry of being dumped due to change of board, administration or Minister of Sports.
However, it doesn't end there. The selectors need to work ever so closely with the head coach and other support staff that surround the team. Rather than competing against each other, they need to be willing to compromise and put egos aside for the priority of the team. There is no point in giving 4 year contracts to selectors and coaches if they don't manage to find a way to work together. It is accepted that there are going to be misunderstandings and disagreements. Everyone is human, everyone has their own opinion. However this is where someone like the Chief Cricket Officer (CCO) can play a big part.
Fortunately for Sri Lanka Cricket they have already put in place certain structures that are simply not used correctly. They already have a Chief Cricket Officer in Asanka Gurusingha, and under him and have an excellent Brain Centre & High Performance Centre.
Gurusingha is a suitable position to be the middle man between the selectors, head coach, national team and domestic competitions. With the right resources around the CCO, he will be able to work together with everyone involved to ensure they build out a strong domestic pool of 50-60 players to be groomed over the next 4 years.
What is required now is the stitching together of existing structures in places (CCO, Brain Centre, HPC) together with commitments to a team of selectors and a head coach.
The next question is then, how do they implement such a plan?
Once the above structures are in place, a plan needs to be drawn up with unanimous agreement amongst all stakeholders about how to go about achieving the main priority. To do that, the stakeholders need to be armed with all the relevant information – as of right now, where are our strengths & where are our weaknesses. So they can then plan out how to continue to build out our strengths and fine tune them further plus iron out our weaknesses by either improving our skills and/or finding the right players and cutting the deadwood.
Considering it is a 4 year goal, the planning needs to be forward thinking. If we aim to select many players aged 31 years or older within the 50-60 player pool we may end up shooting ourselves in the foot and will not serve a purpose. Am not saying we cut them all, as many players hit their peak at 31 or 32 and we could use their experience. However we need to ensure that majority of the player pool has an average age of 23-25 so that when the World Cup rolls around, these players have had 4 years worth of international experience and should have experienced heads on their shoulders. Together with only a couple of 34 or 35 year olds will give the team a good blend of experience plus youth.
The 4 year goal needs to also be broken down into smaller bite size pieces. First splitting it the goal across the 3 formats and then breaking it down further into a year-by-year basis and setting goals for each year, progressively making each years goal harder to achieve. For example, the 2021 T20 World Cup in India would be a great checkpoint for the team to see how we are progressing towards our main goal of number 1 ranking by 2023. Considering both the 2021 T20 WC and 2023 ODI WC are in India, the T20 WC will allow SLC to then potentially narrow down the player pool to 30-35 going into the final 2 years before the start of the 2023 WC. Understandable that they are both different formats, but the nucleus of both teams should be the same or similar at the least.
Finally, the lack of a internationally renowned T20 domestic tournament does probably hurt our players ability to learn off some of the worlds best. There is no doubt that since the IPL begun, India have only gone from strength to strength. However, we need to come to terms with the fact that we will be one of the last countries to come to the domestic T20 party and as a result may struggle to fit in an already packed cricket calendar to be able to attract a plethora of stars.
However, any experience will be better than what we have at the moment. In addition, the exposure will hopefully only improve our players abilities to a point that they could showcase their skills enough to attract bids in other T20 competitions around the world. The SLC needs to embrace other domestic T20 competitions and encourage them to sign Sri Lankan players, as the experience that they will gain will be invaluable for Sri Lanka on the world stage in those crunch games.
I would even go as far as suggesting the SLC approach the IPL and offer to host some IPL games in Sri Lanka to help the IPL teams to build fan base in Sri Lanka. We have 20 million people, of which majority are cricket fans. This may even encourage IPL teams to sign Sri Lankan players for a pittance on the basis that they know they will be playing a couple of games out of Sri Lanka and want to target the Sri Lankan fan base. Now that particular player may not play any games however his experience of having trained and travelled with some of the worlds best will help him more than any domestic club game would.
Sri Lanka is in dire straits at the moment, however it is not all dead and buried. If SLC can get their act together and make a commitment to work on the long term and be forward thinking, the future will be bright.