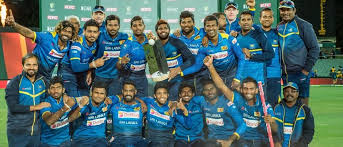 There is no doubt that Provincial super four tournament ended giving some unexpected results for SLC, selectors, and fans. SLC and the selection committee wanted solutions to some unanswered questions prior to announce the final squad for the upcoming world cup. It delivered answers in an unexpected way as well as throwing some new questions to them at the same time. However, now it is time to decide the final 15 players who will receive the honor to represent SL in the grand event. Who will make and who will not make into the final squad and do outcomes of Provincial super four make the squad stronger? We will have a look.
First, we have to choose the most probable players who will travel to England this May. Considering the conditions in England, the balance of the team and the composition of only announced squad for the WC so far – NZ -, we can think it will be a combination of nine batsmen (including 2-3 batting allrounders), two spinners and four fast bowlers.
The provincial super four fixture made sure that three front line openers who have been tried for last two, three years, will have a faint hope on making into WC squad. Dickwella, Dhanushka, and Tharanga failed to make an impression and will have to wait till their turns would come, in the middle of the tournament may be as an injury replacement. Instead, Dimuth Karunarathne and Lahiru Thirimanne joined the party and along with Dhananjaya Silva, they will make the first three of SL first XI at the onset of the World cup.
Number 4,5,6 and 7 in the first XI are obvious choices and Kusal Perera (subject to the fitness), Kusal Mendis, Angelo Mathews, and Thisara Perera will be placed in those positions at the beginning.
Now we have to select two more batsmen to the squad. One of them will be either Avishka or Osanda Fernando. One can say Avishka was unfortunate, as after hitting a half-century, two matches which his team participated were washed away. No doubt that he is in a purple patch and showed some improvement towards the end of SA series. However, Avishka is largely known as on opener and presence of Kusal Perera and Dhanajaya Silva in the squad who can replace an opener if needed, make his place uncertain. Meanwhile, Osanda, who was promising in SA and a finding of Mr. Asantha De Mel himself will feel safe on his place in the squad.
Now there is one place left for batsmen, to which many players are fighting. Though Osada Fernando will not make into the first XI of SL, he is the important factor which decides the squad balance. He can replace five of first six batsmen in the first XI if needed, except Dhananjaya silva who provides an important spinning option to the team. This exact factor opens a room for another batting all-rounder who will be the one-to-one replace to Dhananjaya Silva if needed and can be used to replace other batters as well. As it seems, three front runners for that place are Milinda Siriwardene, Shehan Jayasuriya and Angelo Perera and all have their positives. Milinda has more experience and hitting power, Shehan has stronger performances both bat and bowl while Angelo is a left arm orthodox bowler who will give a new dimension to the team. Therefore it is difficult to predict who will make into the final 15.
Nine batsmen are done. However, these players batting positions can be changed accordingly. For instance, Kusal Perera may be moved up in the order to open the innings and Dhananjaya Silva can move down to his usual place at six.
Dimuth Karunarathne
Lahiru Thirimanne
Dhananjaya Silva
Kusal Perera
Kusal Mendis
Angelo Mathews
Thisara Perera
Osada Fernando
Shehan/Angelo/Milinda
Akila Dhanajaya's position as one of two spinners is obvious, as Sachithra Senanayake who was the next close contestant for the role of off-spinner did not produce performances to challenge him. However, Akila's ability to get wickets in the middle overs is questionable, since his return. Therefore at some stage, there is a possibility of Dhanajaya Silva emerging as the frontline off-spinner of the side. The second spinner will be a leggie, preferably wrist spinner. Jeffery Vandersay impressed the head of selectors in the SA and has a fair possibility to make into the squad. But stronger performances with bat and bowl in the provincial tournament and a load of experiences give an edge to Jeewan Mendis. So it is better to leave that particular selection to Mr. Asantha De Mel. Now spinners are done. However, the playing a second spinner in the first XI will totally depend on the condition, as more often the team will go with three fast bowlers and one spinner unless the condition and the nature of opposition permit a change.
Akila Dhanajaya
11. Jeff Vandersay/ Jewwan Mendis
Two of four fast bowlers are definite as Lasith Malinga and Isuru Udana will make into the first XI, without much trouble. One of next two will be Kasun Rajitha unless Suranga Lakmal's experience came to play. Both performed reasonably in the provincial tournament and though Kasun showed some consistency. If Kasun Rajitha makes his way into the final 15, there will be a contest between Dushmantha Chameera and Suranga Lakmal to the final place of the squad. And Chameera will have an advantage due to his reputation as a genuine fast bowler who can add variability to the team. However the chance of last two fast bowlers to the first XI again depends on the condition and if Chameera in the squad, he is expected to make into the playing XI more often than the other player.
Lasith Malinga
Isuru Udana
Kasun Rajitha/ Suranga Lakmal
Dushmantha Chameera/ Suranga Lakmal
The captain of the team will lead to a lot of arguments. In the provincial tournament, Lasith Malinga totally outran the Dimuth. However poor man management skills exhibited by him repeatedly and criticizing SLC, along with a poor run in the national team's captaincy may facilitate selectors towards a change of the crown to Dimuth Karunarathne. But it will be a gamble for sure. If Dimuth failed as a player or as a captain or as both, the selection panel would be in the center of criticism for a long time.
Weaknesses of the squad
This is similar to the phenomenon called 'නංගි පෙන්නලා අක්කා දෙනවා'. This was not the squad, SL was developing towards the WC a few months back. At least not by the head coach. On the card, this squad looks like an old fashion team. Apart Mathews returns to the side after being out of the game for months. Dimuth makes his way back after four years and Lahiru Thirimanne was not a regular member of SL ODI side either.
Do they be able to play the current type of cricket played by England, India, NZ, and SA?
Can SL afford to keep Dimuth, Lahiru, and Mathews in the same playing XI, giving to their moderate strike rates?
These are serious questions that will be answered prior to jump into conclusions on the squad.
Strengths of the squad
The prominent issue in SL ODI batting unit in the past few years was being unable to bat for 50 overs. On the attempt to make big totals, SL lost too many wickets in the early and lost their way in the middle. This gave bowlers small totals to defend and they failed more often. With this kind of squad, we can feel that Sl would be able to play full quota of 50 overs often and get some enough runs on the board to bowlers to defend.
The experience is the other positive of this squad. Except for Dhanajaya and Kusal Mendis, all batsmen who will make to the first XI, have involved in one or two world cups. The experience will definitely help these players to keep their heads calm during the grand event.