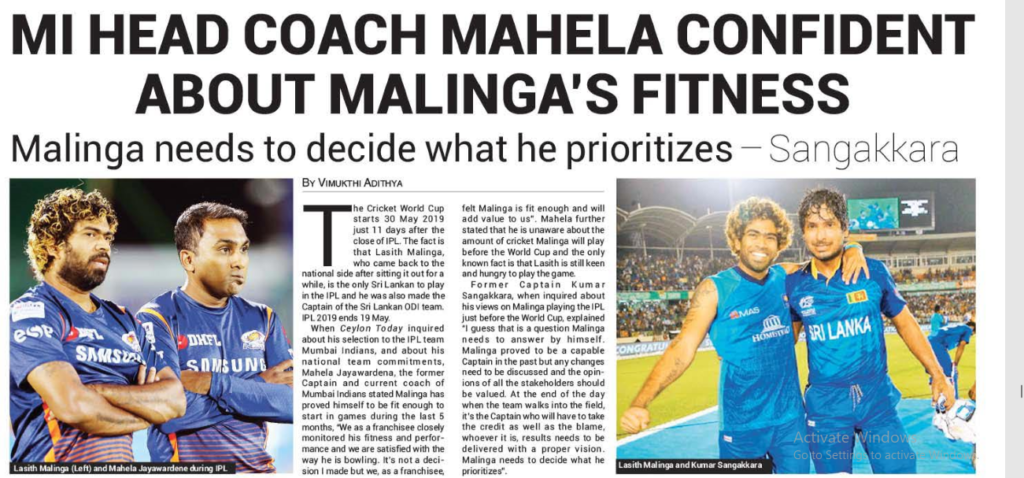 The Cricket World Cup starts 30 May 2019 just 11 days after the close of IPL. The fact is that Lasith Malinga, who came back to the national side after sitting it out for a while, is the only Sri Lankan to play in the IPL and he was also made the Captain of the Sri Lankan ODI team. IPL 2019 ends 19 May.
When Ceylon Today inquired about his selection to the IPL team Mumbai Indians, and about his national team commitments, Mahela Jayawardena, the former Captain and current coach of Mumbai Indians stated Malinga has proved himself to be fit enough to start in games during the last 5 months, "We as a franchisee closely monitored his fitness and performance and we are satisfied with the way he is bowling. It's not a decision I made but we, as a franchisee, felt Malinga is fit enough and will add value to us".
Mahela further stated that he is unaware about the amount of cricket Malinga will play before the World Cup and the only known fact is that Lasith is still keen and hungry to play the game.
Former Captain Kumar Sangakkara, when inquired about his views on Malinga playing the IPL just before the World Cup, explained "I guess that is a question Malinga needs to answer by himself. Malinga proved to be a capable Captain in the past but any changes need to be discussed and the opinions of all the stakeholders should be valued. At the end of the day when the team walks into the field, it's the Captain who will have to take the credit as well as the blame, whoever it is, results needs to be delivered with a proper vision. Malinga needs to decide what he prioritizes"