Heading to prestigious World Cup tournaments, it is nothing new in SL cricket scene to surface some Evil Acts of Mind Games systematically imposed on some less fortunate but deserving players. The intent behind the move is jettisoning those undesirables, to make way for some format unworthy favorites, fully blessed by divine forces running the show.
Delighted backers of such acts (bloggers like Daniel Alexander), with different agendas in their minds are screaming & demanding the clear victim of the system should never ever play for SL again, in their hollow blog headings.
The tone & phrases of demand itself shows their motives, to make room for totally undeserved, unearned last moment spot grabber/stealers like Dimuth Karunarathne (13 ings – 193 runs @ 15 Av –  68 SR ). He was  parachuted to 2015 WC squad by SJ & buddy Mathews. Now again in 2019, we hear that this guy is on the verge of creeping in again  not even only as ODI OPENER but  SKIPPER too, repeat the same crime as in 2015 WC. He was just a paid tourist carrying heavy baggage in last WC & it won't be any different, if selected this time as well, with the pure blessings of Divine powers looking after SL cricket today.
Then there are some other IC bloggers like "since the 90s" publish their superficial  opinions mostly based on their clueless assumptions contradicting actual facts & never backed with any evidence to prove their misleading accusations in their baseless humbug criticism, as given below  .
——————————-
"Unfortunately, Upul Tharanga, when selected in the national team, makes 50's and 100's against teams like Bangladesh, and Zimbabwe or the odd game at home against a better team. But that's where it ends. He hasn't stood up when we really needed him to perform against better opposition and crucial must-win games for the last few years……."
———————————–
Now look how false the above statement is :  10 of UT's  15 Hundreds were Vs SA -1 /En -3 /Pk-1 /Aus-1 / Nz-1 / Ind-2 / WI-1 and Two of those Tons (vs SA & Pk in away series) were scored within his last 28 innings.
25 of his 37 x 50+ were scored Vs  ( SA- 3 / Eng- 3 / Aus – 3 / Nz- 5 / Ind – 6 / Pk- 5 )
These include 2 WC x100s + 4x 50+ / 2 ICC-CT x 100s & 2 x 50+ from 28 innings.!
It is sad to see unreal, blind comments such as the above regularly appearing in these forums…. while preaching to others about being open minded & unwillingness to think about other persons' views. They Also, talk big about the importance of looking at the big picture, while completely ignoring  the frequency of unique harassment this guy had to overcome repeatedly during last 5yrs (more than repeated 10 axing episodes lasted from months to years without exposure, based on brief dips in form – common to every batter- ranging from 1 to 10 innings, spread of over months to years as seen during the last 11 innings spread over 15 months since his last 50+ in Jan 2018).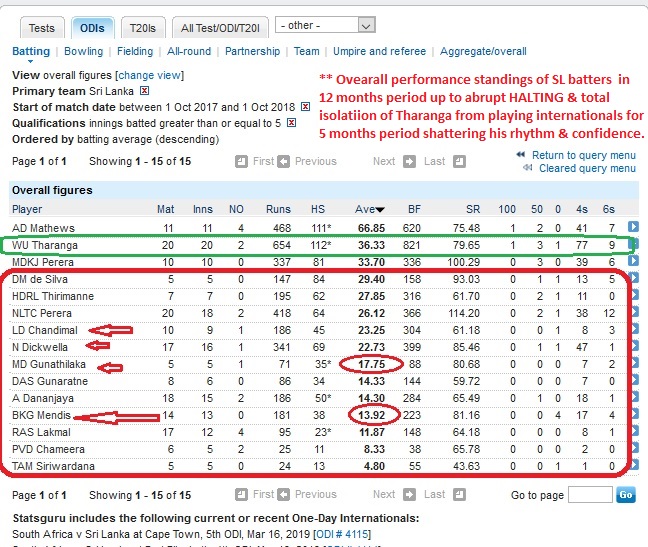 A man who had to overcome more than 10 axing episodes in past 5 YRS to score 1k+ runs @ 48 Av in 2017 was again subjected to such axing, due to a 7-inning lean patch in 2018.  
The latest destruction due to Systematically imposed dirty mind games, at a glance:
UT's repeatedly disrupted last 11  innings, Since his series winning 50+ score in BD Jan 2018 –                   56, 10, 9, 19, 36, 19, 27, 36, (6 months without any internationals)  0, (axed for 5 months)  9,  (axed for 2 matches) 4 =  225 runs @ 20.45 Average.
Tharanga's 11 innings prior to that:112*, 61,  0, 8, 49, 7, 95, 11, 25, 17,  39* =  424 runs @ 47.11 Average
Ultimately, as evident from the effects  of the  systematic disruption, he crumbled to the evil forces relentlessly tried to end his career prematurely , because he is not made out of a steel to withstand it any more (seniority, experience,true abilities are all secondary to enormous ignominy, constant nonrecognition, condemnation in terms of diverging the repeated axe just on a SOLITARY inning allowed after 5 months layoff without international exposure, preferring a 20yr old rookie over a man who had scored 7k runs for SL & the most number of runs @ 37 Av – most number of 50+ (9) including highest number of 100+ (2) scores during past couple of years….. have any of you guys ever thought about benching such a senior pro to carry drinks for the next couple of decisive games in the series… authorities limiting him for a solitary ODI given after 5 month & then benching him for next 2 vital ODIs, to openly rely more on a debutante rookie would have done to any person in his caliber..? That would have shattered even the most toughest, mentally strong person's dignity & confidence if subjected to such treatment. Can anyone resist such third-class mind games unleashed at you so frequently?  Nope..!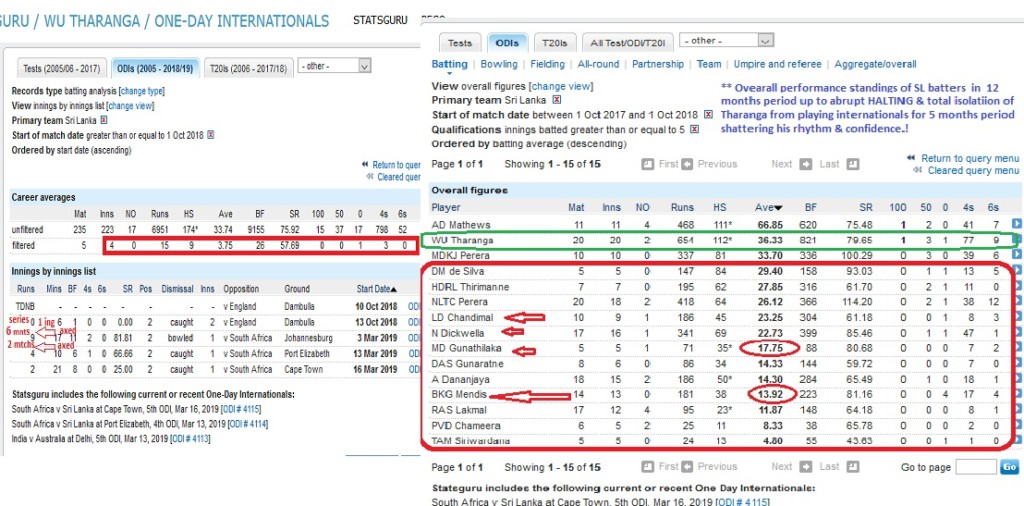 A man who dictated terms to the same bowlers in Cape Town SA, blasting them away to all corners of the park making a 90 ball 119 @ 132 SR with 11 x 4s & 7 x 6s…  just a couple of years ago was, now mentally battered & systematically reduced to a mindless poor sole struggling to recollect his focus in the middle…. that was the sad end we saw from UT,  thanks to the eccentric evil forces systematically succeeded to accomplished their goal at last. After all, there is a limitation for mental pressure any human being could withstand. It seems, ultimately he succumbed to the enormous pressure & indegnity relentlessly rubbed on him by the supreme devine forces behind the scene.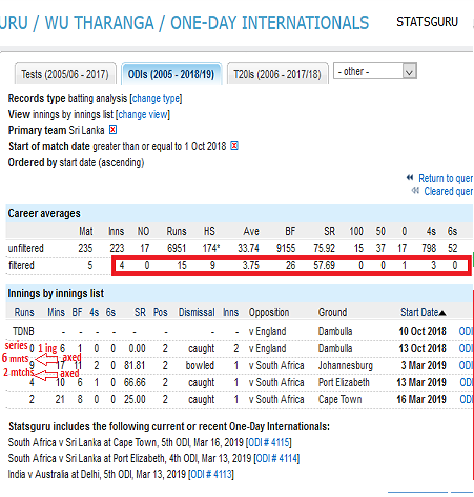 We clearly saw it from  mentally battered & maimed UT's (probably last) 2 international innings of his repeatedly suppressed, but productive overall career, that yielded the most number of centuries from the least number of innings for SL, being the quickest OR among the top two quickest in SL ODIs, in reaching every thousand mile stone, up to his current 7k milestone, fell short by a few more runs.
Another such critic @ Susantha Jayawardana talks about UT's appalling form in last 12 ings, reducing further down than actual to 15 Av & cutting off his 50+  score as well.  But FYI, UT's actual last 12 ings – 227 @ 19 Av – 1 x 50+ .
Most of those mono-focal & baseless critics found here,  don't even consider at least the 12 months innings prior to that brief lean patch of 11 or 12 innings, in UT's case, totally disregarding / rejecting them as old,
I ask those humbug critics to look & compare how abysmally failed the newly suggested ODI skipper to be for the 2019-WC Dimuth Karunarathne's recent batting form:
He even failed in his own specialty in Test cricket during  last 11 Test innings to date 
Dimuth Karunarathne –  197 Test runs @ 17 Av – 1 x 50+  in his most recent 11 innings!
Dimuth's current lean patch,(even worse than UT's in relatively higher Av demanding Test format) despite enjoying freedom with no  mental pressures of any looming axing enforced on him, like UT's case of getting the axe twice within his last 4 innings with a 5 month layoff period in between his axing …yet mentally free Dimuth also undergoing a bad lean patch in Tests to date, similar to UT in ODIs.
But instead of getting a double Axing like Tharanga experienced in his lean patch of 12 innings, this Divine blessed lucky guy get a double promotion to cross over in to an unfamiliar territory of ODIs, even WITHOUT current form, bare minimum credentials, zero proven ability & performance merits in that format.
That is the drastically different double standard seen in SL cricket today!
As anyone could see, Dimuth doesn't  even qualify to earn an ODI spot as 12th man or standby in a WC squad, let alone the captaincy. Dimuth got lucky to win the SA Test series thanks to an incredible inning of KJP & the die hard efforts of bowlers. What did this Dimuth guy do as Opening batter & skipper to lead the side from front?  Collecting 86 runs @ 21 Av from 4 test innings in recent Test series in SA?
HOW do you explain this on going monkey business?  
While heavily relying on a few half-fit injury prone wreckage & unproven newbies, on top of pure baggage carrier freebee tourists, grafted to the side at the last moment with courtesy tickets… if SL is hoping to survive beyond the first round in WC, that would become the biggest joke in upcoming Global Stage event.
SL ODI cricket will never recover, as long as this kind of mentality prevails. Whether we like it or not,  that is the factual bottom line of this whole saga. 
As usual, ultimately there will be no one answerable to the millions of weeping fans in this country, for those misdoings.