With Sri Lanka's woeful recent ODI record haunting them, rookie ODI skipper Dimuth Karunaratne, head coach Chandika Hathurusingha and the entire SLC administration are under immense pressure to ensure Sri Lanka are not merely competitive at the 2019 World Cup.
Karunaratne's appointment as captain, and his place in the ODI side, will be a short-lived experiment if Sri Lanka exit the World Cup winless, which many loyal fans are predicting.
Even if Sri Lanka exceed the low expectations of fans and pundits, it is almost certain Karunaratne will find no place in the ODI side, let alone be captain, if he doesn't make meaningful contributions with the bat in England.
[ Also read: 'Biggest problem is that the selectors keep changing' – Vaas ]
The decision-makers at SLC have repeatedly displayed they lack intelligent foresight and they dont appear to learn from the mistakes of the past, and that almost guarantees Karunaratne's swift demise as an ODI player and as the captain unless he exceeds his successes in Test cricket with superhuman consistency by scoring consecutive match-winning knocks at the World Cup and leads Sri Lanka to the final. Are these realistic expectations though?
The precarious nature of Karunaratne's place in the ODI squad is only because he did not earn his place into the ODI side through performances, and that won't help him command respect from his team-mates.
Why did the chairman of selectors Ashantha de Mel prefer Karunaratne over a young cricketer with leadership ability? Why would he not pick an individual with an assured place in the ODI side (Kusal Mendis, for example)?
[ Also read: 'Skipper Karunaratne must get the runs first' – Muralitharan ]
According to de Mel, Karunaratne has the ability to unite the team unlike Lasith Malinga and Dinesh Chandimal was too reliant on the coach.
No matter what you think of Chandimal, the chairman of selectors' public condemnation of Chandimal, which happened while Sri Lanka were in the midst of a Test series in New Zealand, served no good purpose.
For a team that has declined terribly and is today struggling to beat lower-ranked sides, not utilising Malinga's experience and expertise, and not allowing the fast-bowling great to captain his nation in what will be his final World Cup, is both cruel and foolish.
Shortly prior to his appointment, Karunaratne was arrested for driving under the influence of alcohol and fined by SLC — other nations would have imposed a lengthy suspension but SLC officials have a terrible reputation of ignoring criminality and adoring absurdity.
SLC took a similar approach against Chandimal, Hathurusingha and Asanaka Gurusinha when the team were found to be guilty of ball tampering and bringing the game to disrepute in the Caribbean.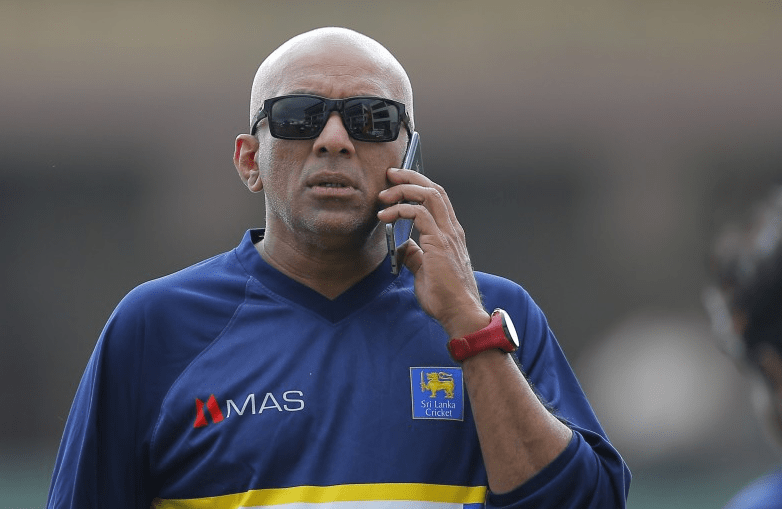 Meanwhile, head coach Hathurusingha's job is only safe for now because of early termination clauses in his contract that are too costly for SLC to deal with currently.
When Hathurusingha fell out with the Bangladesh Cricket Board and abruptly departed Bangladesh to take up Sumathipala's offer to coach Sri Lanka, some in Sri Lanka referred to Hathurusingha's arrival as the coming of the messiah "who will redeem Sri Lankan cricket from its current predicament."
But Hathurusingha has now been reduced to nothing more than a fan travelling with the team. In South Africa earlier this year he was ordered to return to Sri Lanka, as Steve Rixon and other SLC officials are now involved in strategy and selections.
Hathurusingha however will be a burden too heavy to bear for his employer, in the event Sri Lanka do not find themselves in the late stages of the tourney, and his tenure with the Sri Lankan side will be remembered as volatile and awful. The once-famed coach is already being spoken of as one of the chief architects of Sri Lanka's dramatic decline.
The outrageous public statements Hathurusingha made upon the sacking of Angelo Mathews as captain after the Asia Cup in 2018, which caused a leadership vacuum and needlessly made a scapegoat of a senior batsman Sri Lanka heavily relied on, in addition to his reluctance to back the immensely-valuable Malinga against what appeared to be a spiteful omission from the Sri Lanka side by Thilanga Sumathipala's administration (at a time when Sri Lanka had failed to win a bilateral ODI series in more than two years), was reprehensible on Hathurusingha's part.
No two players are more crucial for Sri Lanka's success in England at the World Cup than Malinga and Mathews yet both star cricketers have received poor treatment by the team management and cricket board officials.
The Sumathipala administration had hoped they could mask the carnage caused by their scandal-plagued administration by hiring Hathurusingha, but the so-called messiah found himself swiftly on the receiving end and was soon siding with his paymasters and making dense excuses for outrageously bad decisions.
Regardless, if Sri Lanka shocks everyone with several upsets and miraculously find themselves in the final of cricket's showpiece tournament, Hathurusingha, Karunaratne, and the current SLC executive committee made up of members of the prior Sumathipala administration, will be received by the public as heroes and all will be forgiven and forgotten.
But all signs point to Sri Lanka's worst-ever World Cup campaign on the horizon, and with it will come the customary blame game, followed by the instability and disarray that plagues every aspect of Sri Lankan life.