CAN OUR BATSMEN SCORE COMPETETIVE TEAM TOTALS IN WC?
Subjects Discussed;
 (1)  Selection of the first 8 batsmen to give the best Team Balance
(2)  Strength Analysis of the openers in the top 7 countries & SL
(3)  Game Plans to score three Target Team Totals (270, 310 & 350 runs)
                                  by Susantha Jayawardena
CONCLUSION: Although our middle order batsmen's problems are solved, we still have two big issues to be sorted out with regard to the Power Hitting opening batsman's (PH 1) & lower order Power Hitting (PH 2 at no 6) batting all-rounder's positions. As these two major issues are not yet sorted out, our batting strength will be somewhat reduced during the WC matches and we will most probably not produce competitive team totals above 300 runs, but could end up in scoring 270 runs even on batting tracks as explained in this write up. 
Introduction
In this year's WC some countries having very powerful batting line ups are capable of scoring 50 over totals in excess of 350 runs on good batting tracks. This is possible as their batting lineups up to no 8 position consist of different type of fast scoring, aggressive batsmen and all rounders with at least 3 to 4 of them are having power hitting abilities to score sixes regularly.
However as the best & proven batsmen to bowler combination ratio for ODI matches is 6:4, careful consideration should be given by SLC selectors during team selection process to the batting strength and ability to score quick runs of the first 8 players (and not only 6 batsmen) occupying the batting line up.
This is to ensure that they can perform according to a specific and established game plan (which specifies the required scoring rates) and score competitive team totals.
It is also required to be mentioned that Sri Lankas ODI batsmen's  recent performances have been very poor and no where close to an acceptable level as required in the WC.
Therefore our selectors should insist the probable batsmen to perform according to the very tough and fast scoring requirements that will be required.
(1)  SELECTION OF THE FIRST EIGHT (8) BATSMEN IN THE BATTING LINE UP TO GIVE    THE BEST TEAM BALANCE
The following combination of different type of batsmen with their batting positions are recommended where they can score runs at the  specified strike rates and sixes rates as noted below as well as scoring the target team totals as shown in Table 2.
It will be a real challenge for our selectors to pick eight players (batsmen & all rounders) who can perform as per the following scoring strike rates.
(1) Opening batsman 1 (SR 90%min)
(2) Power Hitting (PH 1) opening batsmen 2(SR 100%min)(R6 15% min)
(3) Middle order batsman 1(SR 80% min)
(4) Middle order batting all rounder 2 (SR 90% min)
(5) Middle order batsman 3 (SR 90% min)
(6) Lower order power hitting (PH2) batting all rounder 1(SR 90% min)(R6 15% min)
(7) Lower order power hitting (PH3) bowling all rounder 2(SR 110% min)(R6 25% min)
(8) Lower order power hitting (PH4) bowling all rounder 3(SR 110% min)(R6 25% min)
Notes;
– At least one of the top five batsmen must be a wicket keeper.
– R6 is the percentage of runs scored in sixes (explained below)
– As PH1 & PH2 are either a batsman or a batting all rounder they can be expected to score at a sixes rate (R6) of 15% min
– However the lower order power hitters PH3 & PH4 who both are bowling all rounders / loggers need to score runs at a higher SR of 110% min & a higher R6 of 25% min
– All 8 batsmen should be aggressive
– One of the first five batsmen to be a batting all rounder bowling spin
– No 6 batsman can be either a fast or spin bowling, batting all rounder
– Ideally the No 7 & 8 to be fast bowling all rounders
– Above noted SRs are based on the current SRs of batsmen in 7 top performing countries  from their performance records during the last 12 month periods (according to Cricinfo Statsguru records). Ref to Table 1.
Above combination of the first eight (8) batsmen will give the best team balance in batting as well as bowling strength in the team.
(2) STRENGTH ANALYSIS OF THE OPENING BATSMEN IN TOP SEVEN COUNTRIES INCLUDING SRI LANKA
Batsman's Fast Run Scoring Ability
Strike Rate (SR) is the only parameter that defines the fast scoring ability of a batsman in nowadays ODI matches as well as test matches. However after the introduction of power hitting concept to ODI matches it has become necessary to introduce another high scoring parameter to  differentiate a power hitting batsman from an aggressive batsman. Therefore R6 & R4 parameters are introduced and used in this write up. What is R6 and R4?
Sixes Rate (R6): This is defined as the ability  of a  batsman to score sixes  and is expressed as a percentage of the runs scored in sixes to the total runs scored in an inning. In Cricinfo Statguru Records only the number of sixes scored by a batsman in an inning or over a certain period is given. It shall be converted to a sixes rate i.e. R6 using the following simple calculation.
Ex. If a batsman scores 3 sixes in an inning of 60 runs,
                      R6 = (3X6)100/60 = 30%
Boundary Rate (R4): Similarly, ability of a batsman to score boundaries is expressed as R4 which is defined as the percentage of the runs scored in boundaries to the runs scored in an anning.
Always there is a direct relationship between the SR and R6. If a batsman has a high R6, his strike rate (SR) also will be high. Refer to Table 1 below which summaries the SR, R6, R4 values as well as averages of the opening batsmen in eight countries including SL.
Table 1
STRENGTH ANALYSIS OF THE OPENING BATSMEN IN TOP SEVEN COUNTRIES INCLUDING SRI LANKA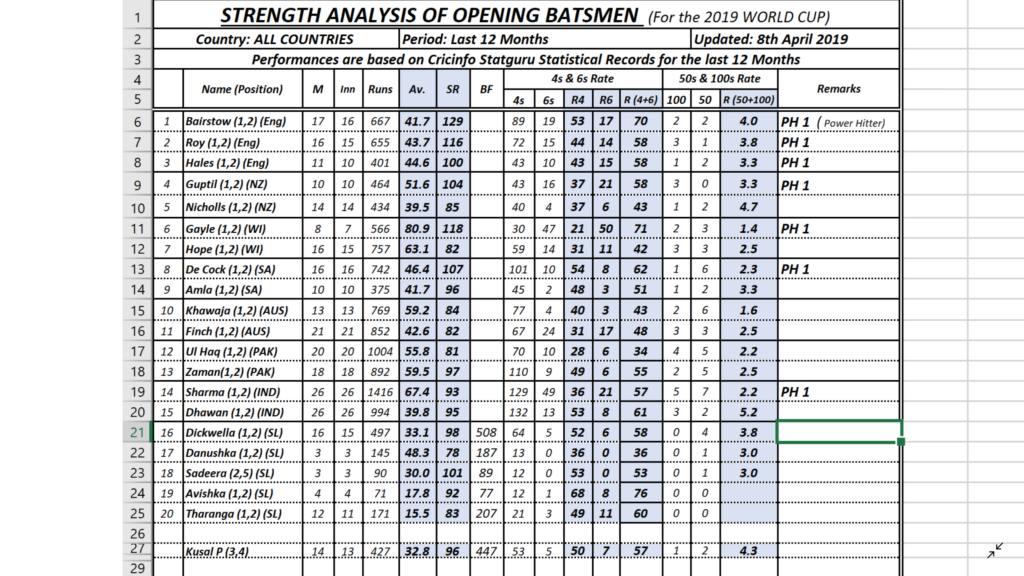 It's very sad thing to note that Sri Lanka do not have any consistently performing opening batsman who belongs to this super category of power hitting opening batsmen. This drawback will definitely affect our performance in this WC.
For the same reason I have been commenting many times in this forum & proposing that we must send Kusal Janith to open the innings. He is the only aggressive opening batsman who can score sixes regularly during the first 10 PP overs. Although he has not opened in recent times, he has been a good ODI opening batsman in the past. He will be the best option we have for the power hitting opener (PH1). You can see that from the  above table too. His R6 (sixes rate) while batting at no 3,4 position is 7% but if he opens the inning he can definitely improve this up to 15% which is the recommended min R6 for a power hitting opening batsman.
Besides, if Kusal P opens with Dimuth, we will have the best opening combination and both batsmen have the ability to play a long anchor role inning and they will not throw away their wickets early in the innings like all the other opening batsmen we have tried so far.
Many other batting quality parameters required for an opening batsman are provided in the above table and they are explained below.
R50; In addition to the batting average, SR, R6, R4 another parameter called R50 is introduced. It is the frequency of crossing the 50 run mark in a match. As the century mark is the yard stick used in test matches, 50 run mark is used for ODIs. For T20s it is 30/40 run mark. To obtain R50 frequency the total number of innings is divided by the total number of 50s and 100s. Any batsman having a low frequency value means he will have a high batting average as well as having the ability to play a long and an anchor role inning. This will not only enable the batsman to maintain a high batting average but also to contribute & help immensely to the team in scoring high totals like 325 /375 runs.
Statistics of some super openers who have high batting averages and low R50 frequency values are given as follows.
Gayle (WI) –        av 80.9, R50 1.4, (half century in every two matches)
Sharma (Ind) –   av 67.4, R50  2.2                      -do-
Khawaja (Aus) – av 59.2, R50 1.6                       -do-
Above three batsmen score a half century in every two innings  If you look at the above table all seven countries have two opening batsmen who have been maintaining well over 40.0 run average during the last 12 month period. That is the main secret behind scoring well over 310 50 over totals by the seven countries
Table 2
(3)  GAME PLANS TO SCORE THREE TARGET TEAM TOTALS OF 
 350, 310 & 270 RUNS IN 50 OVERS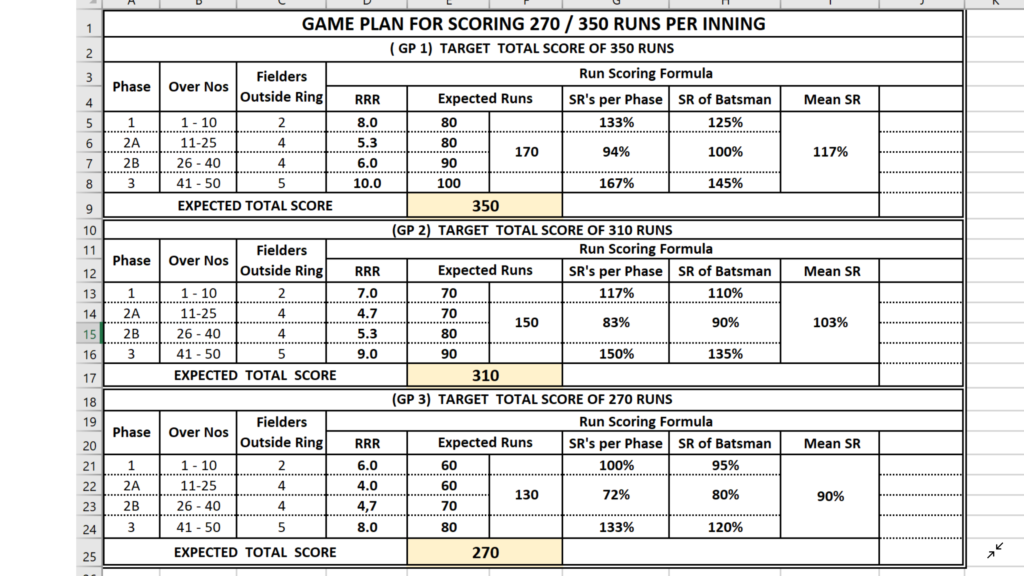 It is noted that the team totals shown in the table and SRs provided are only probable factors and may vary due to variable conditions applicable on  the day of the match. However these guiding batting quality parameters can be used as yardsticks to select the most ideal eight (8) batsmen and all rounders to occupy the first 8 batting positions.
DISCRIPTION OF THE GAME PLAN 
(Following assumptions are made when using different RRs or SRs during different phases of the game)
– 50 overs are splitted into 4 phases according to the field restrictions during the 3 power play over periods.
– Second 30 PP overs are separated into two equal 15 over phases. This is due to the fact that during the first 15 overs the ball is new and shiny, therefore the run scoring rate is a bit slow.
– During the first 10 PP overs of the inning there are only two fielders outside the inner ring and have more open areas, therefore scoring boundaries is much easier. Therefore the opening batsmen need to have higher R4 rates. Recommended R4 rate for an opening batsman is 50% min.
– Additionally if one of the openers is a power hitter he can increase the RR tremendously by scoring sixes regularly. Min R6 of 15% can be recommended for the opening power hitter i.e. PH1
– After mid way (say after 25 overs) the scoring rate is increased as the shine of the ball has disappeared and run scoring is easier.
 – RRRs (required run rate) for the four different phases as shown are the most practical values achieved by other teams during the last 12 month period.
– As the opening batsmen may continue to bat beyond the first 10 overs and the middle order batsmen continue to bat during the last 10 overs SRs of opening, middle order & lower middle order batsmen are adjusted by either reducing or increasing from the respective phase SRs.
-The easiest periods for scoring sixes are during the first 10 overs (due to having only two fielders outside the inner ring) and the last 10 overs (when the ball has lost all shine) therefore the four power hitters are deployed during these two phases.
CONCLUSION
From Table 2 it is obvious that since we have not developed two power hitting options for the no 2 (opening batsman)  and no 6 (lower order batting all rounder) positions we may end up in scoring team totals of 270 runs.

Introduction of the above mentioned two power hitters to our batting line up will improve this situation and scoring a competitive total of 310/320 runs consistently will be a reality.

Strength Analysis of our individual batsmen (upto no 8 position) will be provided in Part 2.
Prepared by Susantha Jayawardena